The Ontario Dozier Strike has always been a great knife, but at the regular price of $49.95, it didn't exactly move the needle. At just under $20, however, this might just be the best value knife you can buy, anywhere. Read on to take take a closer look at this unassuming, yet impressive little folder.
Bob Dozier Design
The Strike's greatness starts with its designer, Bob Dozier. Dozier has been making knives since the 1960s, and his straightforward, function-first approach is as relevant today as it ever was. His designs appear simple, but are always well-proportioned and often contain hidden innovation. Simply put: Dozier has weathered the fads of the knife industry, and his knife designs just work.
Blade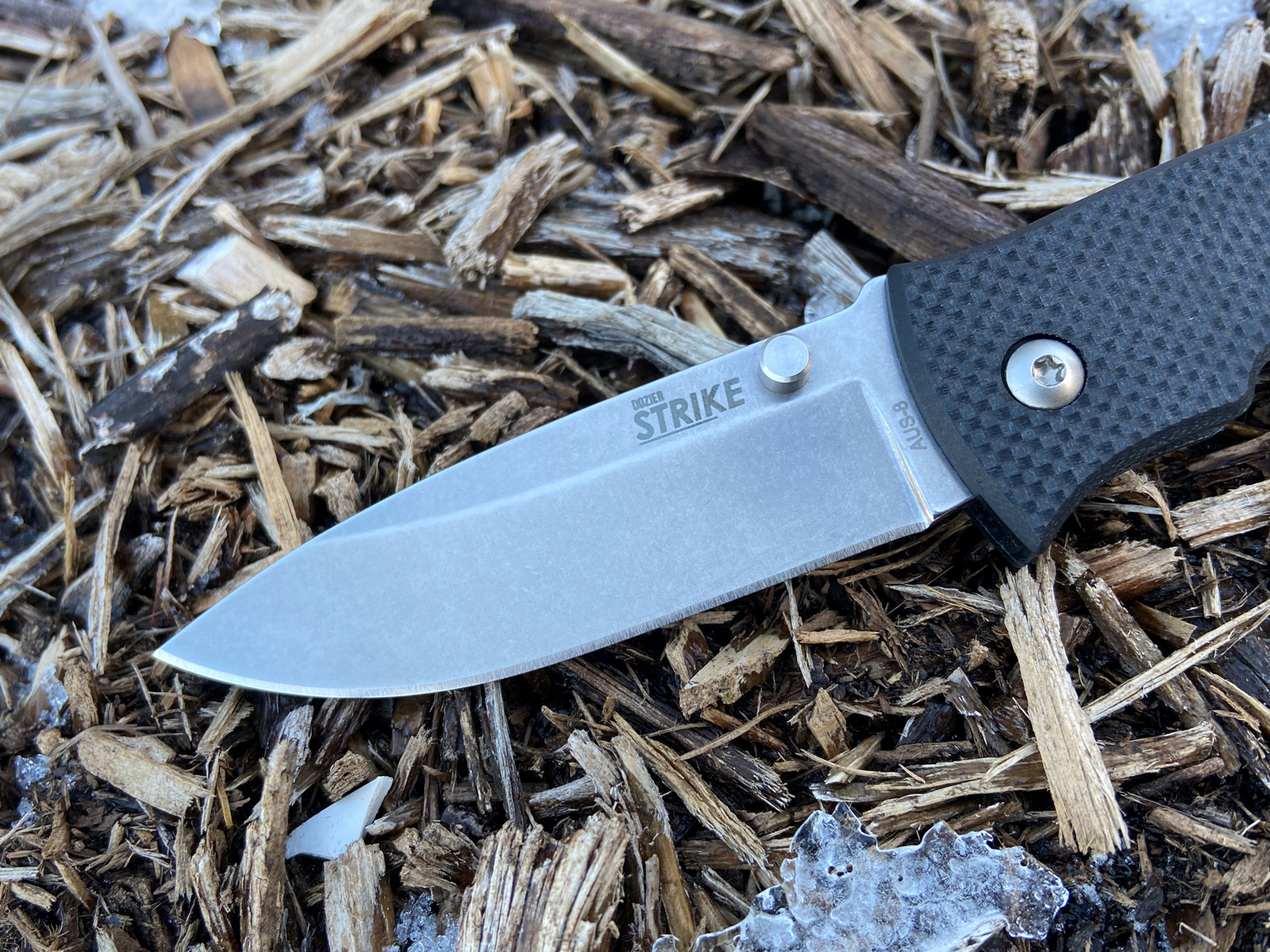 The blade of the Ontario Strike is 3.1″ long, and hollow-ground from Japanese AUS-8 steel. The drop point shape is well suited for just about any cutting task, with a nice stretch of flat edge for controlled push cuts, and some belly at the tip for slicing or working against a cutting board. It deploys via thumbstud, and while it's not as "flickable" as a liner or frame lock, it's still doable thanks to a set of smooth phosphor bronze washers around the pivot.
Handle
Dozier's efficiency of design really shines through in the handle. There's no wrong way to hold it: just a comfortable, gently rounded shape with a subtle guard to keep your fingers safe from the edge.
The Strike foregoes liners, so the knife is exceptionally thin and light: barely 3/8 of an inch, and just 2.6 ounces! The handle is just two deeply textured pieces of G10 held together by a few fasteners. G10's high glass fiber content makes it ideal in this application: even without liners it's still quite rigid, and more than strong enough for a folding knife.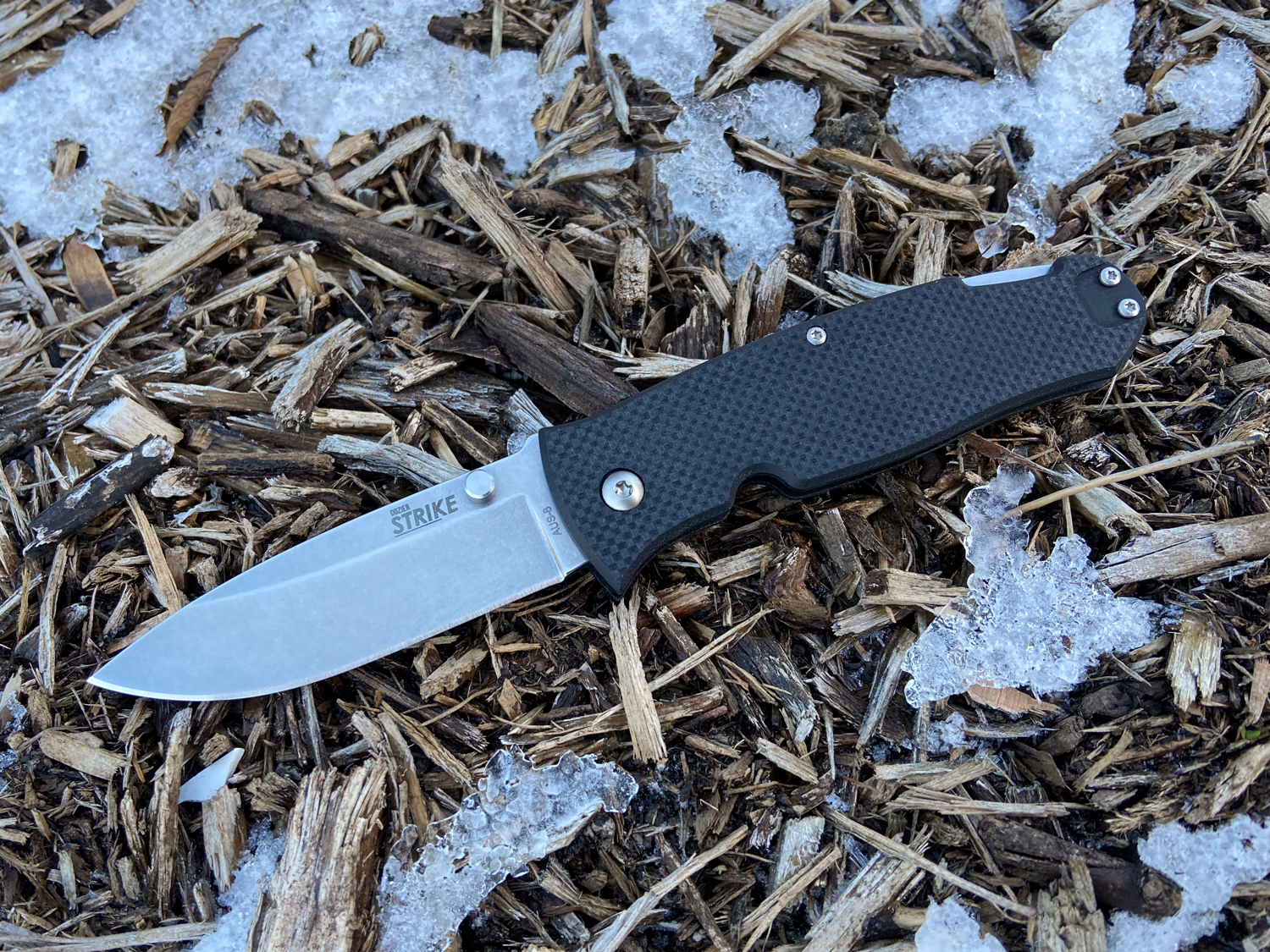 Innovative Construction
Inside the handle is one of Dozier's hidden innovations. All lock backs, including this one, require some sort of spring in order to work properly. Usually, that's accomplished with a little piece of spring steel embedded in the backspacer. On the Strike, Dozier has bent the spring 90 degrees and tucked it into a pocket milled inside one of the G10 scales. Doing it this way keeps it out of the way, allowing the blade to fold into the handle almost completely. Since there's no need to save room for a bulky backspacer+spring assembly, the Dozier Strike is extremely compact when folded, which, in addition to its light weight and overall thinness, makes it an excellent pocket companion.
Best $20 Knife?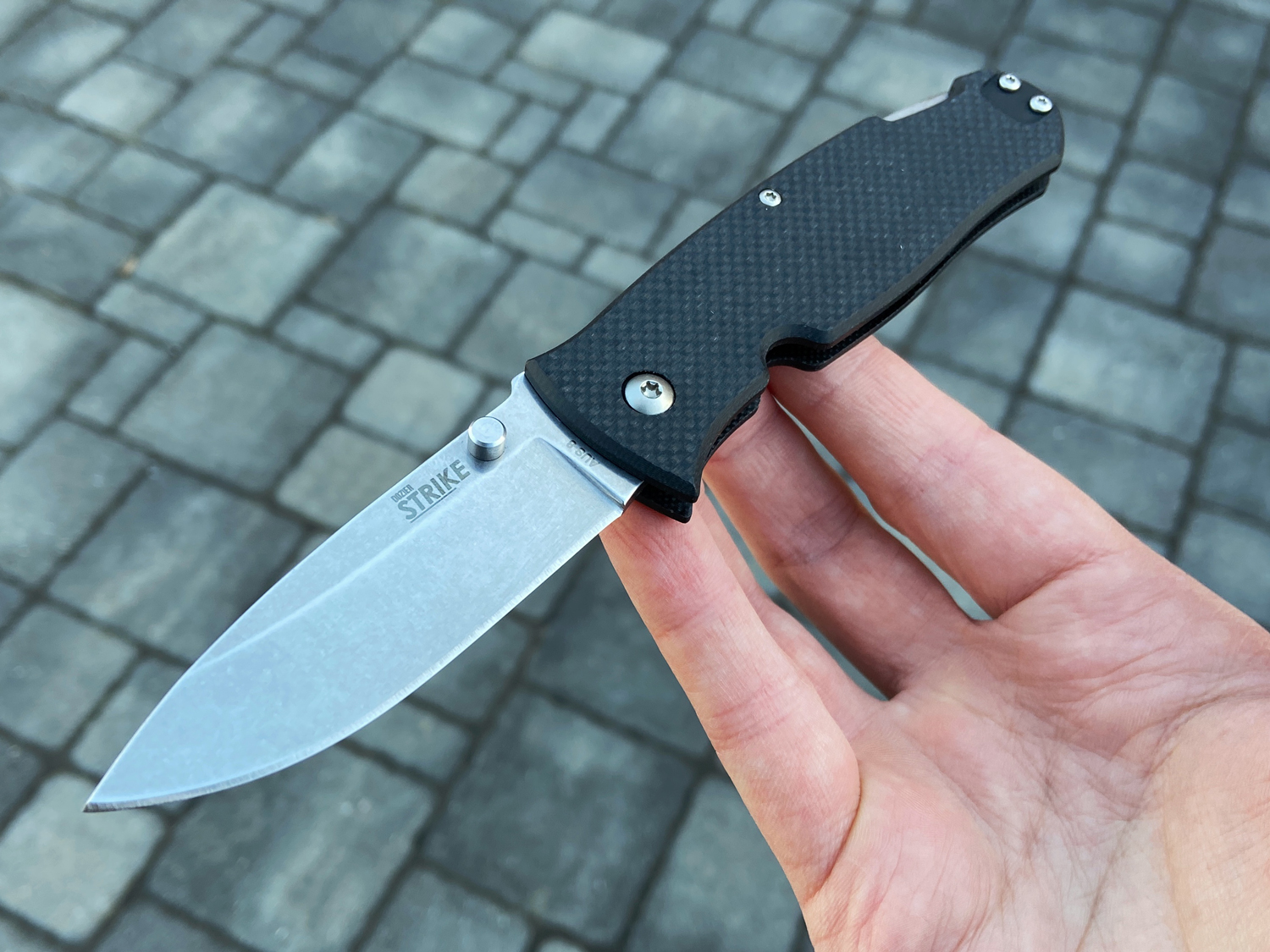 We're thrilled to be able to offer such a solid knife for such a great price, but once these are gone, that's it – the Ontario Dozier Strike has been discontinued, so these are the very last of them we expect to have in stock. If you've already picked one up, we'd love to hear from you: what did you think of it? Is this really the best $20 knife available today?