For our first tactical roundup of the new decade we bring you some heavy hitters from the last one, including the best Gerber combat knife in a while, a great deal on an Ontario folder, some classics from SOG, and an unexpected entry from Condor, amongst other great tactical pocket knives and fixed blades.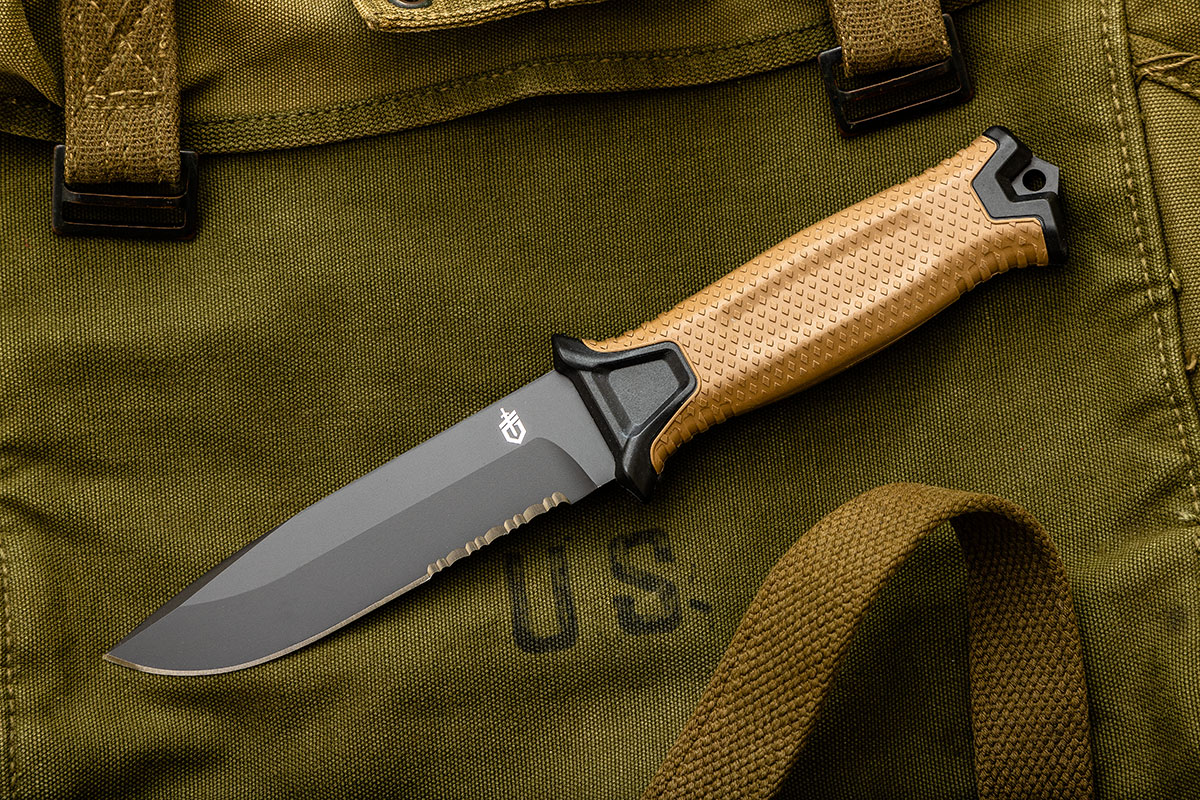 The American-made StrongArm carries Gerber's legacy of crafting tough-as-nails fixed blade knives for our nation's bravest warriors, designed around the fundamentals of military survival training. The diamond texture rubberized handle provides a solid grip in all conditions and terminates in a striking pommel. Equally important is the knife's modular sheath system, allowing the user to mount it to MOLLE webbing or on a standard belt in traditional or drop-leg configurations.
Fine-Edge, Full-Tang 420HC Steel Blade
Ceramic Blade Coating
Rubberized Diamond Texture Grip
Striking Pommel
Nylon webbing for Drop-Leg carry and Secondary Retention
Detachable Belt Hoops for Horizontal Belt Carry
Snap-In MOLLE Strap
Blade Steel: 420 HC
Handle Material: Glass filled nylon with rubber overmold
Blade Length: 4.8 in (12.2 cm)
Overall Length: 9.8" (24.8 cm)
Knife Weight: 7.2 oz (204 g)
Overall Weight: 10.9 oz (309 g)
Made in USA
---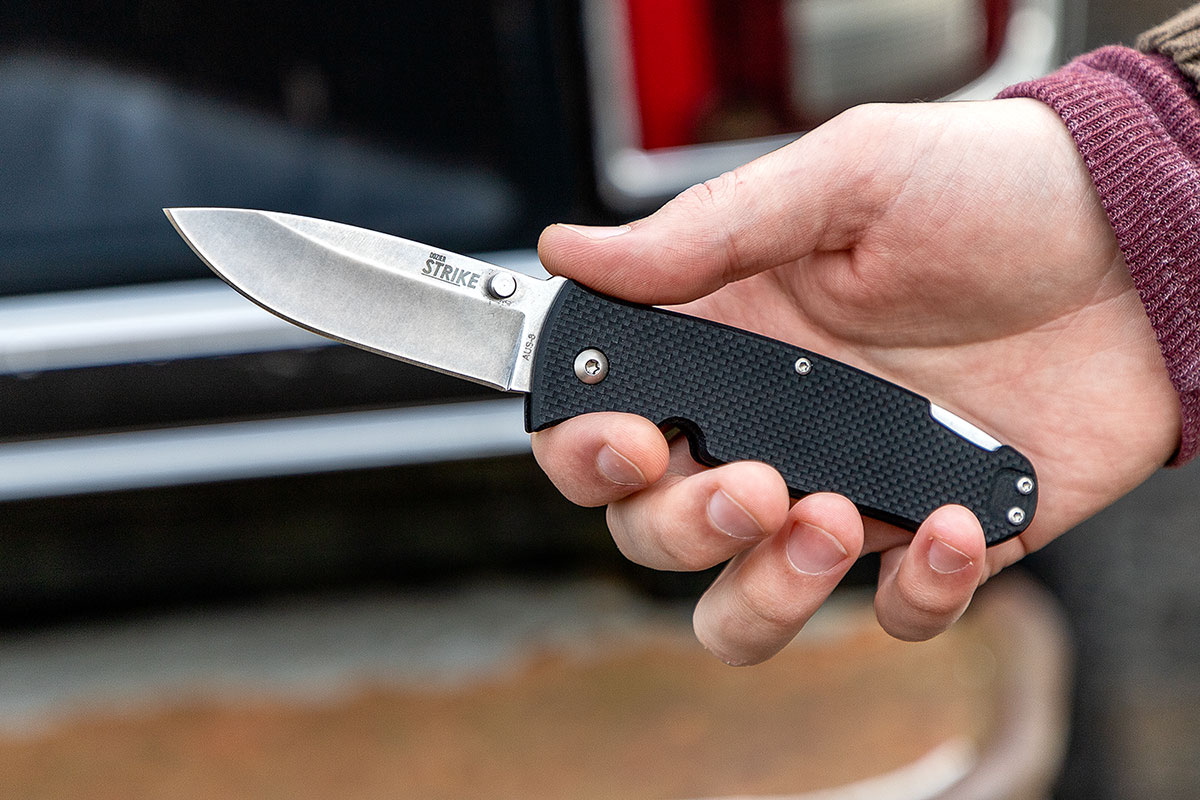 We are kicking off 2020 with a truly phenomenal deal for you. We've marked the Dozier Strike down to just under 20 bucks… a full $30 off our old price! Slim and sturdy, it can easily be incorporated into your EDC or duty gear and it features strong lockback construction, G10 handles, and a stonewashed AUS-8 blade in a versatile drop point profile. For less than the cost of a nice dinner out, you can get a tool that will give you years of loyal service
Blade Length: 3.125″
Handle Length: 4.125″
Overall Length: 7.25″
Blade Material: AUS-8 Stainless Steel
Blade Hardness: 56-58HRC
Blade Thickness: 0.115″
Handle Material: Black G10
Locking Mechanism: Lockback
Handle Thickness: 0.37″
Pocket Clip: Tip-Up, Right/Left Carry
Weight: 2.6 oz.
Made in Taiwan
---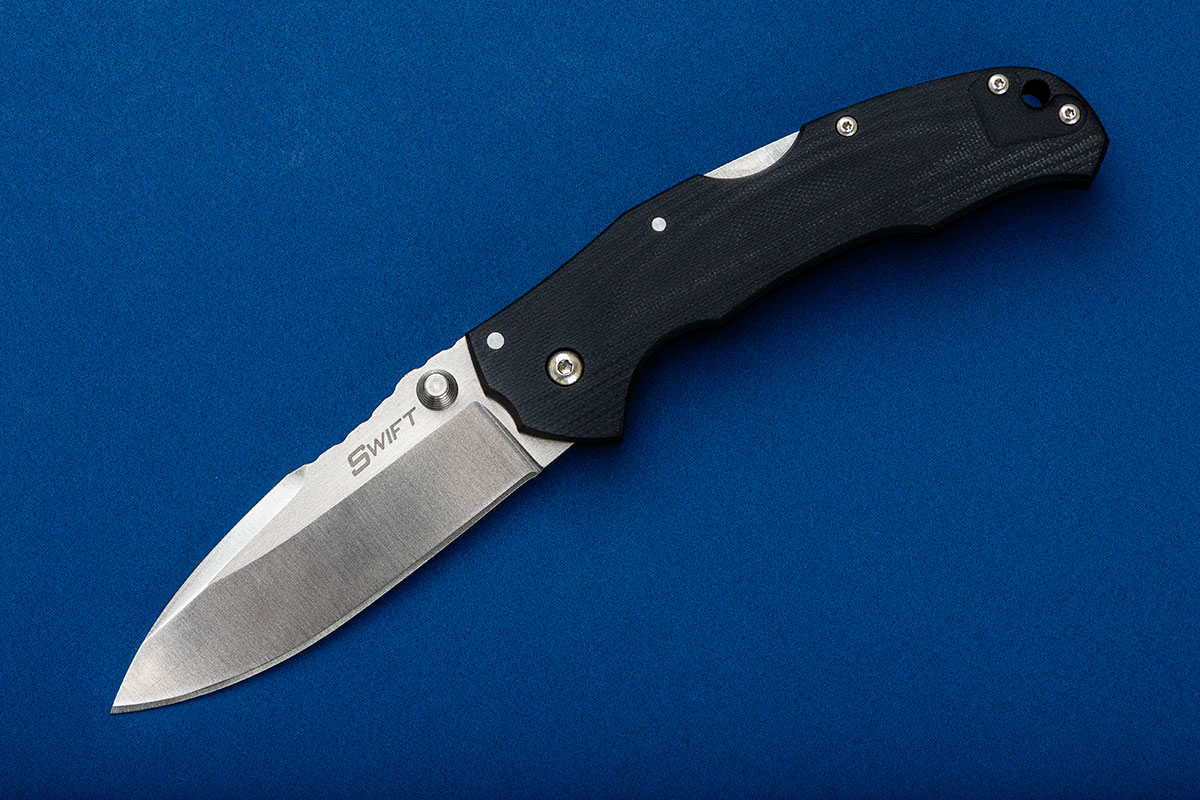 The Andrew Demko-designed Swift is a folding knife that offers both the astonishing smoothness of a fine assisted opener and the unparalleled strength we've all come to expect from Cold Steel. With its patent pending Flash-Tek locking mechanism, premium CTS-XHP steel and ergonomic G10 handles, there's no denying you're going to get stellar performance from this lightweight tactical titan.
Weight: 4.7 oz.
Blade Thickness: 3.5 mm
Blade Length: 4.0″
Handle: 4.625″ Long G10
Overall: 8.625″
Steel: Carpenter CTS-XHP Alloy High Satin Polish
Pocket Clip: Ambidextrous Pocket / Belt Clip
Assisted Opener
Made in Taiwan
---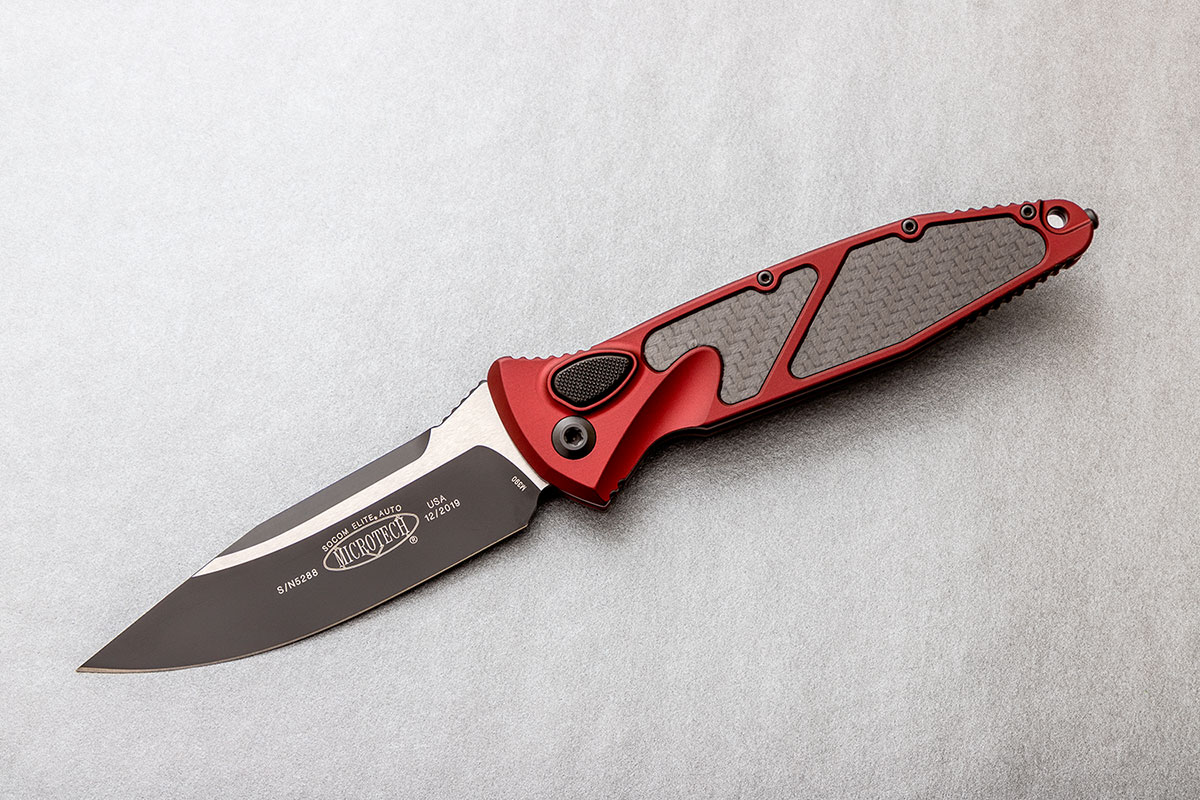 The Socom Elite is one of the finest tactical folders ever made and can be had as a manual opener or with Microtech's stellar automatic action. Available in clip point or tanto profiles, the handles positively lock into your hand thanks to aluminum construction with textured rubber inserts. The rugged reliability of these knives makes them a first choice for the special operations community and it is easy to see why once you get one in your grip.
Blade Length: 4.05″
Cutting Edge: 3.75″
Closed Length: 5.06″
Overall Length: 9.11″
Blade Style: Tanto or Clip Point
Blade Grind: Flat
Blade Finish: Black
Handle Material: Aluminum with Rubber or Carbon Fiber Inlay
Liner Material: Stainless Steel
Locking Mechanism: Liner
Pocket Clip: Stainless Steel (Tip-Down, Right Carry)
Weight: 5.6 oz.
Designer: Tony Marfione
Made in the USA
---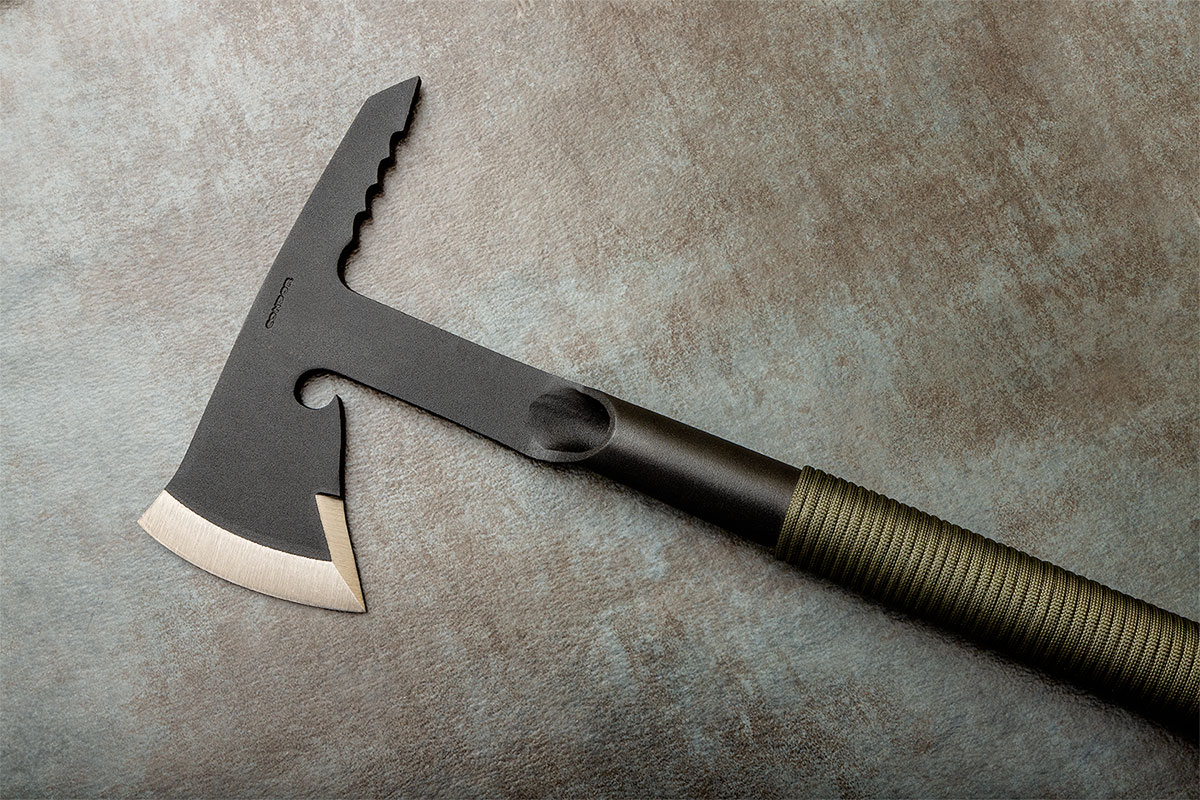 Looking at the picture doesn't prepare you for the sheer weight and heft of this bad boy. Pick it up and you'll feel like you could dismember a tank with this thing! The TRT is a single piece of forged steel with a paracord-wrapped handle, and that sturdy Condor build means it's more than capable of standing up to whatever you throw at it.
Head Dimensions: 7″
Thickness: 1/4″
Overall Length: 17″
Blade Material: 1075 High Carbon Steel; Forged
Blade Finish: Epoxy Black Powder Coating
Handle: Wrapped with Paracord
Sheath: Handcrafted Welted Leather
Weight: 2.03 lbs.
Made in El Salvador
---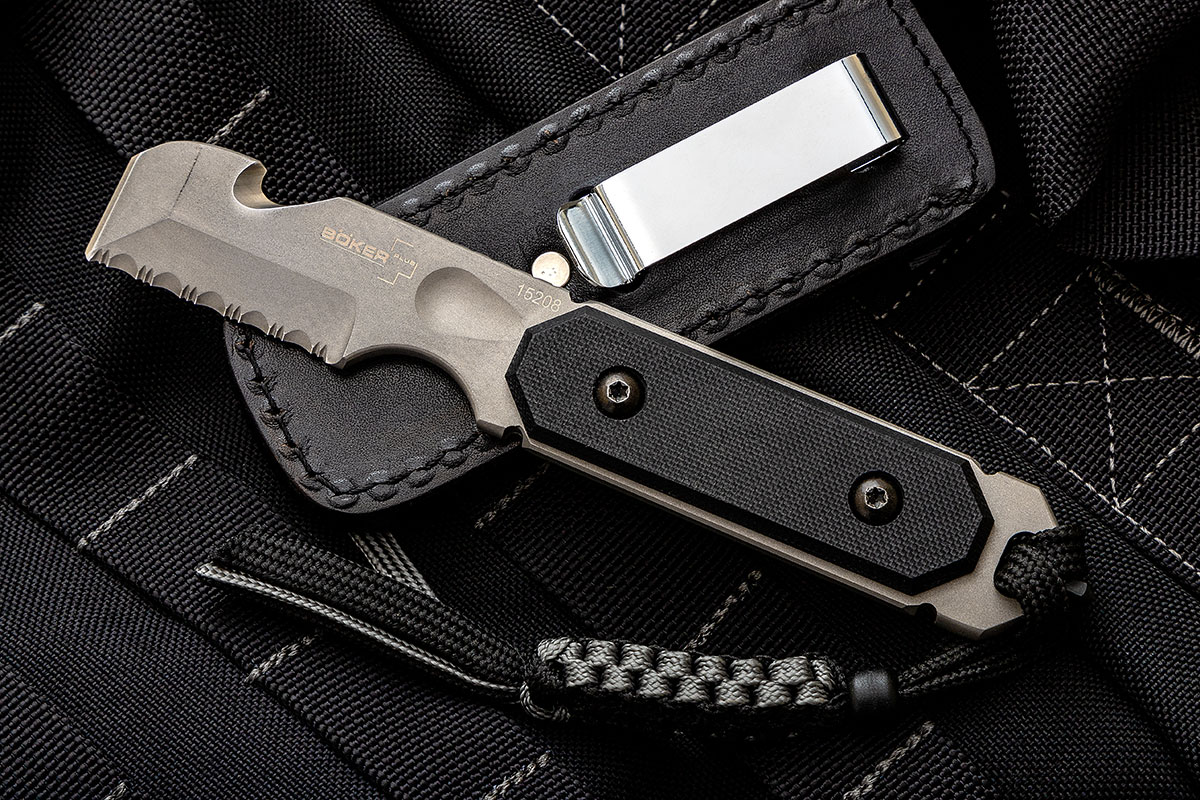 This multi-function rescue knife covers nearly any cutting job needed in the line of duty and it also makes a fantastic emergency knife for those of us not in the law-enforcement or medical fields. The sharpened reverse hook can get you out of a seat belt in a flash and the integrated glass-breaker helps complete your escape. In addition to that, the chisel tip is great for scraping or use as a prying tool, and a serrated 440C blade edge stays sharp for when you need it the most. Throw it in the leather sheath and clip it to your belt or go bag and leave your worries behind.
Boker Plus Cop Tool Specs
Overall Length: 6″
Blade Length: 1.75″
Weight: 4.2 oz.
Blade Material: 440C Stainless Steel
Handle Material: G10
Designer: Roy Huntington
Made in Taiwan
---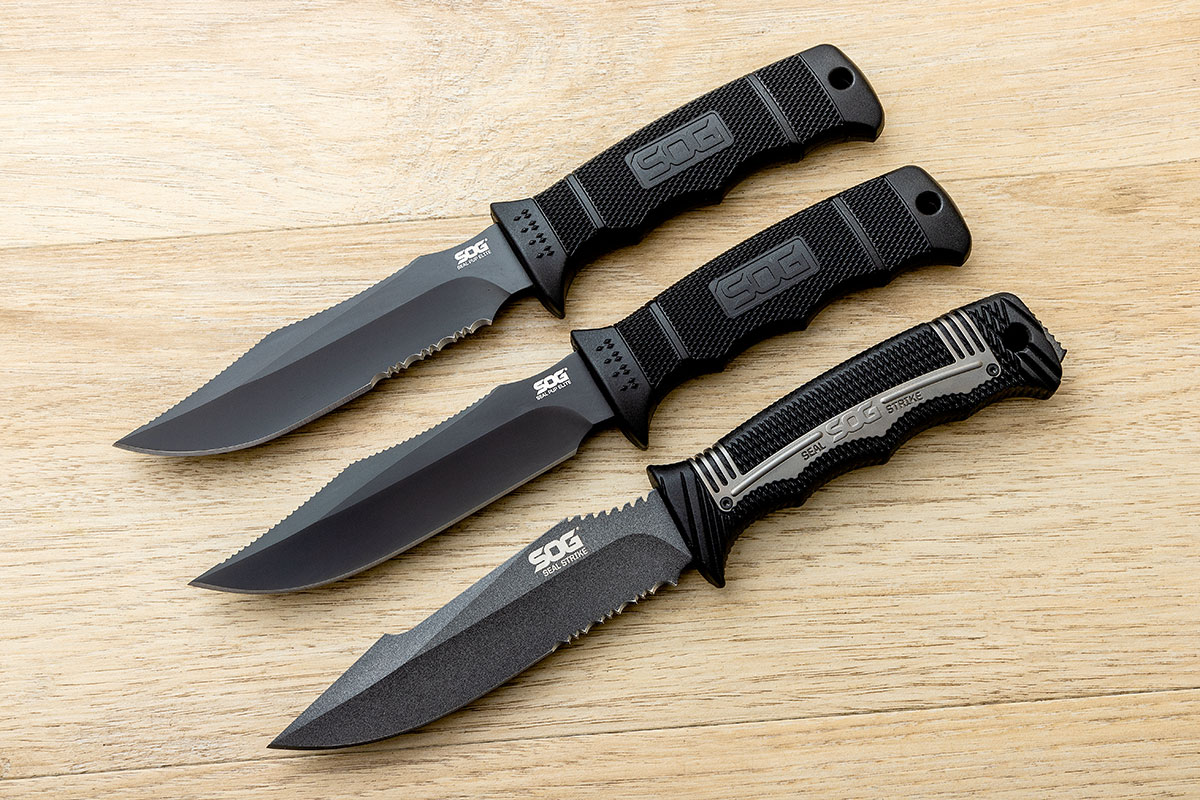 It's hard to beat SOG's reputation when it comes to reasonably priced combat fixed blades. The SEAL line channels the spirit of Vietnam-era Bowies and years of real-world deployment experience into sleek, functional knives you can rely on when the going gets tough. With multiple blade lengths to choose from and even new blade shapes thanks to the SEAL Strike variants, there are options here to suit any tactical requirement.
---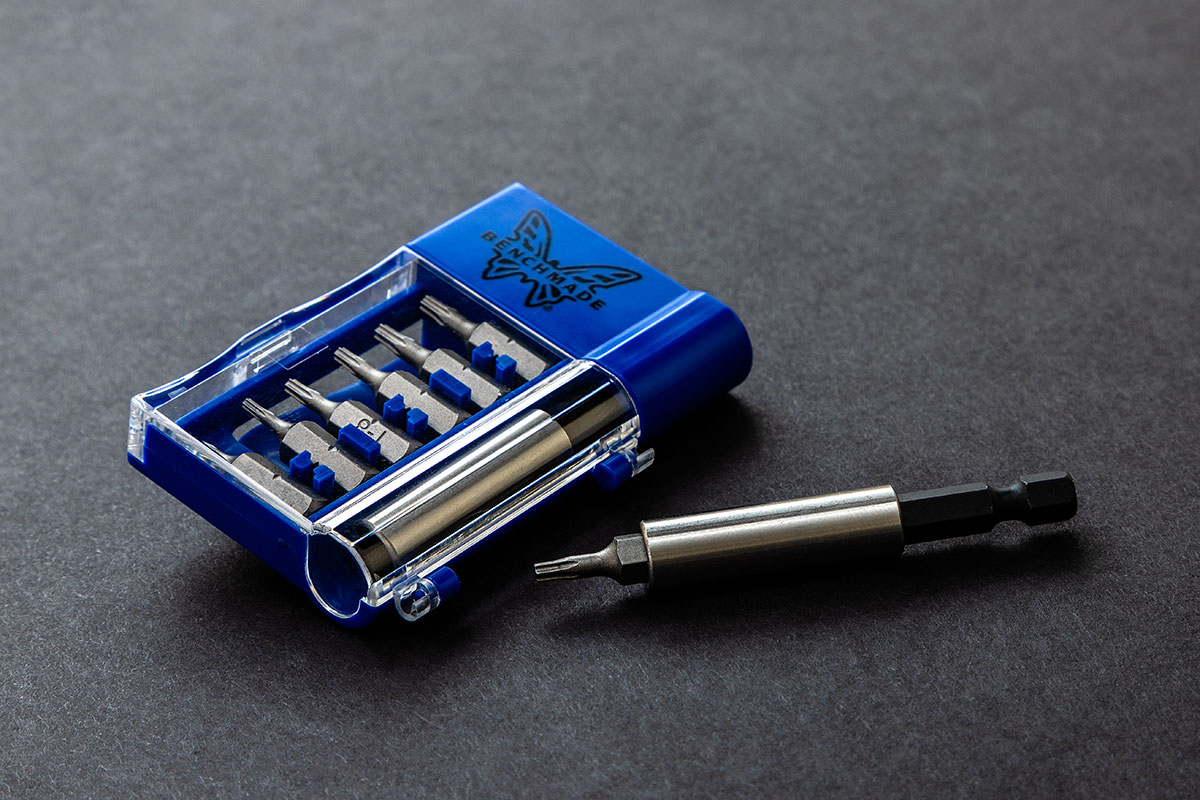 Even the best tools need to be maintained properly. Benchmade makes that task easier with their BlueBox – a handy assortment of torx bits and a storage case that doubles as the handle, letting you apply a generous amount of torque to any pocket clip screws or knife pivots that need a turn or two.
Case Length: 2.75″ (6.99cm)
Case Thickness: 0.625″ (15.88mm)
Case Width: 1.875″ (4.76cm)
Kit Weight: 2.60oz (73.71gm)
Weight: 1.60oz