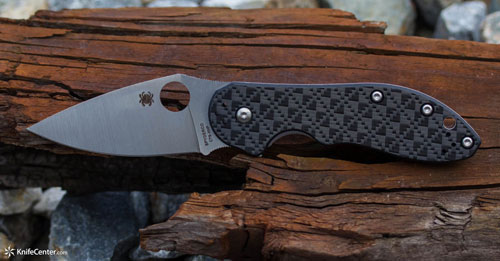 With two new flippers in two successive years, Spyderco must be trying to change their Trademark Hole or something fishy is going on. Flippers keep gaining popularity with knife knuts because they're easier and are in some cases faster to open. The addition of an assist mechanism or ball bearing system gives you the peace of mind that the blade will open quickly and do so completely, every time. The Domino is just this kind of knife with buttery smooth bearings, making it very fun to play with. In use, it's like any other Spyderco – just made to cut things! The CTS XHP steel is among the best in performance on the market due a high hardness and edge holding capability. The best thing about it though, is something you cannot see; the ease at which it can be resharpened. Hard steels like D2 and ZDP perform very well until they get dull. That's when you either have to spend an hour working on the edge or send it out to get professionally sharpened. Not so with XHP. It's fine particle metallurgy and high chromium content makes sharpening easier while also boosting its corrosion resistance. The Chris Reeve Integral frame lock (with replaceable lock bar insert), four-position pocket clip, and carbon fiber laminate handle are just other parts of this very well manufactured product. Check out the new Spyderco flipper at www.knifecenter.com.
More from Spyderco about the Domino: 
Designed by Eric Glesser, the Domino is the second Spyderco knife to feature a Kit Carson-inspired flipper opener. Its full-flat-ground blade is machined from premium CTS™ XHP steel and rides on specially designed ball bearing washers for an ultra-smooth opening action. The handle features a solid titanium scale on one side and a titanium liner and black Cubic Check Carbon Fiber Laminate scale on the other. The titanium scale houses a high-strength Reeve Integral Lock (R.I.L.) mechanism with a steel interface that serves double duty as an overtravel stop. For ease and versatility of carry, the Domino also includes a black, four-position pocket clip.