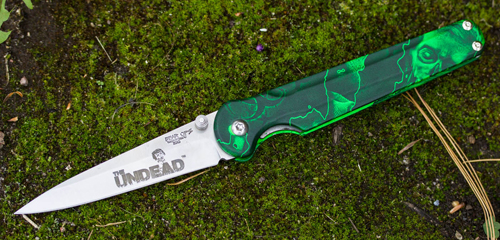 Stilettos are known for their fast action, thin profiles, and symmetrical spear point blades. Bear OPS has created a smaller sized Stiletto folder that will serve you as an excellent EDC utility knife. The best thing about this knife, besides the S30V blade of course, is the lightweight yet strong aluminum handles. They're shaped eerily similar and have the same anodized feeling as the Benchmade 940/943 and comes with a reasonably deep carry pocket clip. Take the Reaper Z handles or leave them, it's up to you. For my money they're something different in the collection so fine by me. This knife features a liner lock, smooth fast action, and flow-through design for easy cleaning. Proudly made in Alabama, this knife is available at www.knifecenter.com.
About Bear OPS, a Division of Bear & Son Cutlery: 
Bear & Son Cutlery is a family owned company started in 1991 with the mission of manufacturing the "best knives made in the USA" at our fully contained 41,000 sq ft facility in Jacksonville, Alabama. Bear and Son Cutlery is now proudly introducing a new division-Bear OPS. Because we take our obligation of duty and to our country very seriously; our goal is to manufacturer the best Tactical Knives available for those who serve. Bear OPS knives are made with (OPS) Operational Precision for Superior Tactical Knives that can be relied on for any situation.
Bear OPS uses only premium 154cm and CPM-S30V steel for our blades and use our own heat treat, waterjet, and CNC grinders to finish the blades. Each knife is designed and engineered by the experts in our R&D and our in house tool makers. You will always be proud to carry a knife from Bear OPS. Only USA manufactured parts, material, and a Lifetime Limited Warranty on all Bear OPS Knives.
Bear & Son Cutlery will continue to manufacturer the "best knives made in the USA" that will now include tactical and military knives made in Alabama USA–Bear OPS. Buy American Made Products!