If you've been craving new Al Mar designs, then we've got your fix this week. Additionally, you won't want to miss the return of the ZT 0566, a cool new Emerson/Spyderco crossover, and more great tactical fixed blades and pocket knives.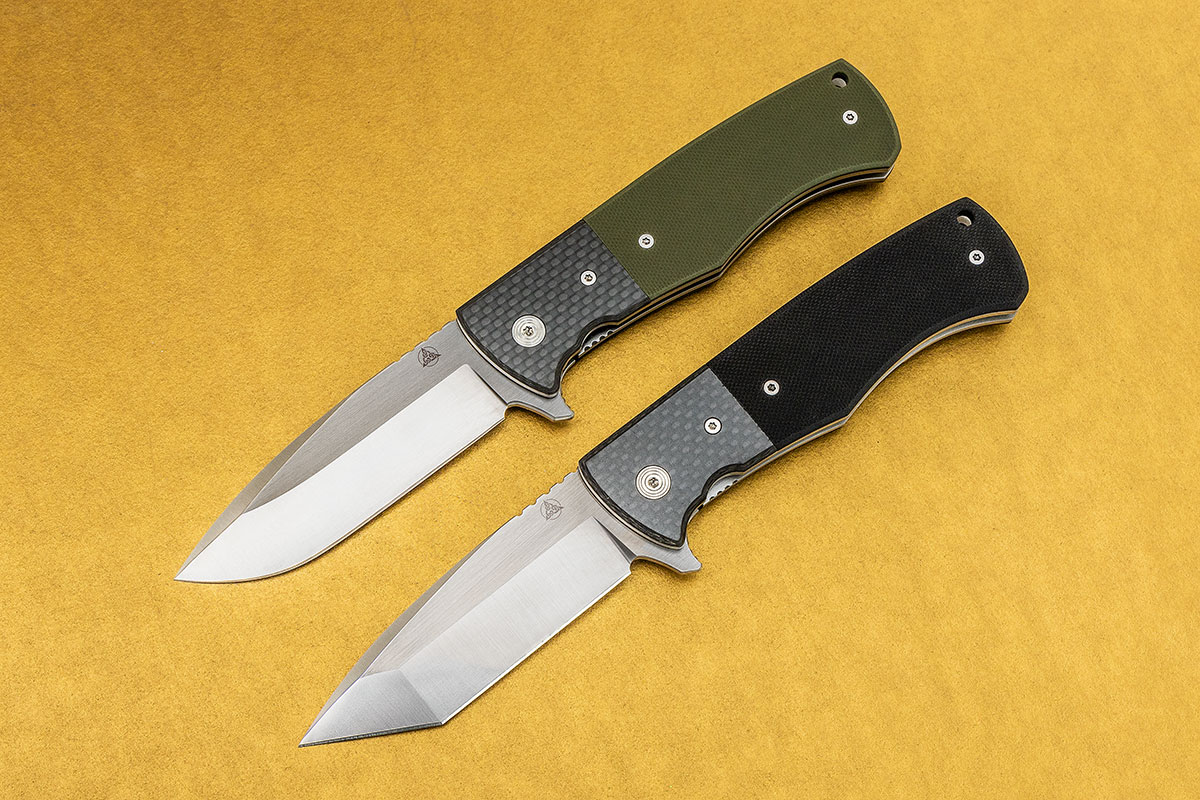 Designed by the late, great Al Mar, the MPR-2 is a little bit tactical and a little bit fancy – just the thing to carry when you want to be civilized, but still ready to throw down at a moment's notice. It flips like butter, and the VG10 steel offers enough edge retention to see you through. This timeless design, in addition to others, was taken from previously unreleased drawings owned by the Mar family, and we are thrilled that they are seeing the light of day.
Blade Length: 3.44″
Closed Length: 4.56″
Overall Length: 8.06″
Blade Material: VG-10 Stainless Steel
Blade Thickness: 0.118″
Blade Hardness: 59-61HRC
Blade Style: Tanto or Drop Point
Blade Grind: Hollow
Blade Finish: Satin
Handle Material: G10 with Carbon Fiber Bolsters
Liner Material: .080″ Thick Skeletonized Stainless Steel
Locking Mechanism: Liner
Pivot Assembly: Caged Bearings
Pocket Clip: Deep Carry Stainless Steel (Tip-Up, Right Carry)
Weight: 5.2 oz.
Designer: Al Mar
Made in China
---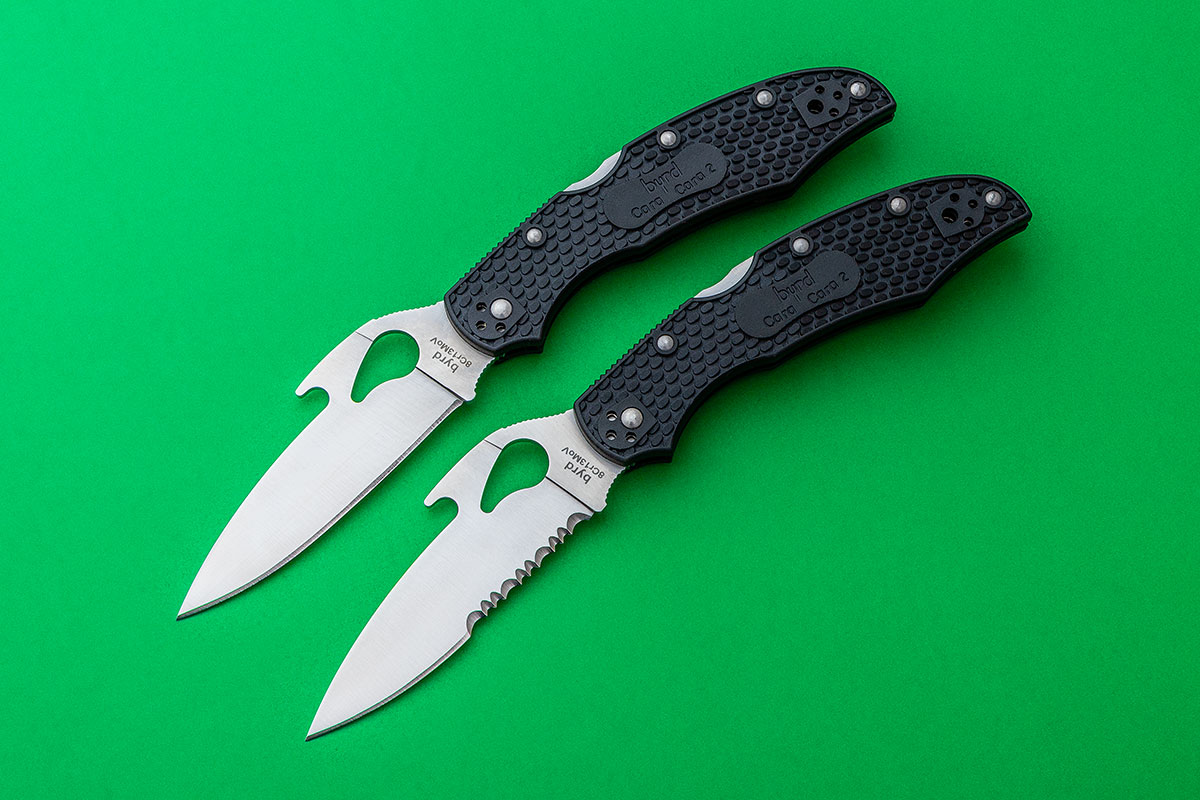 One of the best economical knives on the market just got better. The addition of an official Emerson Wave Opener makes the Cara Cara 2 the quickest Byrd ever! The hook on the spine of the blade means you are ready to cut as quickly as you can draw the knife. With nearly four inches of steel at your disposal, this knife gives you the reach you need to get things done without breaking your wallet.
Blade Length: 3.75″ (95 mm)
Cutting Edge: 3.30″ (84 mm)
Closed Length: 4.83″ (123 mm)
Overall Length: 8.55″ (217 mm)
Blade Thickness: 0.118″ (3.0 mm)
Blade Material: 8Cr13MoV Stainless Steel
Blade Style: Spear Point
Blade Grind: Full Flat
Blade Finish: Satin
Handle Material: FRN
Handle Color: Black
Locking Mechanism: Lockback
Pocket Clip: Tip-Up/Down, Left/Right Carry
Model Name: Cara Cara 2 Emerson Opener
Weight: 3.1 oz. (88 g)
Patented Emerson Wave
Made in Chin
---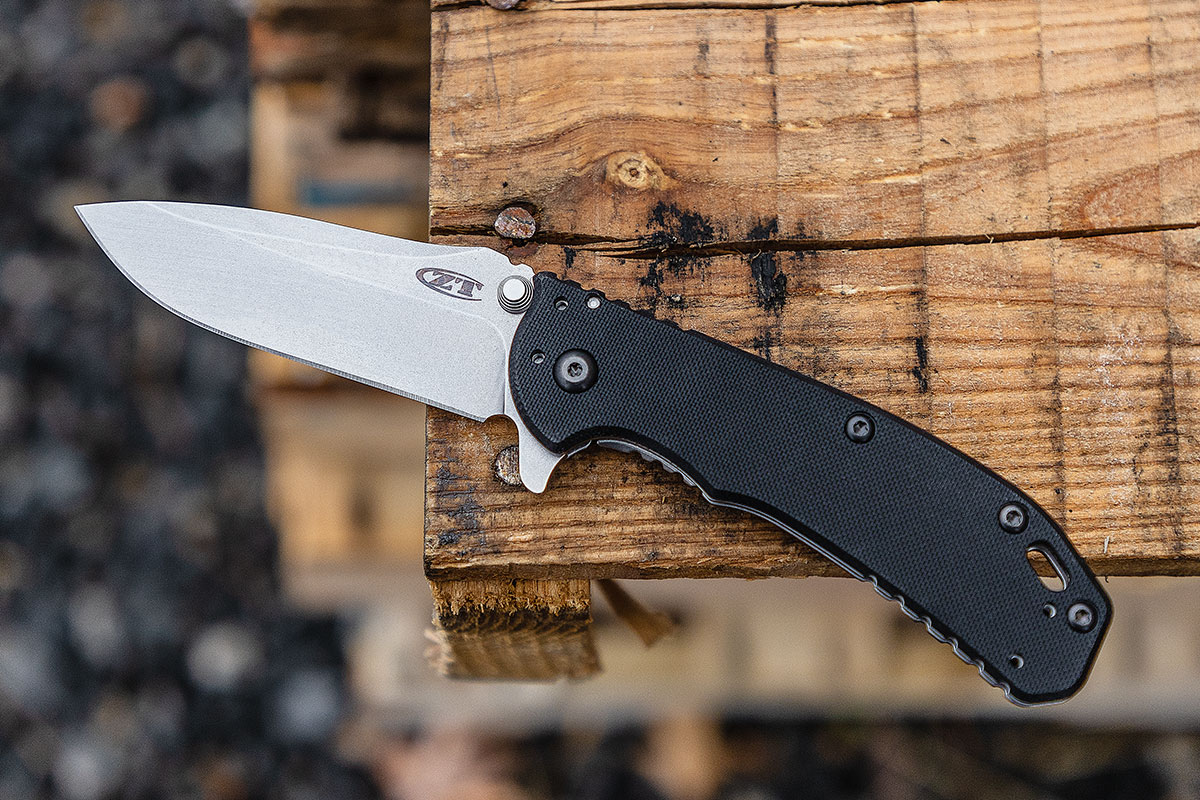 The Zero Tolerance 0566 is back and on sale for just $119.95! We managed to source a batch of these discontinued Rick Hinderer-designed knives, but it will likely be the last time we'll ever see them. The 0566 is a hardworking, American-made champ with a stonewashed S35VN blade, SpeedSafe assisted opening, and reversible deep-carry clip. We can't think of a better knife at this price!
Blade Length: 3.25 in. (8.25 cm)
Closed Length: 4.45 in. (11.3 cm)
Overall Length: 7.70 in. (19.6 cm)
SpeedSafe assisted opening system
Frame lock, lockbar stabilizer
Quad-mount (tip-up/tip-down; left/right hand), deep-carry clip
Steel: S35VN, stonewashed finish
Handle: Textured G10 front, stainless steel back
Designer: Rick Hinderer
Weight: 5.4 oz. (150.3 g)
Made in USA
---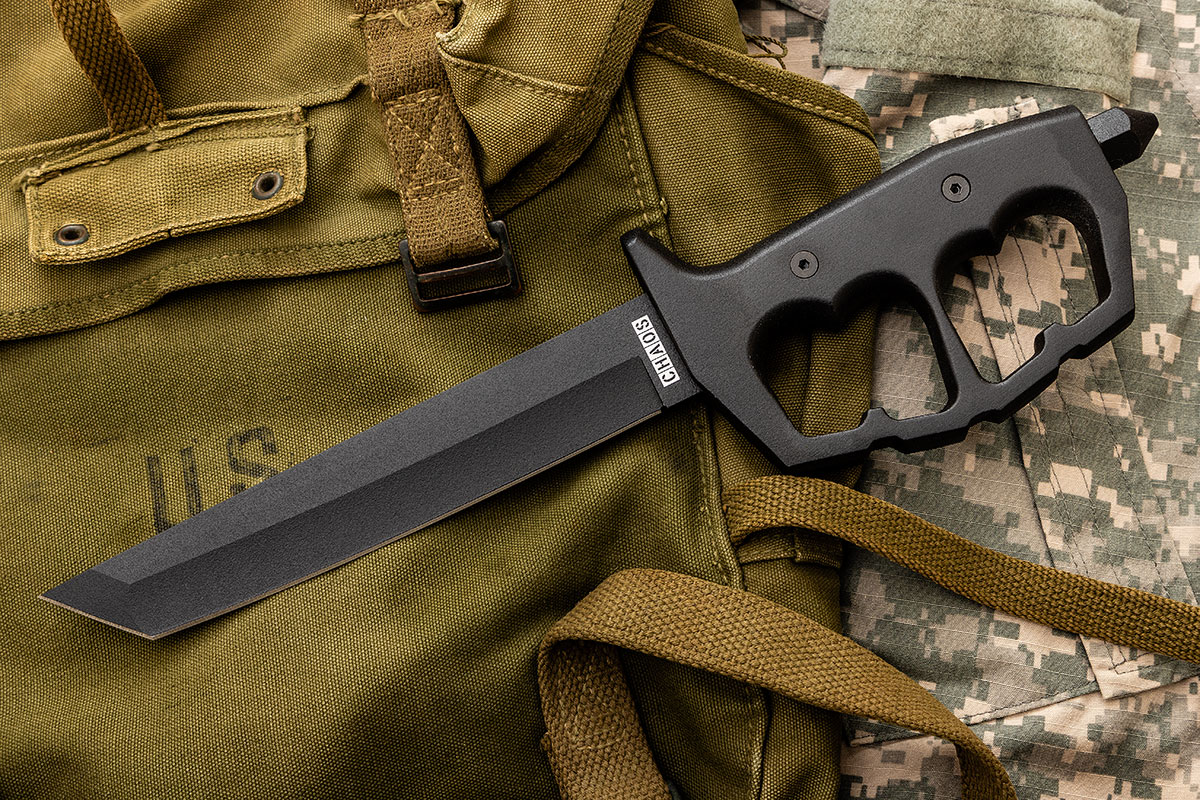 Inspired by the trench knives carried in the World Wars of the 20th century, Cold Steel has updated the concept with the famous Eastern tanto blade shape (or at least the Americanized version of it). Featuring super-tough SK5 carbon blade steel and a split-D ring aluminum handle, this is a trench knife for the modern age. It is more than just a gimmick – we have personally bashed several of these knives beyond what most knives could take and they have always come back ready for more.
Split D-Ring Handle Guard
Skull-crusher pommel
Blade Length: 7.50″
Handle Length: 6.00″
Overall Length: 13.50″
Blade Material: SK-5 Carbon Steel
Blade Thickness: 0.18″
Blade Style: Tanto
Blade Grind: Flat
Blade Finish: Black
Handle Material: 6061 Aluminum
Sheath: Secure-Ex
Weight: 17.00 oz.
Made in Taiwan
---
Sometimes, the things that go bump in the night may not be Santa Claus on the roof. If that is the case, then these solid hunks of Tennessee Hickory make the perfect "season's greetings" for any Scrooge out there. With timely Nutcracker, Krampus, Season's Beatings and even Yippee Ki Yay themes, they bring a smile to our face every time we pick one up, and we're sure it will do the same for you!
---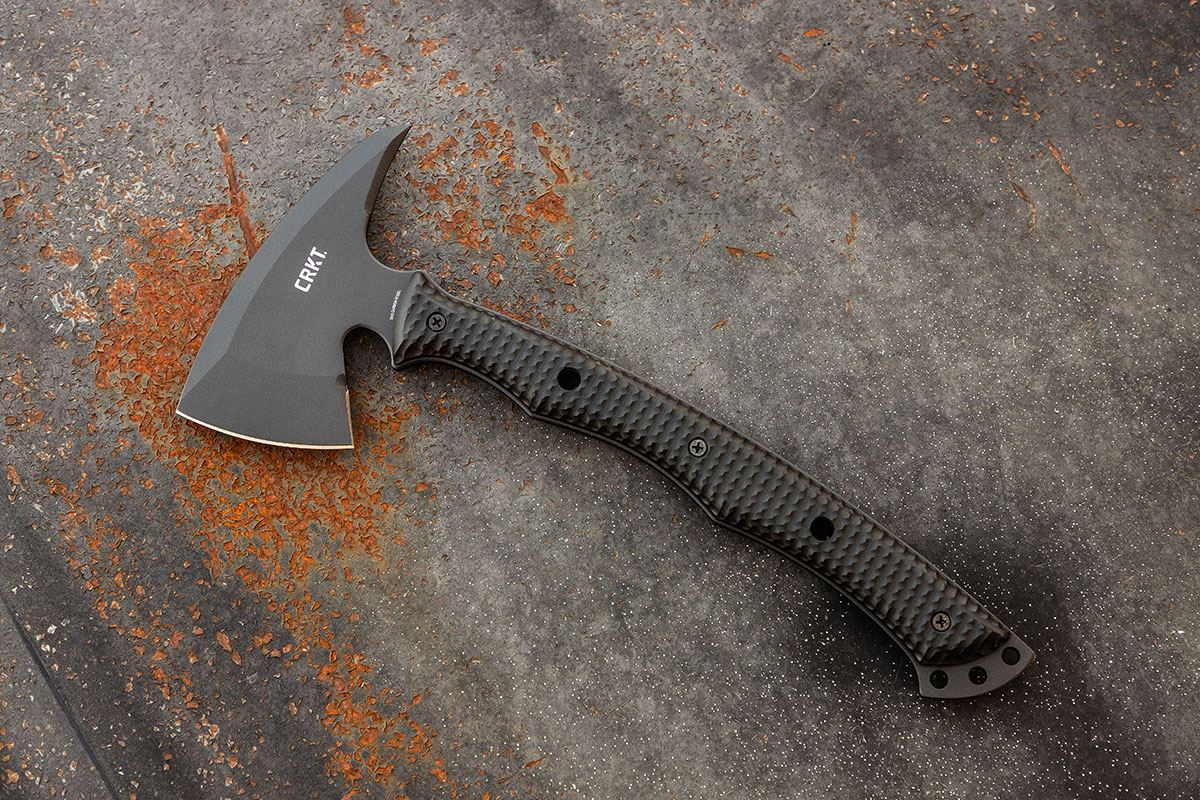 The Kangee T-Hawk is the result of over thirty years of Ryan Johnson's tactical knife making experience, which speaks volumes in regards to its quality. While you obviously can't go wrong with SK5 carbon steel and rugged black powder coating, the real standout feature is the removable checkered handle. The Chogan is constructed of the same materials but offers a different blade head without the spike.
Dimensions

Open Overall Length: 13.75 inches
Weight: 1 lb. 8.4 ounces

Blade

Length: 2.93 inches
Thickness: 0.23 inches
Material: SK5 Carbon Steel
Blade-HRC: 54-55
Finish: Black Powder Coat
Grind: Flat
Edge: Plain

Handle

Material: Glass Filled Nylon; EDM Finish

Carry

Carry System: Black Kydex Sheath with Molle Clip Platform
Weight: 3.6 ounces
---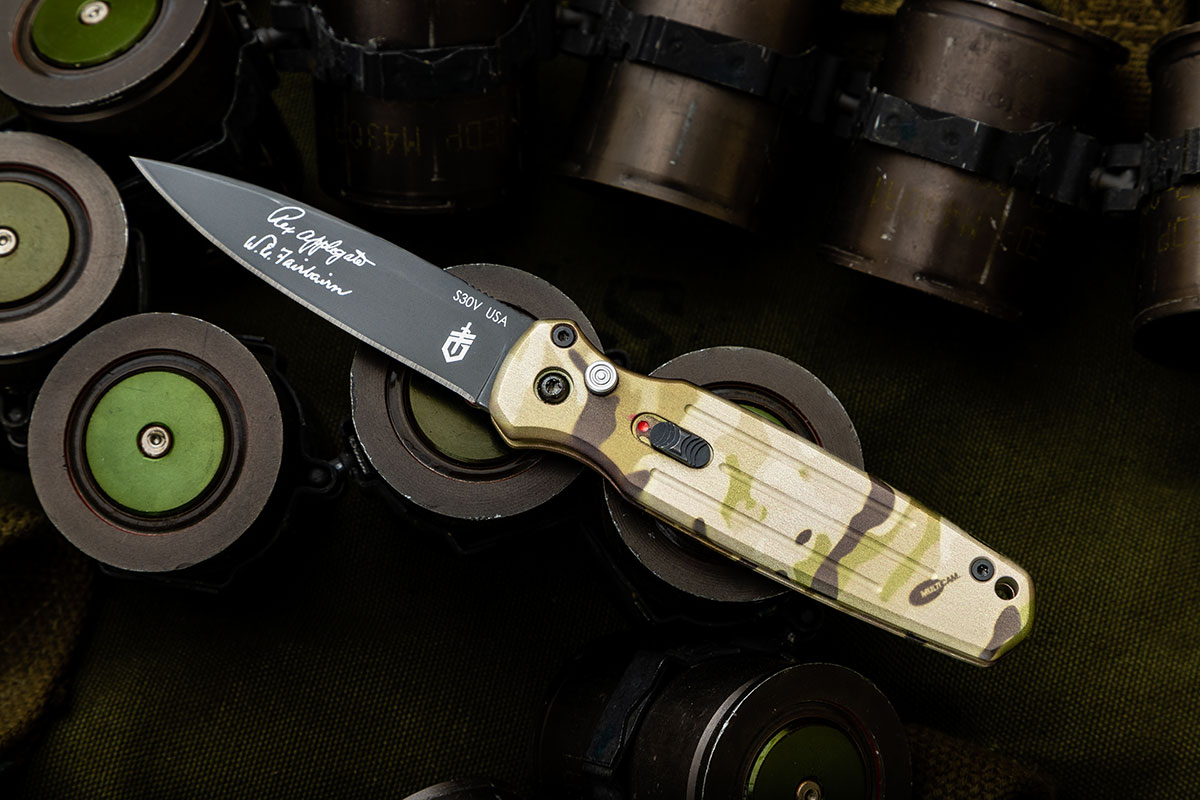 After World War II, combat legend Colonel Rex Applegate used his extensive close-quarters expertise to design more effective combat knives. His collaboration with Gerber yielded a slim, vicious folding knife that packs some serious bite, whether you prefer it with a manual, assisted or a fully automatic deployment mechanism.
---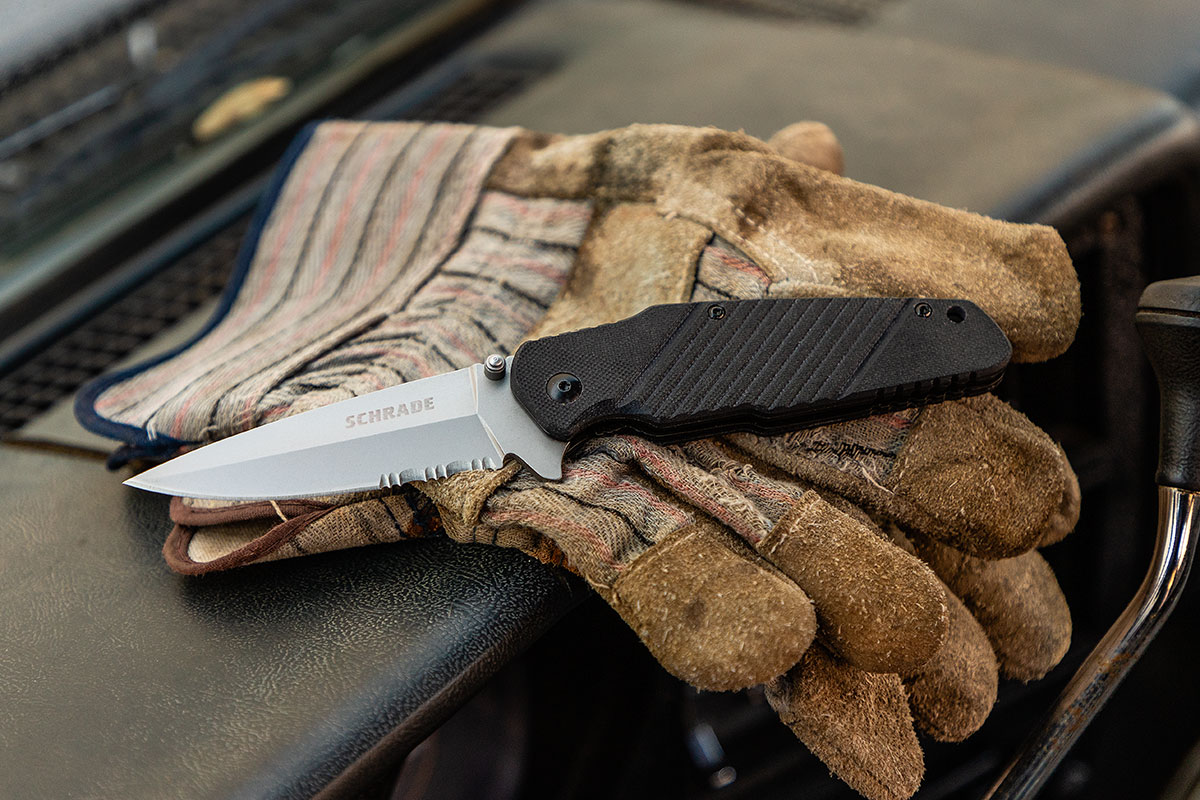 Looking for a solid knife for ten bucks? A tall order for sure, but this Schrade is marked down right now, offering solid performance when money is a factor. Featuring 9Cr18MoV – roughly equivalent in performance to 440C stainless steel – and a hollow grind with a deep swedge, you'll enjoy the cutting performance it offers. The handle is a champ as well, with a shape that locks into your hand so you can engage the task at hand with confidence.
Features

Liner Lock
Drop Point Blade
Pocket Clip
Dual Thumbstuds
Lanyard Hole
Ergonomic Handle Design

Specifications

Blade Length: 3.5″ (8.9 cm)
Blade Steel: 9Cr18MoV High Carbon Stainless Steel
Closed Length: 4.5″ (11.4 cm)
Handle Material: Textured G10
Weight: 4.6 oz. (130 g)
Made in China