Civivi and CJRB (pronounced c-j-r-b) have more than a little in common. They're both sub-labels from high-end brands (WE Knives and Artisan Cutlery, respectively), they're both putting out affordable knives, and – most importantly – they're both releasing a ton of solid designs. Today, let's take a closer look at these two brands through two seemingly similar knives: the Civivi Brigand and the CJRB Talla.
Here's how they stack up:
| | | |
| --- | --- | --- |
| | CIVIVI Brigand | CJRB Talla |
| Blade Length | 3.4″ | 3.4″ |
| Blade Steel | D2 | D2 |
| Open Length | 7.9″ | 7.95″ |
| Closed Length | 4.5″ | 4.7″ |
| Weight | 3.7 oz. | 4.9 oz. |
| Pocket Clip | Tip up; right/left carry | Tip up; right/left carry |
| Price (as of 12/19/19) | $59.50 | $37.95 |
Handle
At a glance, it's hard to even tell these knives apart – with similar modified Wharncliffe blades and wearing the same green G10, they're practically twins. However, the devil is in the details.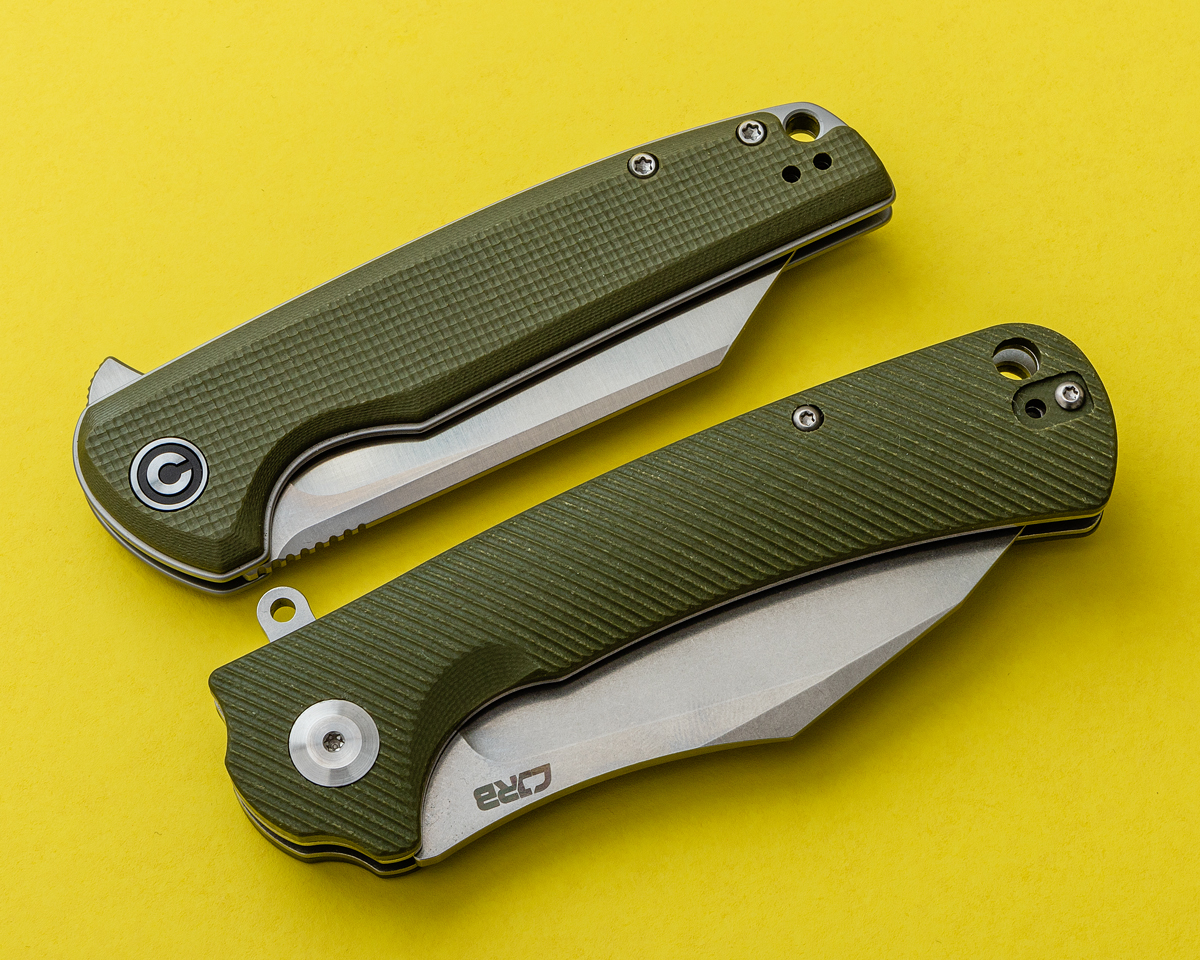 Looking at their stats on paper, the most significant difference is their weight: the Talla (bottom) is 4.9 ounces whereas the Brigand (top) is just 3.7. You can immediately feel it as soon as you pick it up – in hand, the Talla is obviously a burlier knife. That extra ounce makes itself felt in its thicker, bulkier handle, with radiused G10 handle scales that fill your grip. The texture is aggressively grippy – if you press hard it's actually difficult to move your fingers against the grain of the lines milled into the G10.
By comparison, the Brigand has flatter, thinner handles, with wide chamfers to give it a comfortable profile. Its steel liners have been "skeletonized," meaning that material has been removed wherever possible to save weight. The texture of the G10 is tactile but not nearly as grippy as the scales on the Talla – think canvas, not sandpaper.
Ergonomically, the Talla favors a single, locked-in grip. There's a nice sharpening choil on the blade to help keep the edge tidy, but it's not big enough to accommodate a finger comfortably. The Brigand has a larger finger choil – well-sized to bring the pointer finger up right behind the edge for optimal control – and its lighter, straighter handle feels more nimble.
Blade
The edges of both blades are virtually identical: thin and almost perfectly straight from heel to tip. It's a good compromise for a modern utility blade. There's just enough belly to make cutting against a board comfortable, with an ultra-precise tip for opening a package or picking a splinter.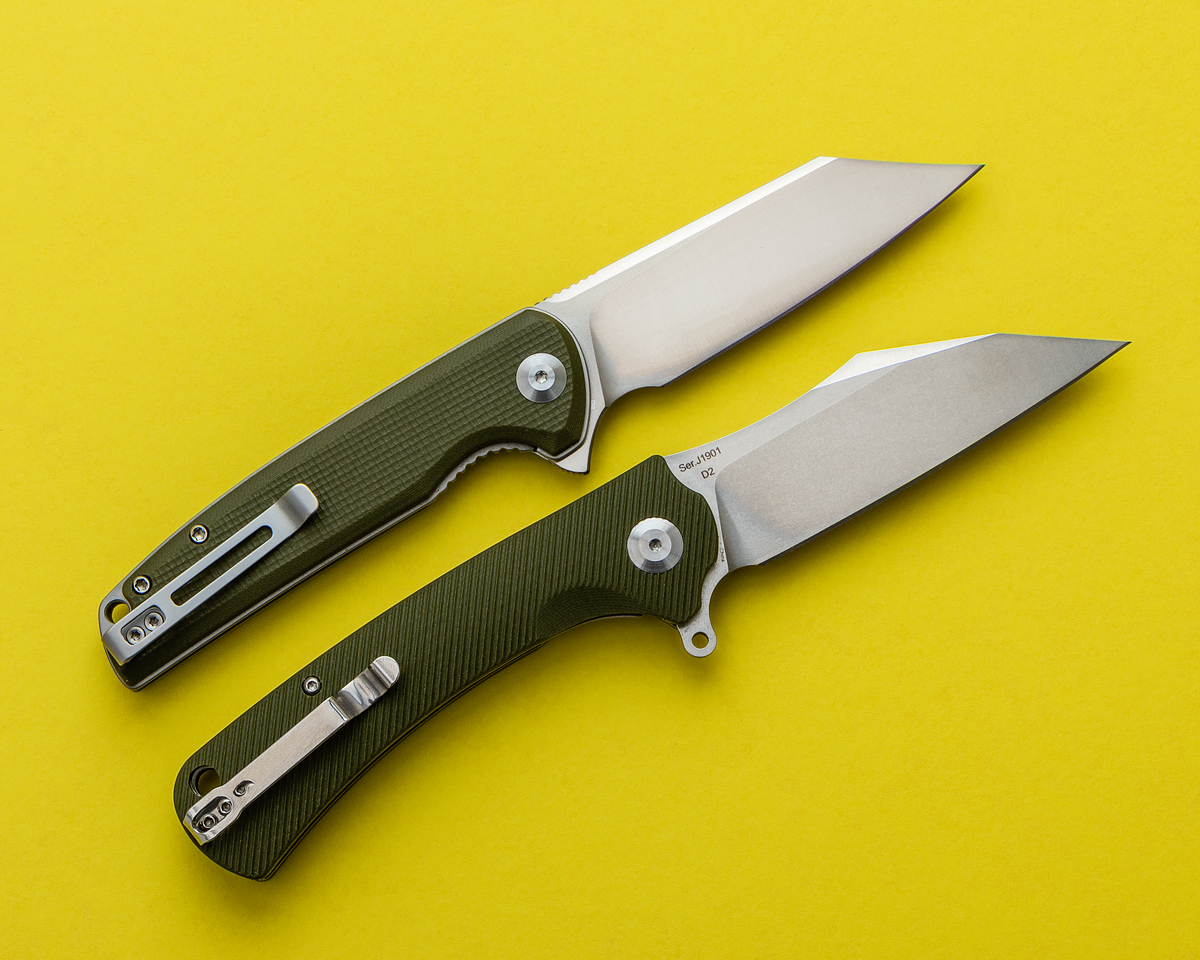 Behind the edge, the Talla has a little more going on in terms of its blade shape. Its stylish arachnid-like curves and angles give it a more menacing look than the simpler, blockier shape of the Brigand's blade.
Since both are flat ground from D2 tool steel, they should perform about the same over time. D2 steel offers a noticeable step up in edge retention from the typical budget steels at the expense of stainlessness – it can and will rust if exposed to corrosive environments. That said, it's not nearly as rust-prone as carbon steel. A quick freshwater rinse and careful dry is usually enough to keep your blade stain-free.
Both blades lock up confidently with a sturdy liner lock, and both deploy crisply via a flipper tab and ball-bearing pivot. In terms of opening action, I have to give the edge to the Civivi – the CJRB is no slouch, but I couldn't get the Brigand to misfire even when I tried to. It's simply a binary operation: hit the flipper tab, and the knife is open, no matter how hard (or delicately) you press the flipper or how you hold the knife.
So… Which One Should You Buy?
Truthfully, I can see both of these knives working equally well for different end-users. If you're purely concerned with value, the CJRB Talla wins. For a Wharncliffe flipper under $40, it simply can't be beat. If you have bigger hands or want something that feels a little more "tactical" – again, go with the Talla. And if you want something that's going to be a little easier on the pockets, you can even get one in smooth carbon fiber scales for the same price!
As for the Civivi Brigand, that extra $20 buys you a flipping action on par with knives ten times the price. Personally, I think the ergonomics are a little better for everyday carry, and that slimmer, lighter handle makes it a polite pocket companion.
So, which one would you choose? I'd love to hear the reasons for your choice. Also, if you own either of these knives, let's hear your experience with them – good or bad – in the comments below.