Here we have the last batch of custom and mid-tech knives from our trip to BLADE Show – and we're ending our haul with some pretty incredible designs from Jeremy Marsh, Tom Krein, and Tom Ploppert.
Jeremy Marsh Dressed Up MAC RoxStars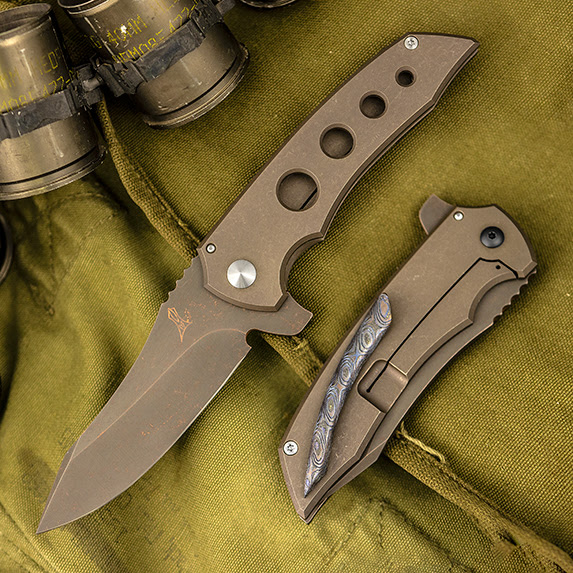 We were fortunate to get a few of Jeremy's MAC RoxStars at BLADE that feature zirconium or zircu-ti pocket clips with hidden hardware for a little extra pizzazz. It's one of the premier tactical folders on the market and available for a fraction of what a full custom would run you even though it feels just as nice.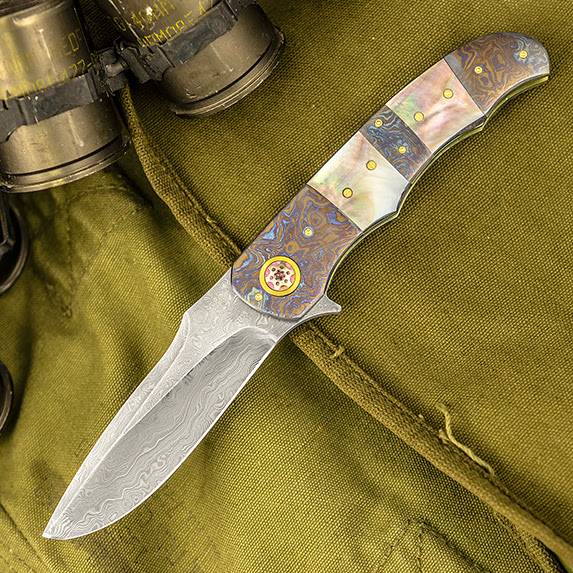 We managed to grab quite a selection of George's offerings at the show, including a few well-priced EDC beauties. As with all of his knives, they combine top-notch materials together harmoniously to give these designs the look of true art knives.
Steven Kelly Custom Knives and Gear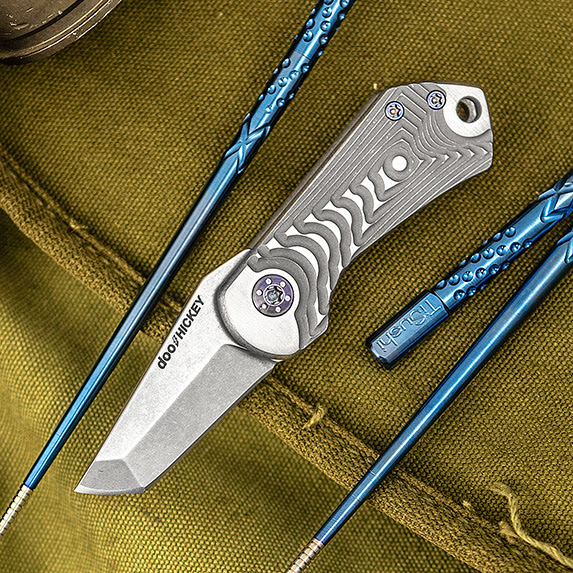 Straws, Ti Sushi Sticks, Doohickeys, Screw-Its, fixed blades and heck, even a titanium spike – we've got some of nearly everything from the 2018 BLADE Show that Steven offers at the moment. We always love working with Steven and his wife Malissa, his constant companion at every show. Out of everything we got at BLADE, these Dragon Skin pattern milled Sushi Sticks might just be the coolest thing.
Spartan Blades Custom Special Edition SHFs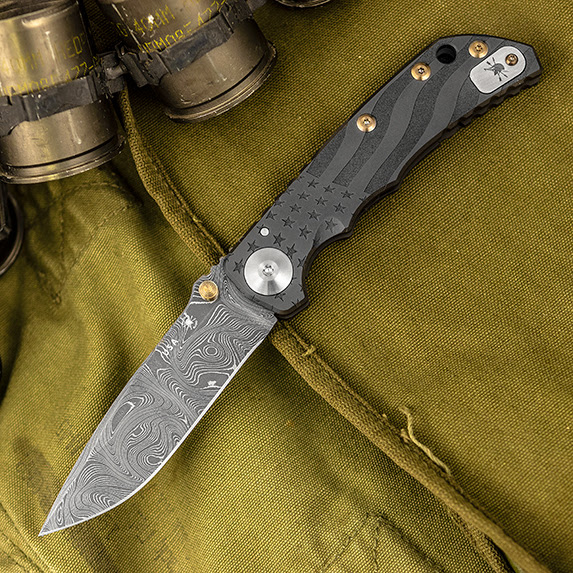 SHF Spartan Harsey Folder…quickly becoming THE knife to have from Spartan Blades. We have an awesome selection here of customized and special edition models, so you're sure to find one for you or a very, very good friend.
Tom Krein Custom Splinter Flipper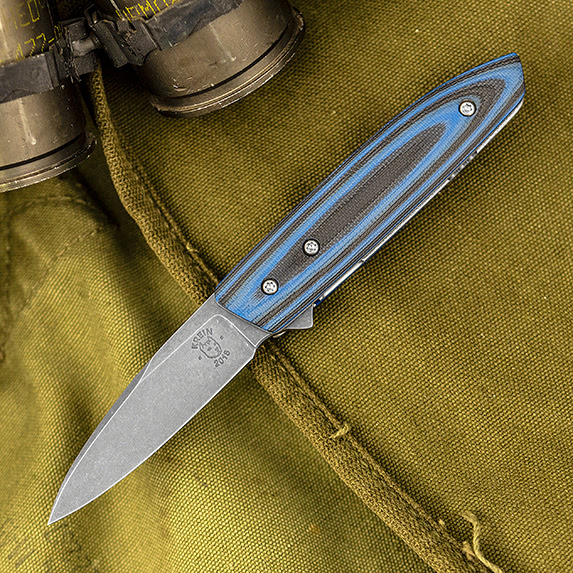 Tom Krein Splinter = ideal EDC knife. It's small, ergonomic and fast, which makes it fun to pull out of your pocket and use without calling attention to yourself. With CTS-XHP stainless steel and durable G10, it's a user piece with class and definite curb appeal.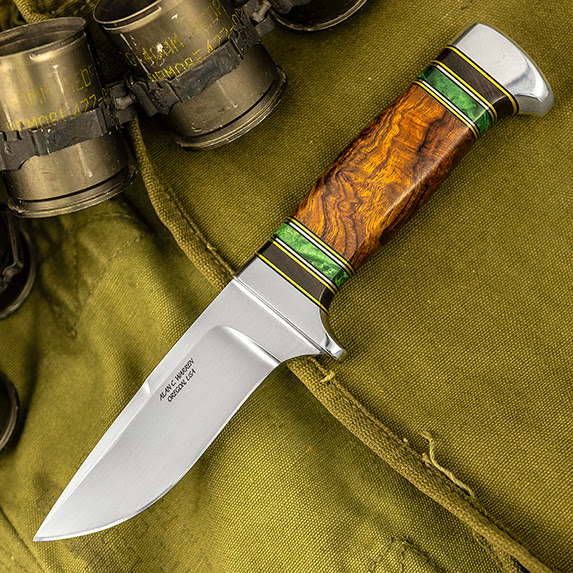 Alan C. Warren custom knives are functional works of edge art. He puts in the time and includes features that you don't often see but will absolutely love, like silver soldering on the finger guard for a cleaner look or tapering the tang thickness of the blade at the butt end to save weight. They are specifically designed, manufactured, and honed for hunting tasks and deserve to be used. However, these are some of the most beautiful cutting tools we've ever carried so safe queen status is definitely not out of the realm of possibilities.
Les George/Allen Elishewitz Cerebrus Mid-Techs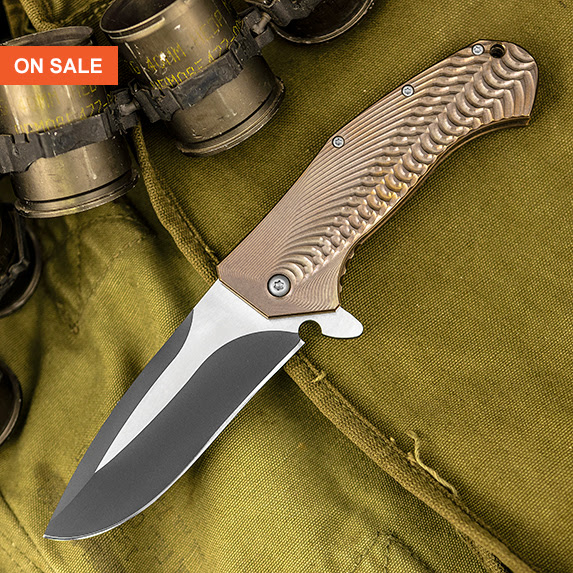 Sometimes it's difficult to see two makers' design styles in a collaboration but that definitely is not the case with the Cerebrus from Les George and Allen Elishewitz. This large and in charge tactical flipper looks like an Elishewitz knife with a George finish and mid-tech build quality. We are making them even more enticing by taking $125 off, so if you want to get one into your hands at a great price…better act quick!
DPx Gear USA-Made HEST/F Urban Special Editions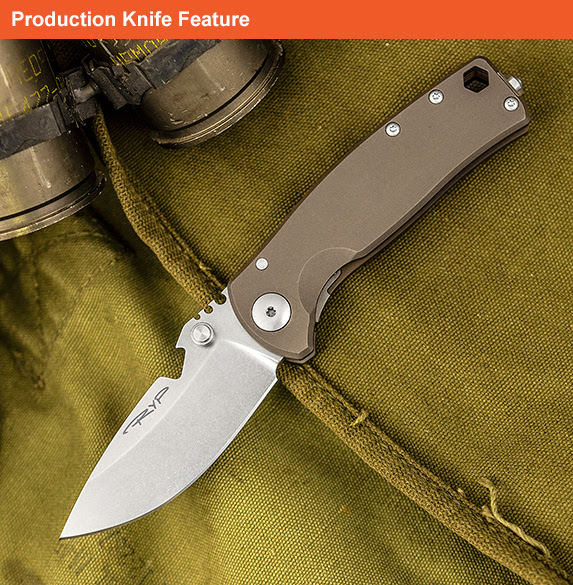 The HEST/F Urban came about when Robert Young Pelton wanted to bring a knife to the EDC community that wasn't just for knife people. It's for all people who appreciate well-built tools that will last for generations. These three special edition models will appeal to anyone who wants something different than standard issue stonewashed/bead blasted.
We have new knives from EOS, RMJ Tactical, Kansei Matsuno, Chuck Richards, Matt Westberg, Rick Hinderer, balisongs from Les Voorhies and Nathan Dewey, and more Astio flippers from Todd Begg Knives. We get new Customs and Mid-Techs in every day, so please email us at support@knifecenter.com with any inquiries.
KnifeCenter is the original and largest online catalog of cutlery, and that includes the best automatic knives in the world.