This last week was a good one for new knives, especially if you're looking for a compact knife with full-size quality. We just stocked all-new items from Spyderco, Civivi, Kizer, and a custom curio from Rexford Knives – read on to take a closer look at the best new knives to hit our shelves!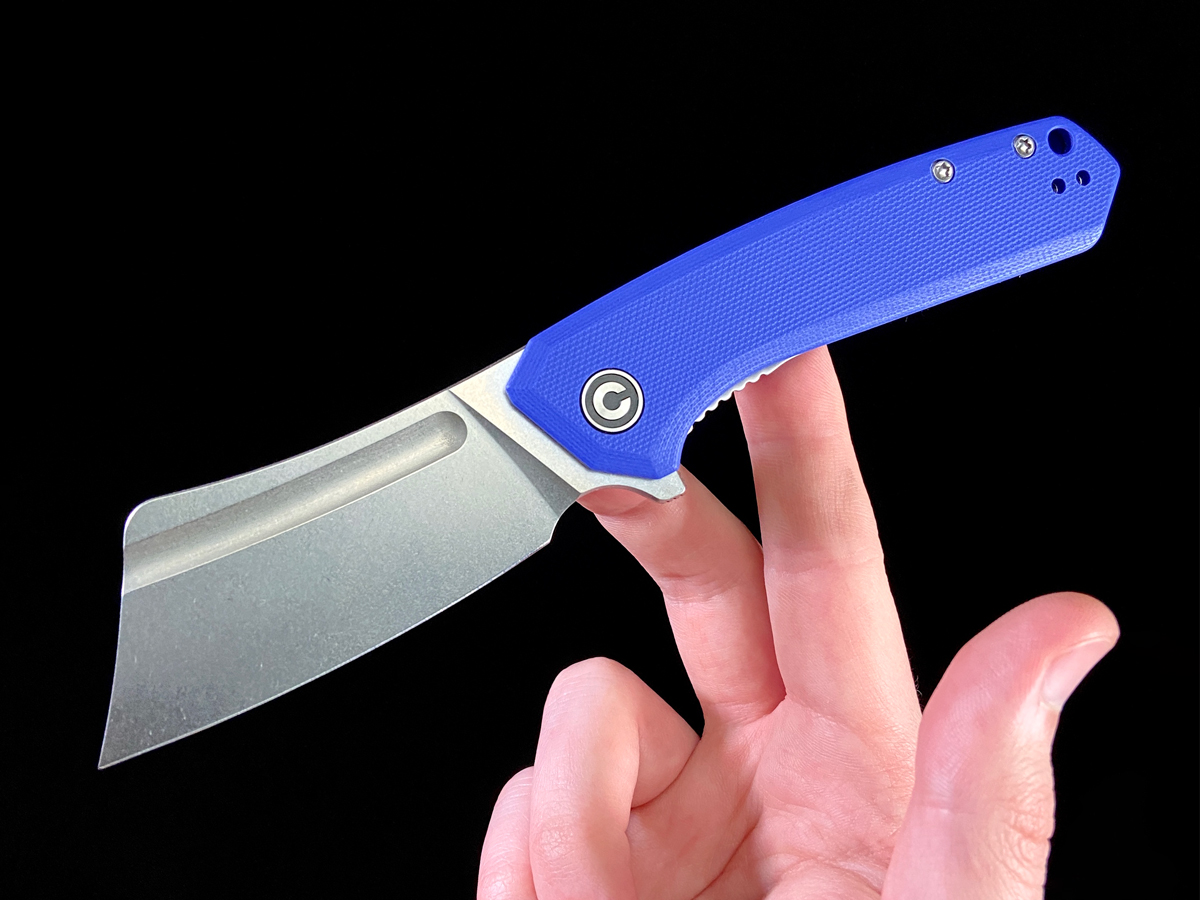 Meet the Mini Bullmastiff, a cleaver-style flipper from Civivi that somehow feels both small and large at the same time. By the typical measurements we tend to talk about, the Mini Bullmastiff is fairly small: 2.9" blade, 3.5 ounces. Numbers don't tell the whole story, though, because the broad, almost cartoonishly proportioned blade make this knife feel much bigger than it is. It's not a bad thing – it makes the knife feel capable, with a pugnacious personality that I suspect many customers will find irresistible.
The grind is keen, and the blade is made from 9Cr18MoV steel, which is comparable in composition to 440C – a solid choice for the price. With such a long, gradual transition from the spine to the edge, we expect the blade to be a slicing machine. The unique blade shape also contributes to an addicting action, and the liner lock is rock solid. Available in your choice of blue, black, or OD green G10 handles. I think Civivi has another hit on their hands with the Mini Bullmastiff – if you pick one up, let us know if you agree!
Blade Length: 2.97″ (75.5 mm)
Closed Length: 4.20″ (106.6 mm)
Overall Length: 7.17″ (182.1 mm)
Blade Material: 9Cr18MoV Stainless Steel
Blade Thickness: 0.118″ (3.0 mm)
Blade Hardness: 58-60HRC
Blade Style: Cleaver
Blade Grind: Flat
Blade Finish: Stonewash
Handle Thickness: 0.51″ (13.0 mm)
Liner Material: Stainless Steel
Locking Mechanism: Liner Lock
Pivot Assembly: Caged Ceramic Bearings
Pocket Clip: Deep Carry Stainless Steel (Tip-Up, Right/Left Carry)
Weight: 3.51 oz. (99.5 g)
Made in China
---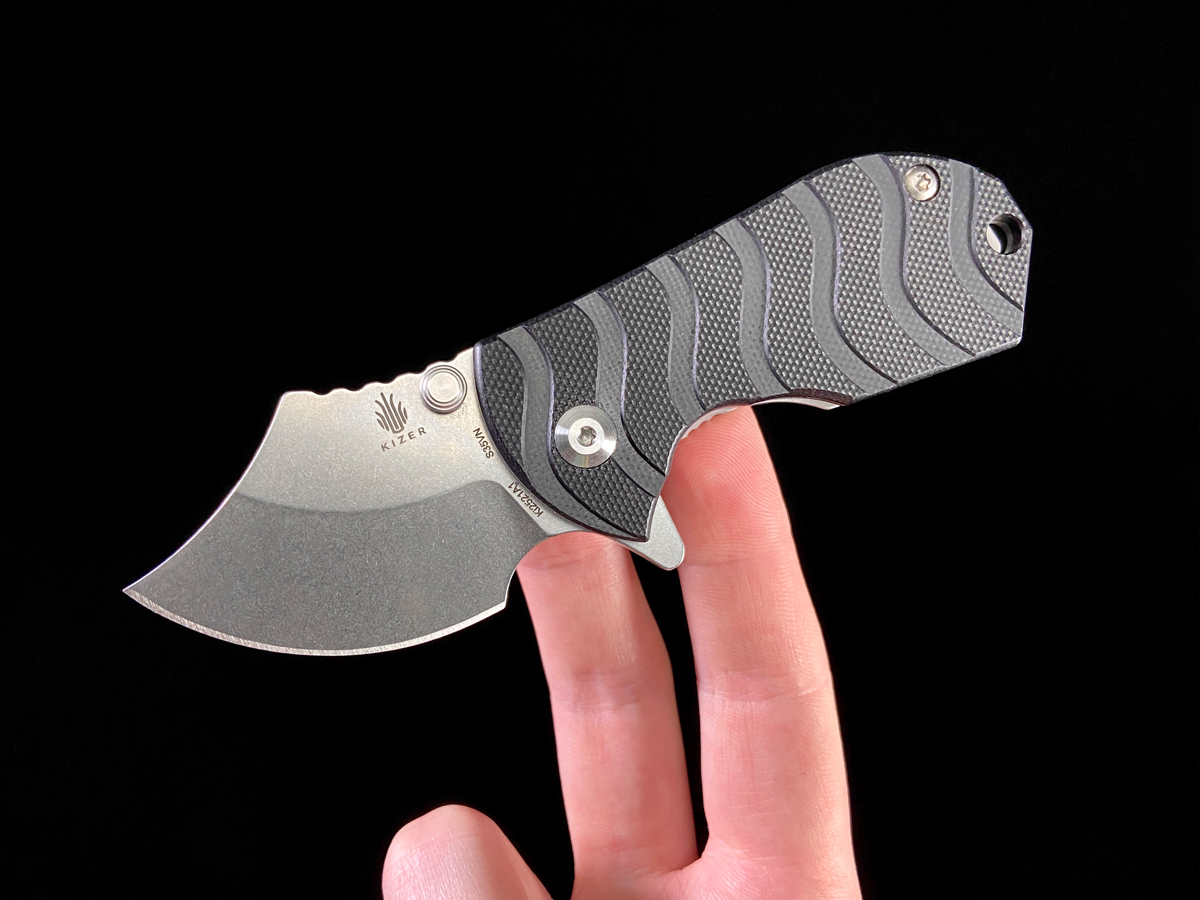 Designed by Alex Shunnarah, the man behind ARS (Attack Rescue Survive) Knives, and produced by Kizer Cutlery, the Flip Shank is a bite-sized brute with big attitude. The 1.9" S35VN blade maximizes edge length with a sweeping belly, and deploys quickly via the flipper or thumbstud.
Like the Civivi Mini Bullmastiff, the proportions of the Flip Shank are deceptive. The blade stock is beefy, and the handle affords a full-fisted grip thanks to a generous finger choil. If you have blade length restrictions in your area, or want a small knife that does not compromise on build quality and materials, the Flip Shank delivers the strength and performance you'd expect from a much larger blade. Multiple deployment options make it extremely fidget-friendly, too. Available with either black G10 or natural Micarta show-side scale.
Blade Length: 1.93″ (49 mm)
Closed Length: 3.11″ (79 mm)
Overall Length: 5.04″ (128 mm)
Blade Material: CPM-S35VN Stainless Steel
Blade Thickness: 0.157″ (4.0 mm)
Blade Style: Clip Point
Blade Grind: Flat
Blade Finish: Stonewash
Handle Thickness: 0.508″ (12.9 mm)
Locking Mechanism: Frame Lock
Pivot Assembly: Bearings
Pocket Clip: Titanium (Tip-Up, Right Carry)
Weight: 3.49 oz. (99 g)
Designer: Alex Shunnarah
Replaceable Lockbar Insert
Made in China
---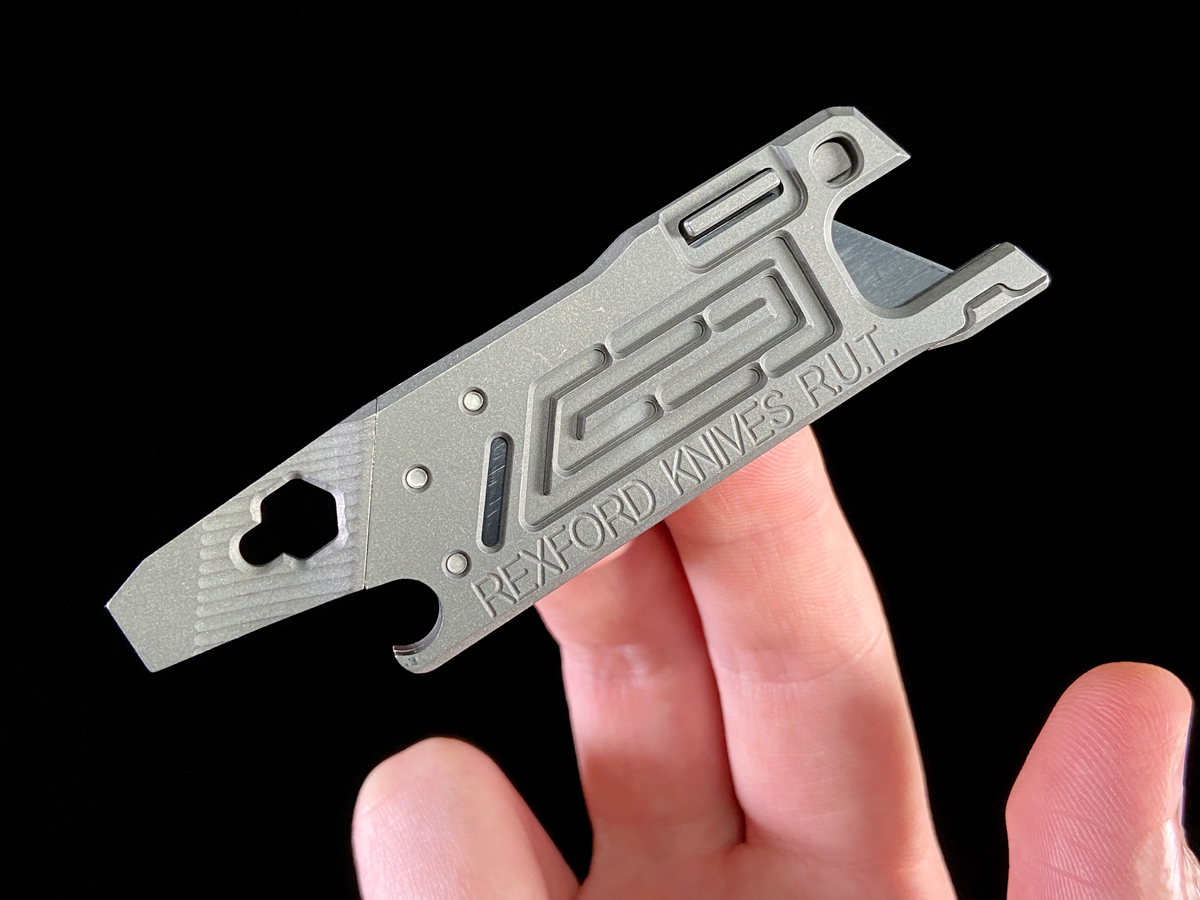 The Rexford Knives RUT (Rexford Utility Tool) is back and better than ever. The original RUT spawned a sea of spin-offs from other brands, but none of them measure up to the original. Todd Rexford's machining skills are unparalleled, and the RUT – while simple – is simply perfect.
Manufactured in Rexford's USA-based shop, these latest V4 tools feature updates to the lock and anti-rattle refinements. The "maze" pattern you see here is exclusive to the KnifeCenter, which adds a measure of grip to the Titanium handles and an interesting look that we think will wear in beautifully as you carry it.
I can see this fitting in with just about any everyday carry setup, whether you carry it alongside a larger tactical knife, or as a dedicated cutting tool. It also makes an excellent travel knife: since utility blades can be found just about anywhere, just remove the blade for travel and replace it when you arrive at your destination. This minimalist multitool won't be around forever, though, so don't sleep on these if you want one!
#2 Flathead Screwdriver/Pry Bar
Bottle/Can Opener
Replaceable Black Standard Razor Blade
Shrouded lockbar and interlocking halves
Bit driver incorporated into split-ring hole
Cleanout passage on main body and angled cleanout grooves
Closed position blade tension
Fully enclosed lock shroud
3D machined halve mating section
---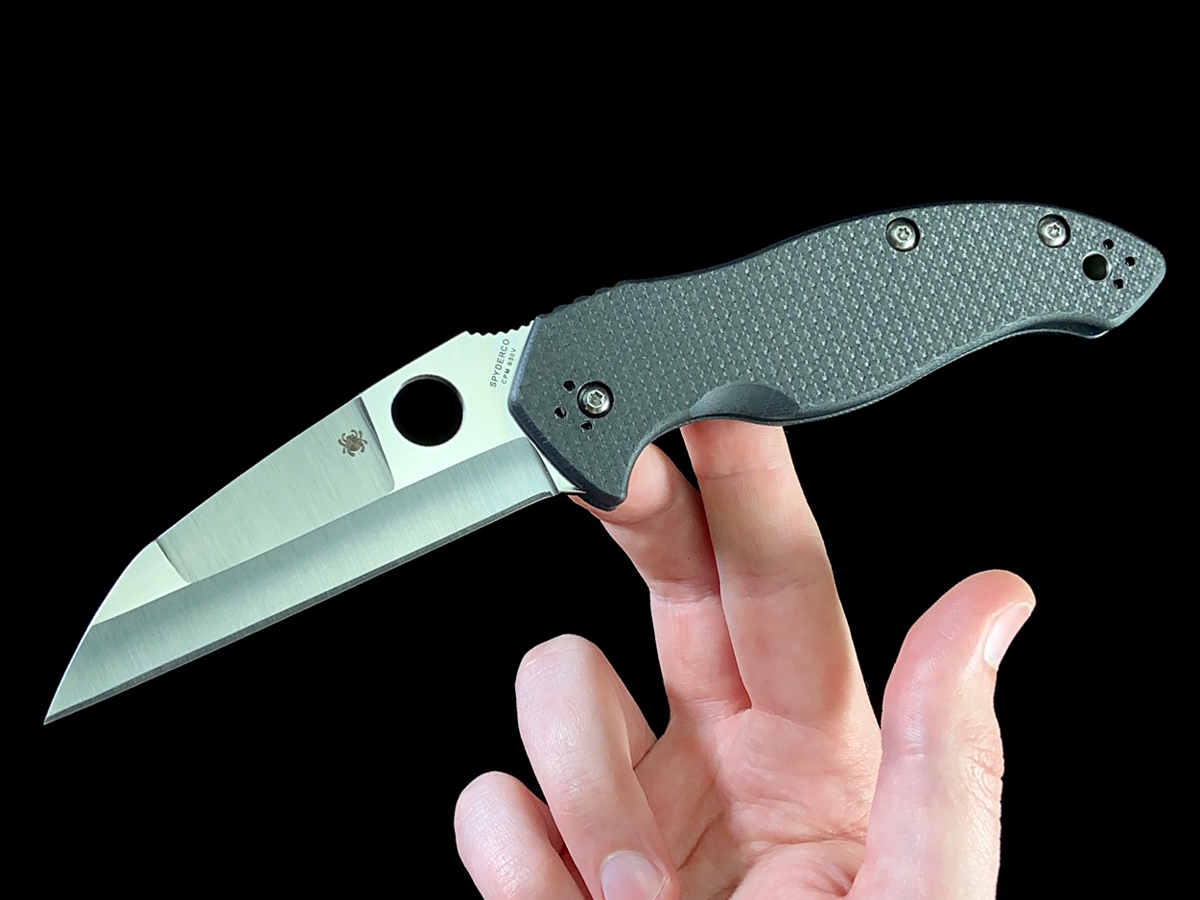 Recently arrived and in stock now, the brand-new Canis is the latest tactical folder from Spyderco with a Wharncliffe blade and compression lock. The goal behind the design – by counter-terrorism and close-quarters combat expert Kelly McCann – was to create a knife with all the benefits of a Wharncliffe blade without any of the drawbacks. The result is the Canis, a knife with the unique cutting power of a perfectly straight edge, but without a thin, delicate tip.
The S30V blade on the Canis features a short, aggressive hollow grind which carries the full thickness of the blade stock all the way to the tip, along with a dramatic swedge to reduce cutting drag. The handle ergonomics are inviting, and feel "locked in" without relying on aggressive texturing or finger scallops that can cause fatigue. The compression lock is smooth, and more importantly, strong, and tuned for a drop-shut action straight out of the box.
Blade Length: 3.36″ (85 mm)
Closed Length: 4.72″ (120 mm)
Overall Length: 8.03″ (204 mm)
Cutting Edge: 3.36″ (85 mm)
Blade Thickness: 0.110″ (2.8 mm)
Blade Material: CPM-S30V Stainless Steel
Blade Style: Wharncliffe
Blade Grind: Hollow
Blade Finish: Satin
Blade Edge: Plain
Handle Material: Peel-Ply Carbon Fiber/G10 Laminate
Handle Color: Black
Locking Mechanism: Compression Lock
Pocket Clip: Stainless Steel (Tip-Up/Down, Right/Left Carry)
Model Number: C248CFP
Model Name: Canis
Designer: Kelly McCann
Weight: 3.9 oz. (111 g)
Made in Taiwan