Big jobs call for big knives. If you've got lots of work to do, a small EDC knife sometimes just won't cut it. The Benchmade Crooked River and the Spyderco Military are two of the best big folding knives from either brand competing for your pocket today. With significantly more blade and handle than your typical pocketknife, either one is worth considering if your current carry is coming up short. Let's see how they stack up.
Here's how they stack up on paper:
| | | |
| --- | --- | --- |
| | Benchmade Crooked River | Spyderco Military |
| Blade Length | 4″ (102 cm) | 4″ (102 mm) |
| Blade Thickness | 0.124″ (3.15 mm) | 0.145″ (3.7mm) |
| Blade Steel | CPM-S30V | CPM-S30V |
| Open Length | 9.3″ (236 mm) | 9.5″ (241 mm) |
| Closed Length | 5.33″ (135 mm) | 5.5″ (140 mm) |
| Weight | 5.41 oz. (153 g) | 4.5 oz. (128 g) |
| Pocket Clip | Tip up; right/left carry | Tip down; right carry |
| Price (as of 11/4/19) | $208.25 | $178.75 |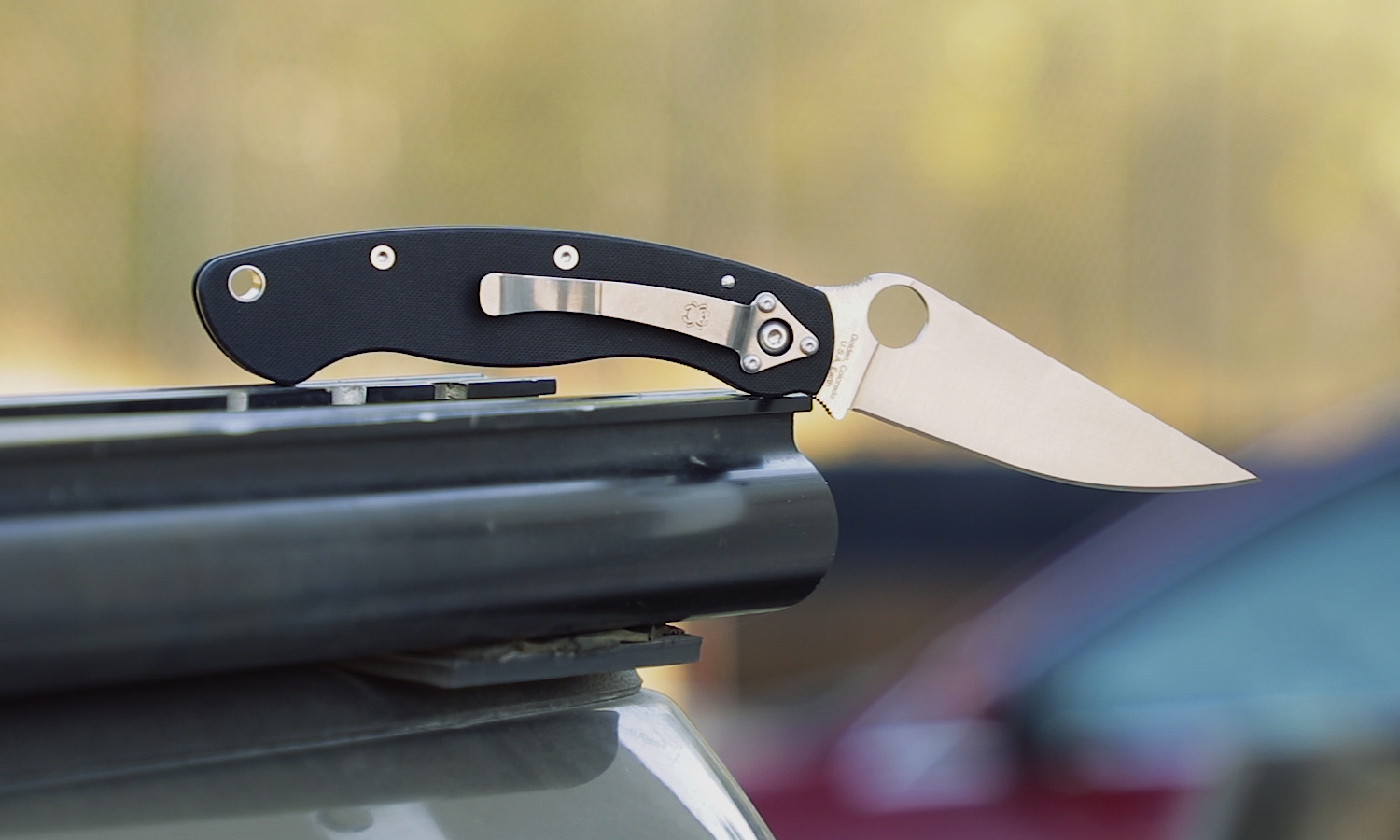 Handle
As you can see from the table above, the Spyderco Military just edges out the Benchmade Crooked River in overall length. You can really stretch out on its generously-sized handle, and the finger choil allows you to choke up all the way to the edge for better control over that long blade. Personally, I've always appreciated the way the choil is implemented on the Military: it isn't as deeply concave as the typical Spyderco choil (like the one found on the popular Paramiltary 2), which means you're not locked in to just one forward finger position.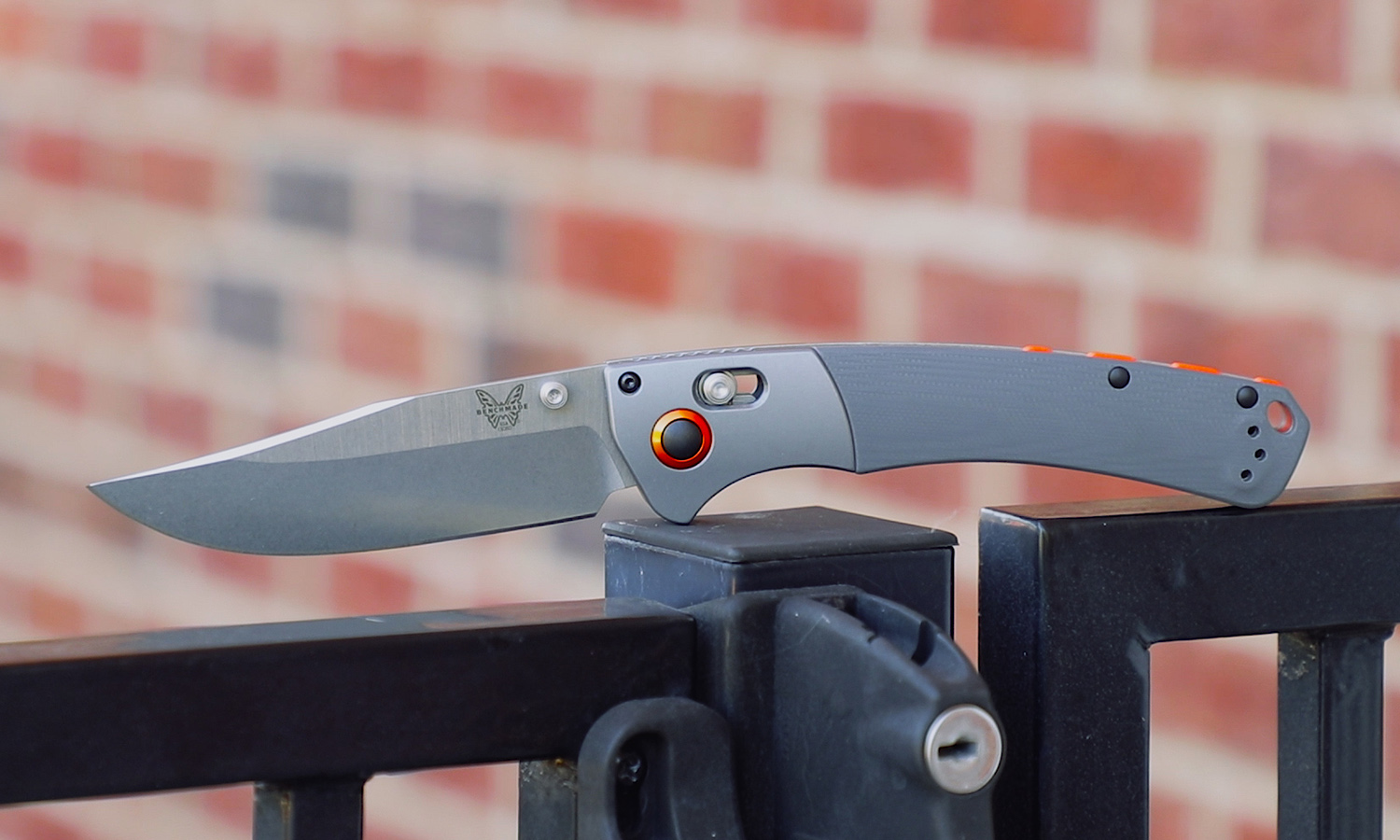 The Crooked River, on the other hand, is a little more conservative in its approach. There are less ergonomic features than the Military (no thumb ramp, no finger choil) but that doesn't mean it's less comfortable. The simplicity of the design means you can hold it any way you please. And since the handle meets the spine of the blade in one continuous curve, you can easily stretch your thumb forward to apply pressure directly behind a cut.
Blade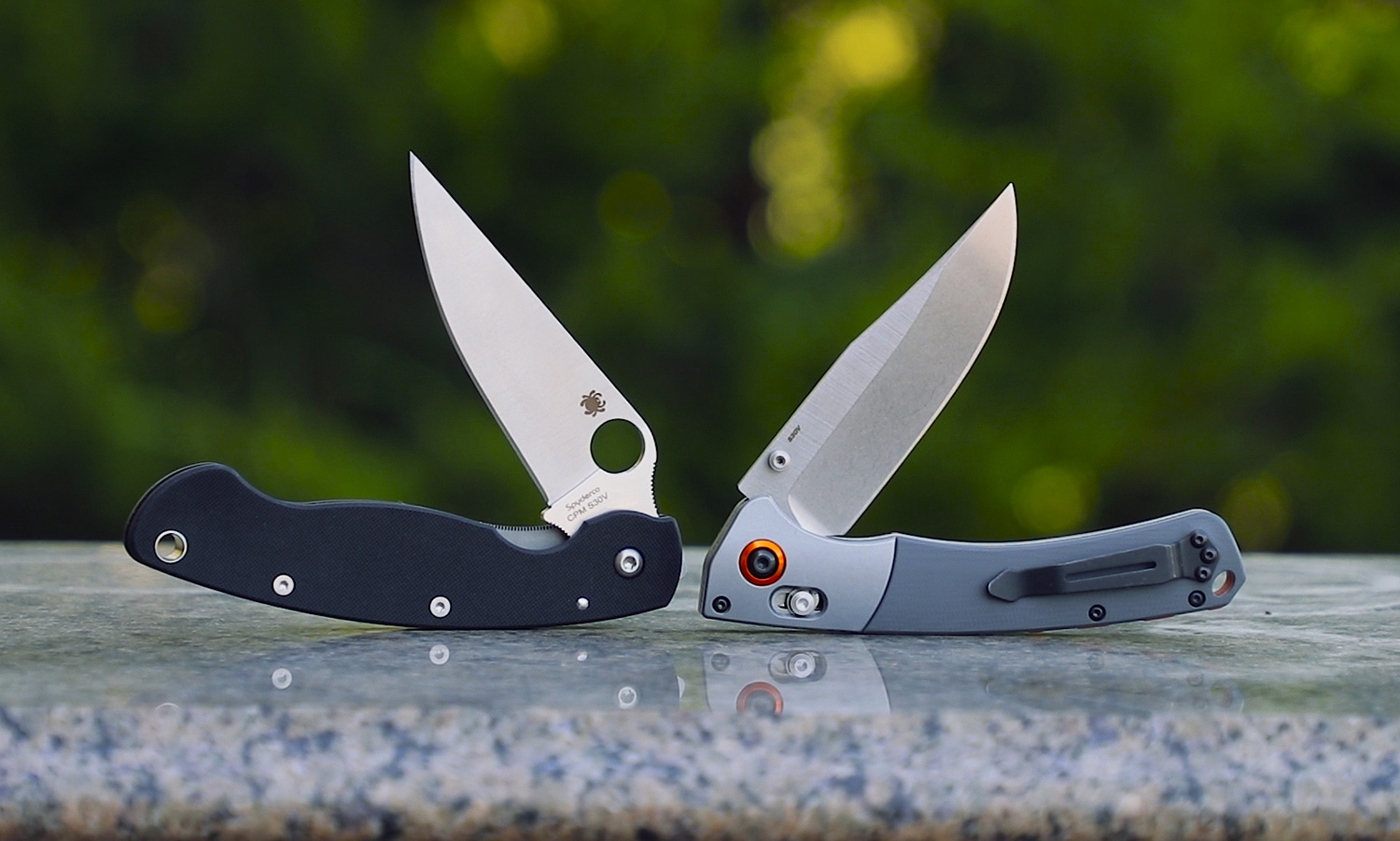 Both knives have 4″ blades made from the same CPM-S30V steel (though Benchmade and Spyderco also offer upgraded variants with more exotic steel choices to suit more specific needs). If it's all-around performance you want, S30V is an excellent option. It's not too challenging to sharpen, it's highly stainless, and it holds an edge noticeably longer than most of the cheaper alloys on the market.
The biggest difference between the two blades is the grind: the Spyderco Military features a full-flat grind, which tapers evenly to its pointy tip, while the Benchmade Crooked River has a flat saber grind that keeps a more consistent thickness towards the tip.
There's always a trade-off between precision and strength when it comes to blades. If you need that splinter-picking precision, opt for the Military. If you expect to be torquing (gently!) on the tip, the Crooked River is a better option. Both knives are great all-around cutters.
Deployment
For deployment, The Military features Spyderco's trademark round hole. Equal parts iconic and utilitarian, it's a great solution to the problem of opening a folding knife one-handed. Because the so-called "Spydiehole" doesn't protrude out from the blade, there's nothing to snag on the material you are cutting while you work.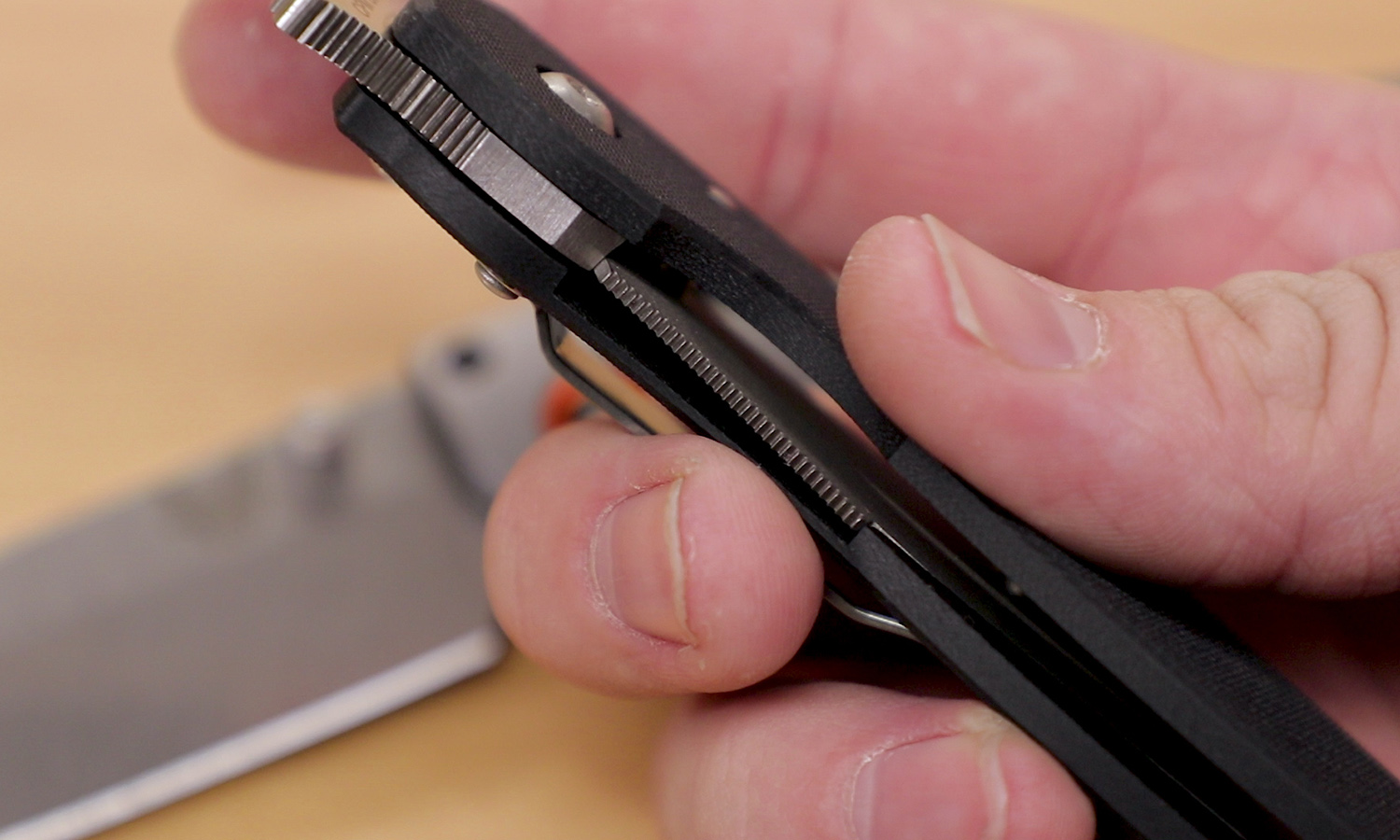 Spyderco set out to keep the Military as light as possible, so they opted for a liner lock to secure the blade open and closed. The liners are nested into the G10 scales and shaped to take up as little space as possible within the handle while still supplying structural support. In combination with the Spydiehole which provides snappy deployment, the liner lock enables solid lockup.
The Crooked River, on the other hand, features thumb studs, an AXIS Lock, and full steel liners. Once you get the hang of the AXIS Lock, it's hard to put down – there's a frictionless, kinetic feel to the mechanism that makes it uniquely satisfying to use. Because of the liners and metal bolster, the Crooked River is a fair bit heavier than the Military, but certainly a bit stronger for it, too.
Carry
Few things divide knife people more than tip-up vs. tip-down carry. Personally, I like having options, but in this match-up the choices are limited: the Military comes in right-side, tip-down orientation only (though a dedicated left-handed version is available) and the Crooked River offers tip-up, right or left side carry.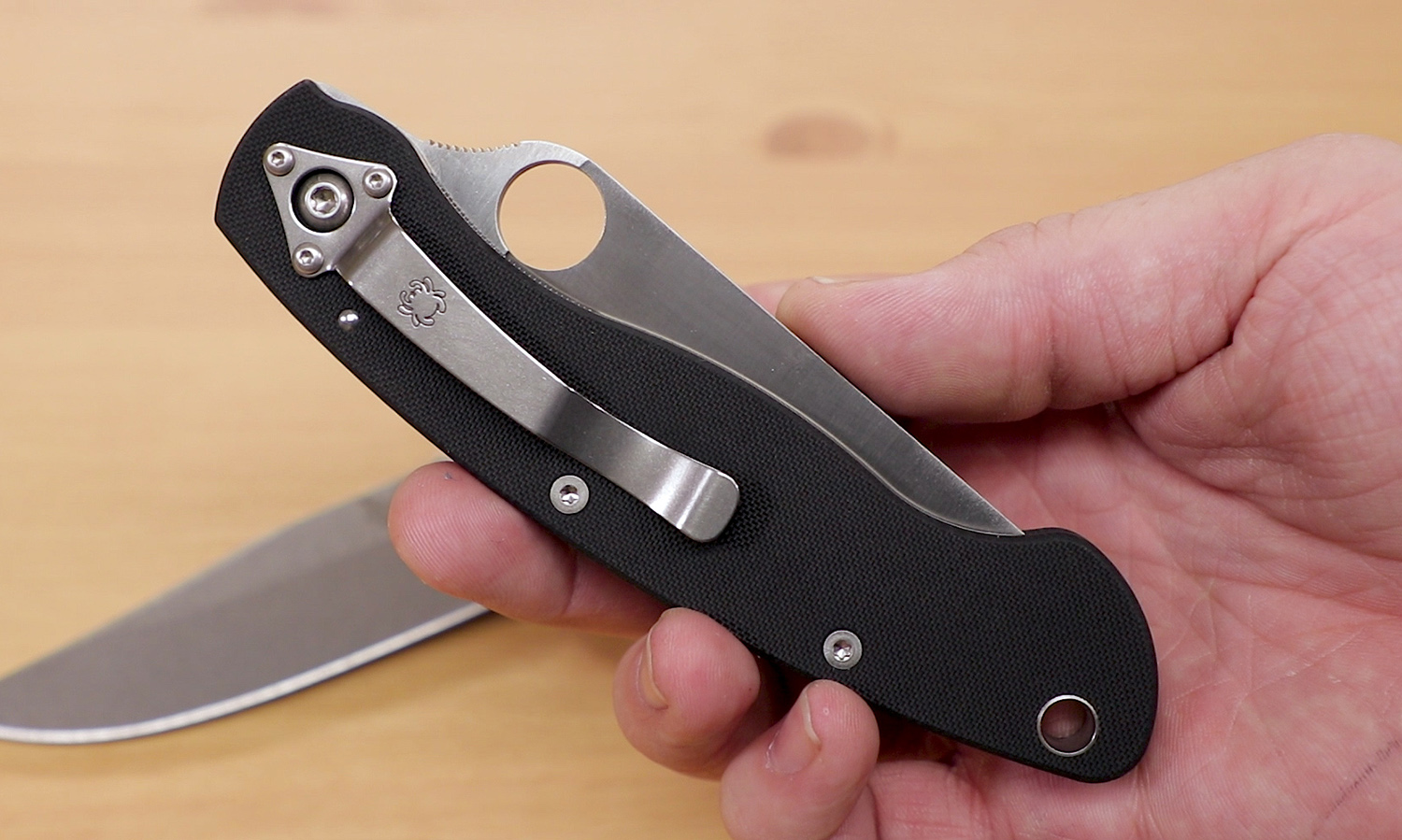 If you think tip-down carry is a deal-breaker for you, the Spyderco Military might just change your mind. The knife was specifically designed to be carried tip down – as you pull it from your pocket, your hand is already in position next the opening hole for deployment.
Still, many people are accustomed to tip-up carry, and the Benchmade Crooked River certainly carries well for such a big blade. It's heavy, but a little slimmer and smoother in the pocket than the Military, making it a polite pocket companion for its size.
Which One Would You Carry?
Ultimately, the choice is up to you. These knives both offer a lot of USA-made knife for your money, but which one would you carry? Do you own a Benchmade Crooked River? How about a Spyderco Military? If you own both, which one do you prefer, and why? I'd like to hear your thoughts down in the comments.