Tons of cool stuff to show you this week! From a brand-new L.T. Wright, a special-edition Swiss Army Knife, a great deal on some CRKT Machetes, and more, there is something here for any bushcrafter, camper or hiker that needs a good blade.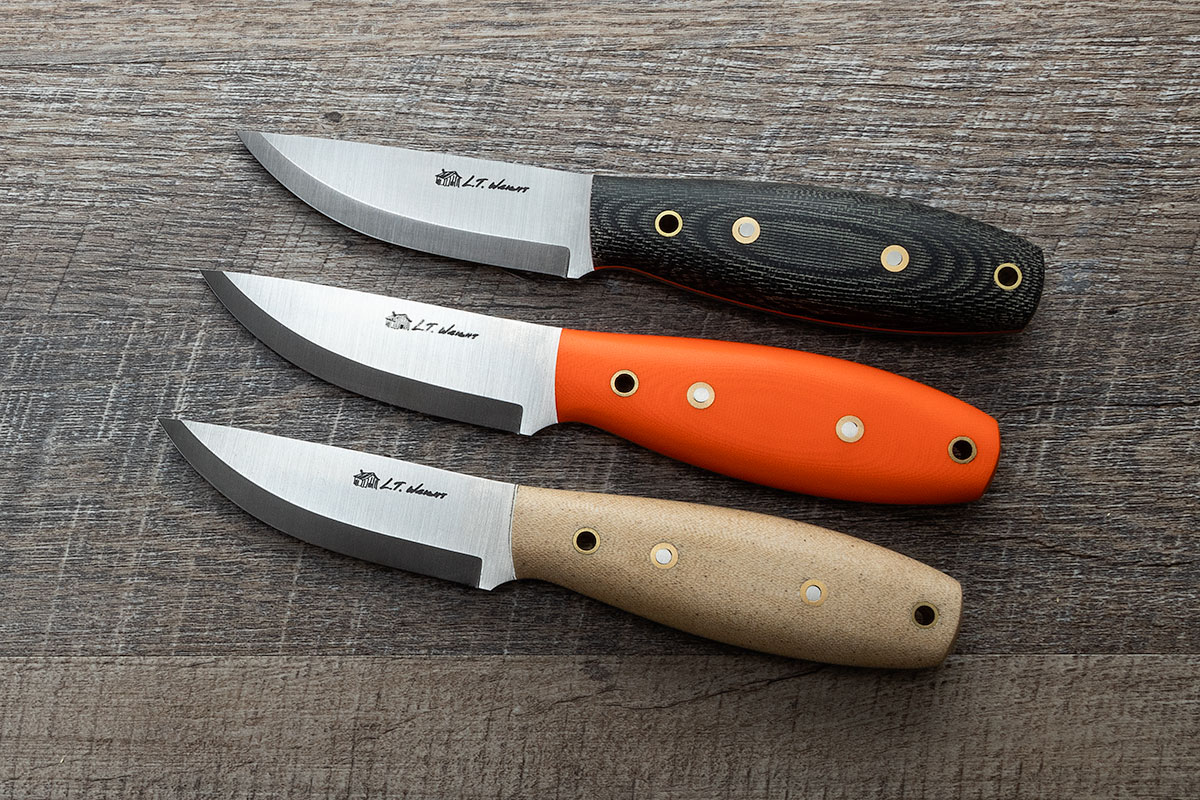 KnifeCenter is proud to be the first dealer to offer the new LTWK Holy Bushman to the world! This modern take on the bushcraft puukko design is both insanely comfortable and easy to control during long whittling sessions. A slight drop to the edge provides a degree of safety and multiple lanyard holes allow for versatile lashing options. You won't be disappointed with this new classic and you can get them from us first!
Each piece from LTWK is handmade. Specs may vary slightly.
Blade Length: 3.625″
Cutting Edge: 3.50″
Handle Length: 4.125″
Overall Length: 7.75″
Blade Material: A2 Tool Steel
Blade Thickness: 0.12″
Blade Hardness: 57-59 HRC
Blade Style: Straight Backed
Blade Grind: Scandi
Blade Finish: Satin
Handle Material: Micarta or G10
Handle Thickness: 0.93″
Sheath: Leather (JRE Industries)
Weight: 6.20 oz.
Made in USA
---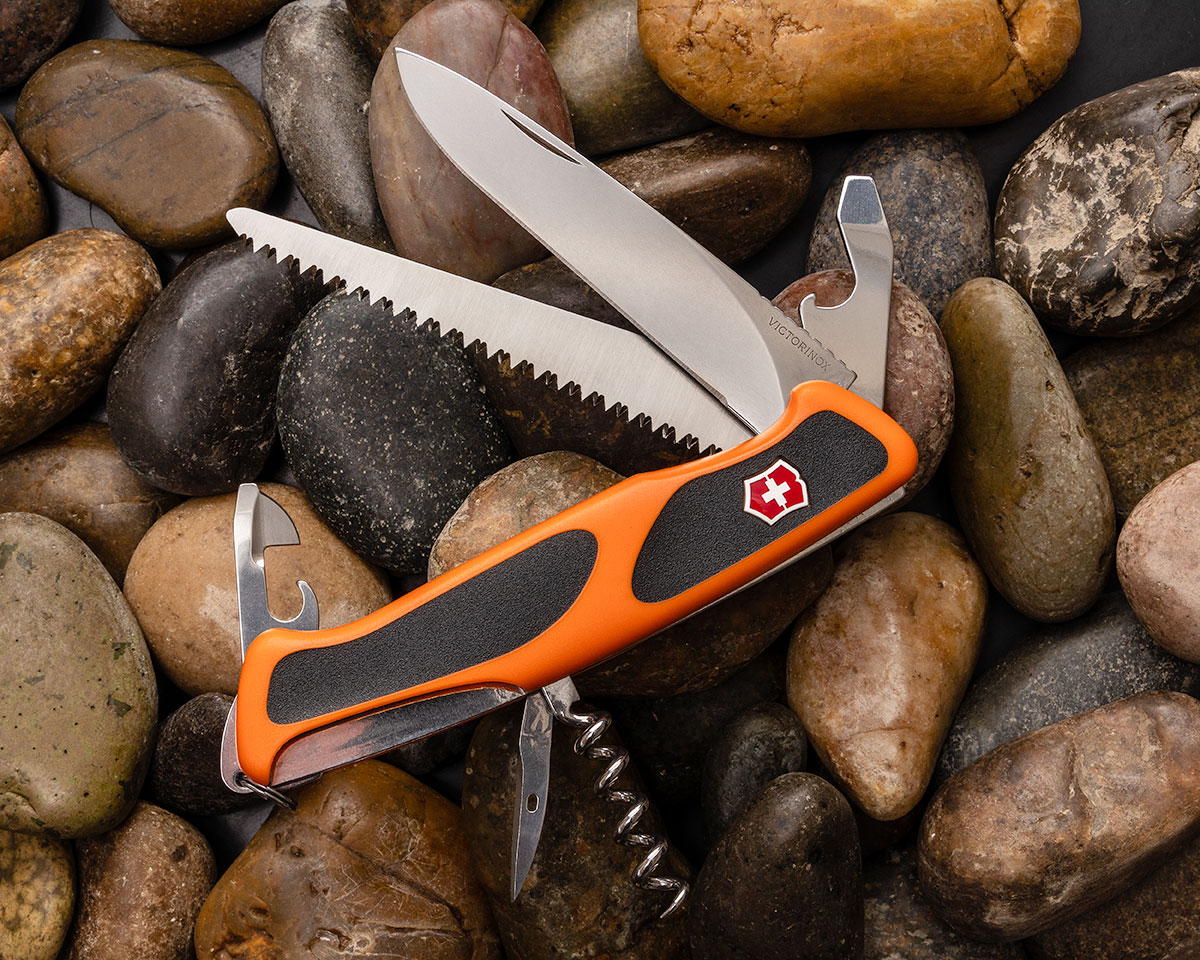 The Swiss Army RangerGrip knives are some of the best outdoor companions you could ask for, and the model 55 is now even better with an awesome set of orange handles! They still sport excellent rubber inserts for traction and a liner lock for the main blade that is disengaged by pressing the shield logo button on the side. It also includes an "olive camo" paracord lanyard and features one of the best folding saws you can get!
Item Number: 0.9563.C91
Size: 130 mm | 5.125″
Weight: 6.0 oz.
Handle Material: Orange Cellidor Polished with Rubber Grips
Made in Switzerland
Limited to 10,000 pieces worldwide
keyring
toothpick
tweezers
can opener
3 mm screwdriver
large blade
bottle opener
5 mm screwdriver
wire stripper
wood saw
reamer, punch and sewing awl
corkscrew
---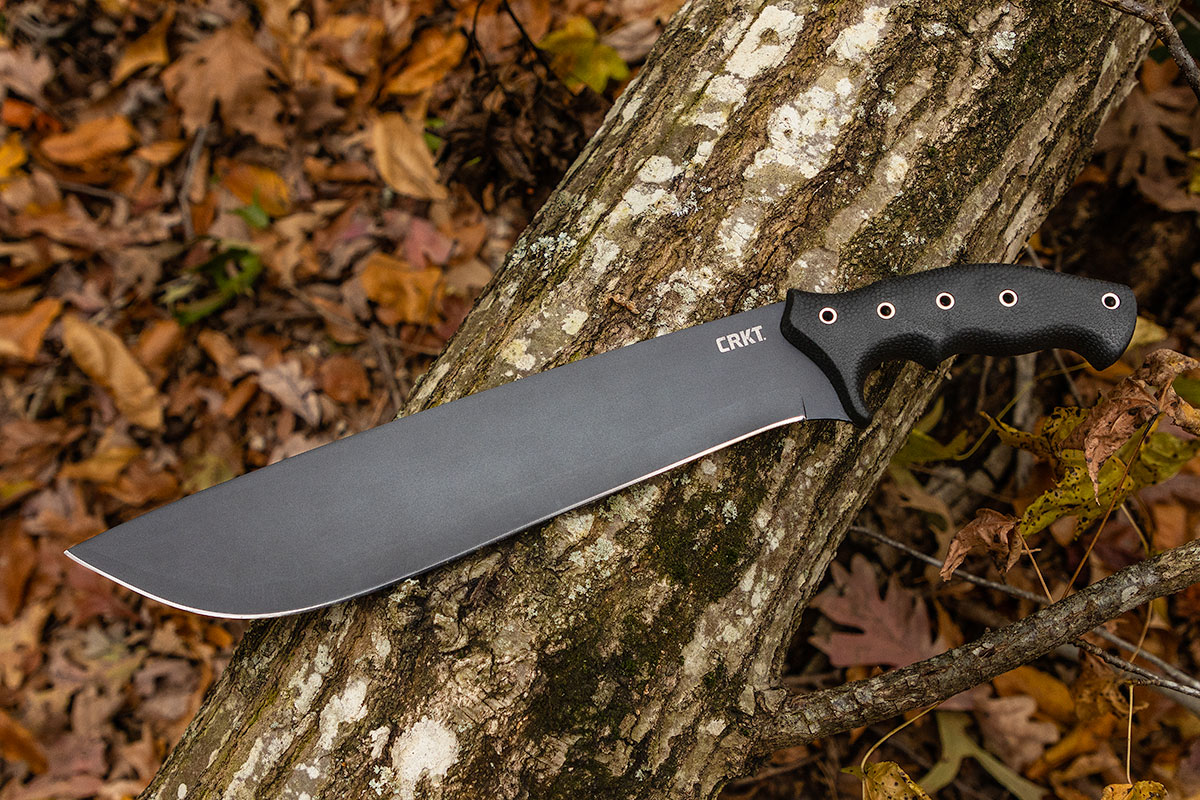 Ken Onion's Halfachance and Chanceinhell machetes are some of the most comfortable brush clearing implements on the market and offer an incredible bang for your buck. The powder-coated carbon steel blades are available in four lengths from 12 to 18 inches but the ergonomic and grippy rubberized handle is the real star of the show. Built with a modern understanding of the way our hands work, it is built for hours of fatigue-free cutting.
CRKT Chanceinhell/Halfachance Machete Specs
Part Number

12″ Chanceinhell: 910KKP
14″ Halfachance: K920KKP
16″ Chanceinhell: K916KKP
18″ Chanceinhell: K918KKP

Blade Length:
Overall Length:

17.88″
19.5″
21.813″
23.625″

Blade Material: 65Mn Carbon Steel
Blade Thickness: 0.102″
Blade Hardness: 46-50HRC
Blade Finish: Black Powder Coat
Handle Material: Polypropylene with Thermoplastic Rubber Overmold
Sheath Material: Woven Polyester with Polypropylene Insert
Designer: Ken Onion
---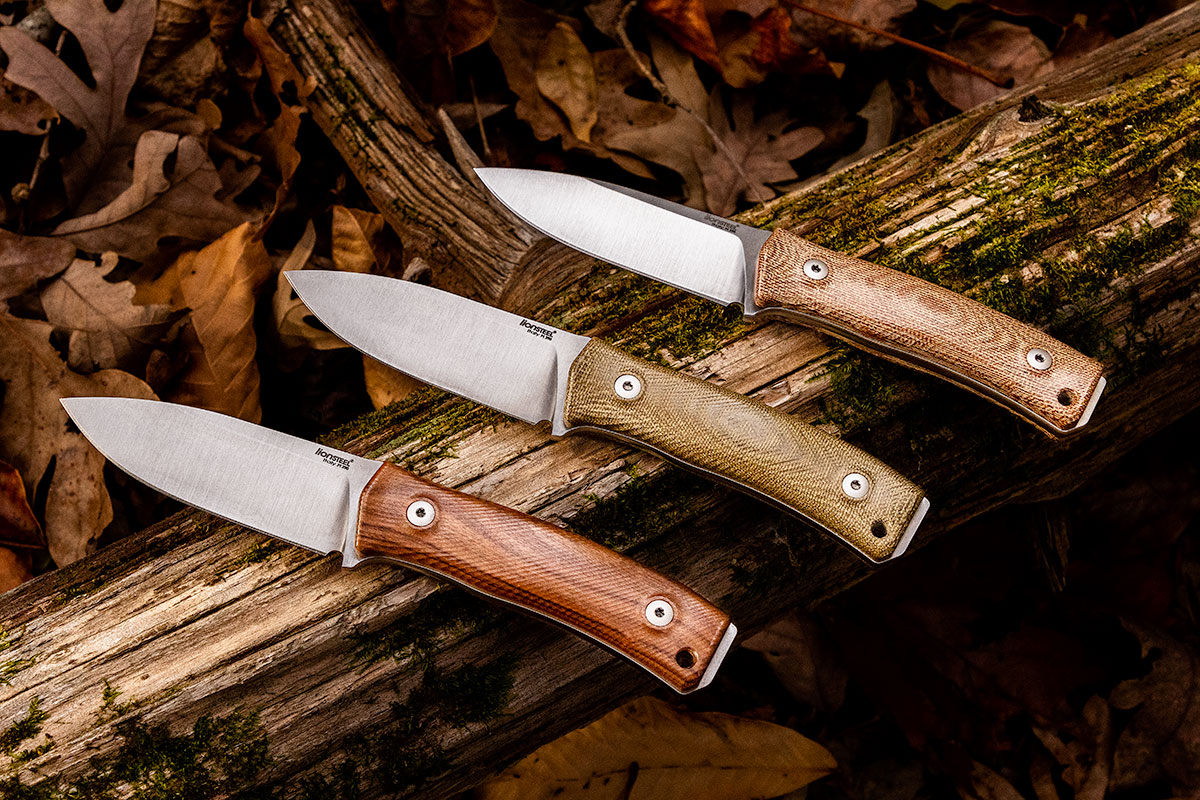 If you like premium steel for your outdoor knives, the Lionsteel M4 Bushcrafters with M390 steel will be right up your alley. Dress them up with the option of Santos Mahogany wood handles, or keep them nice and rugged with the Micarta option. With a drop point blade and a high flat grind, it has the versatility to conquer any wilderness survival or bushcraft need!
Blade Length: 3.74″ (95 mm)
Handle Length: 4.32″ (110 mm)
Overall Length: 8.06″ (205 mm)
Blade Material: M390 Stainless Steel
Blade Thickness: 0.159″ (4 mm)
Blade Hardness: 59-60HRC
Blade Style: Drop Point
Blade Grind: Flat
Blade Finish: Satin
Handle Material: Canvas Micarta, G10, Santos Mahogany, Walnut, or Olive Wood
Handle Thickness: 0.83″
Sheath Material: Brown Leather
Weight: 5.11 oz. (145 g) to 6.35 oz. (180 g)
Weight with Sheath: 8.64 oz. (245 g)
Made in Italy
---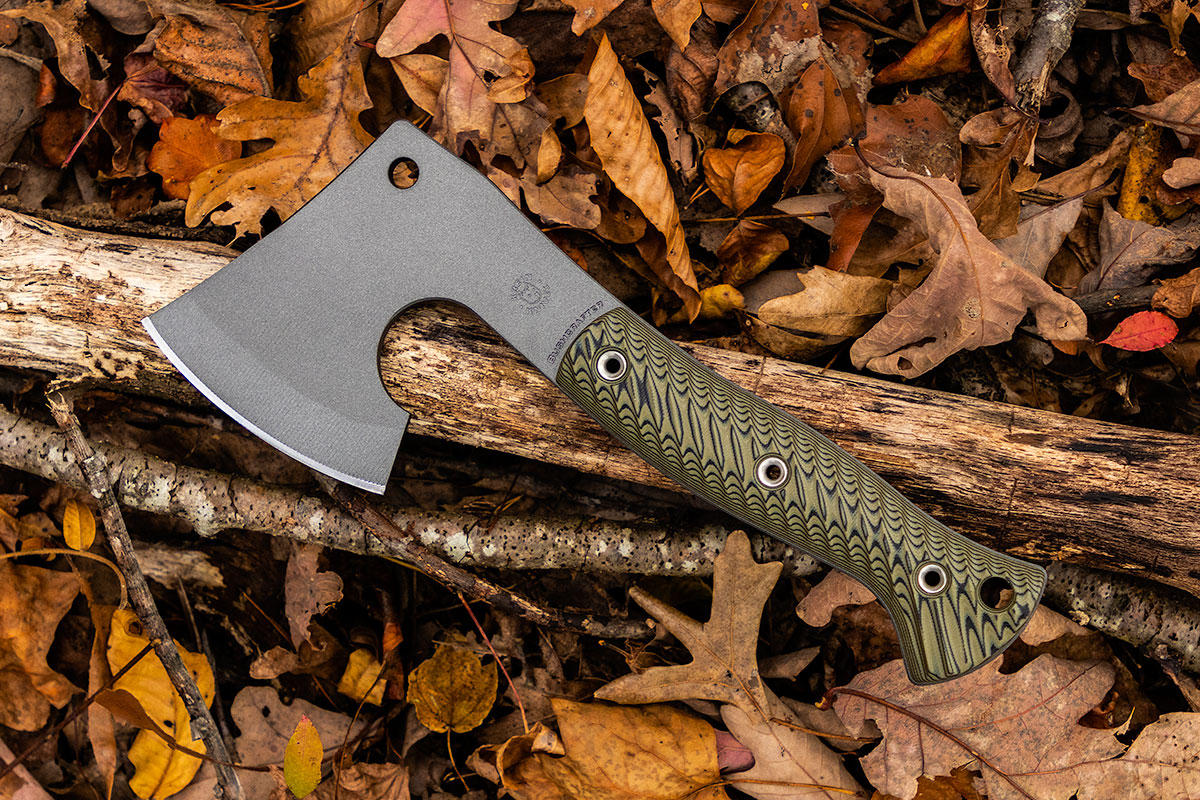 RMJ may be known for their combat tomahawks, but they make one heck of a camp axe too. Their Bushcrafter Tomahawk is a brilliant Tom Krein design – compact enough to tote easily on the trail, balanced for fine wood carving, and strong enough to hit hard and split kindling with ease. Thank the 52100 carbon steel and 3D contoured G10 construction that combine to make a tool that lasts a lifetime.
Overall Length: 11.0″
Axe Head: 3.75″ x 4.25″
Blade Steel: 52100 High Carbon Steel
Thickness: 0.265″
Hardness: 56-58HRC
Finish: Tungsten Cerakote
Handle Material: FR4 3D Machined G10
Sheath Material: Kydex
Weight: 1 lb. 5.0 oz.
Weight with Sheath: 2 lb. 2 oz.
Made in the USA
---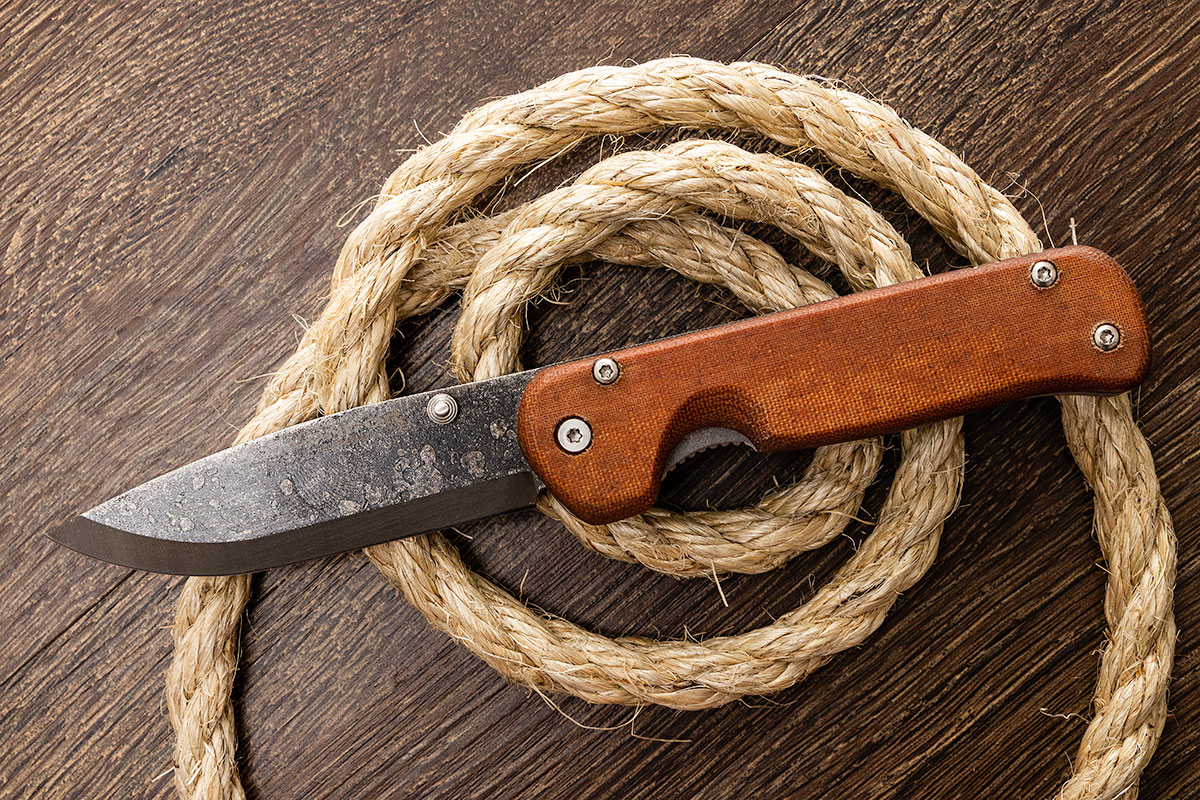 A folding, scandi-ground bushcraft knife? Yes! This knife is instantly ready to back you up when going hiking or camping. This is a woodcarving phenom that fits in your pocket, with 1095 carbon steel providing classic performance and a framelock for modern stability. Thanks to the thick Micarta handle scale on the front side, it even has enough girth to be more comfortable than most folders could ever hope to be.
Blade Length: 4.12″ (104.5 mm)
Handle Length: 3.85″ (97.8 mm)
Overall Length: 7.97″ (202.3 mm)
Blade Thickness: 0.12″ (3.0 mm)
Blade Material: 1095 High Carbon Steel
Blade Style: Drop Point
Blade Grind: Scandi
Blade Finish: Natural
Handle Material: Desert Tan (CTK3938-4.27HC) or Army Green (CTK3937-4.27HC) Micarta
Locking Mechanism: Stainless Steel Frame Lock (Patent Pending Condorlock System)
Weight: 5.64 oz. (160 g)
Designer: Joe Flowers
Made in El Salvador
---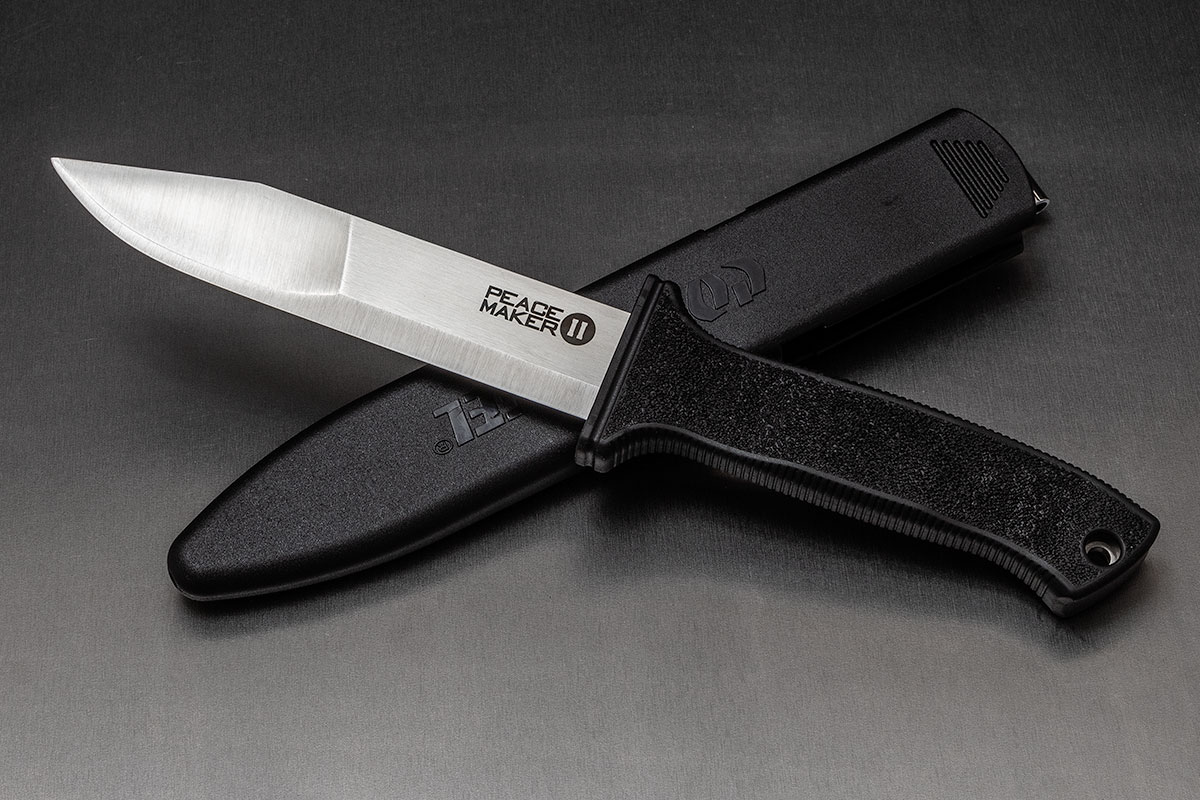 The Peace Maker is a bit of a hybrid. The double guard suggests combat, but the blade is ready for so much more. The scandi grind makes it fantastic for carving wood, and a scallop at the front thins the edge down so that it is ready for slicing and skinning. From the backwoods to the urban jungle, this fixed blade is the sidekick you want on your hip.
Item Number: Peace Maker II – 20PBL / Peace Maker III – 20PBS
Blade Length: 5 1/2″ (20PBL) / 4″ (20PBS)
Overall Length: 10 1/4″ (20PBL) / 8 1/2″ (20PBS)
Steel: German 4116 Stainless
Weight: 5.4 oz (20PBL) / 3.4 oz (20PBS)
Blade Thickness: 3 mm (20PBL) / 2.5mm (20PBS)
Handle: 4 3/4″ Long High Impact Polypropylene
Sheath: Secure-Ex® Sheath
---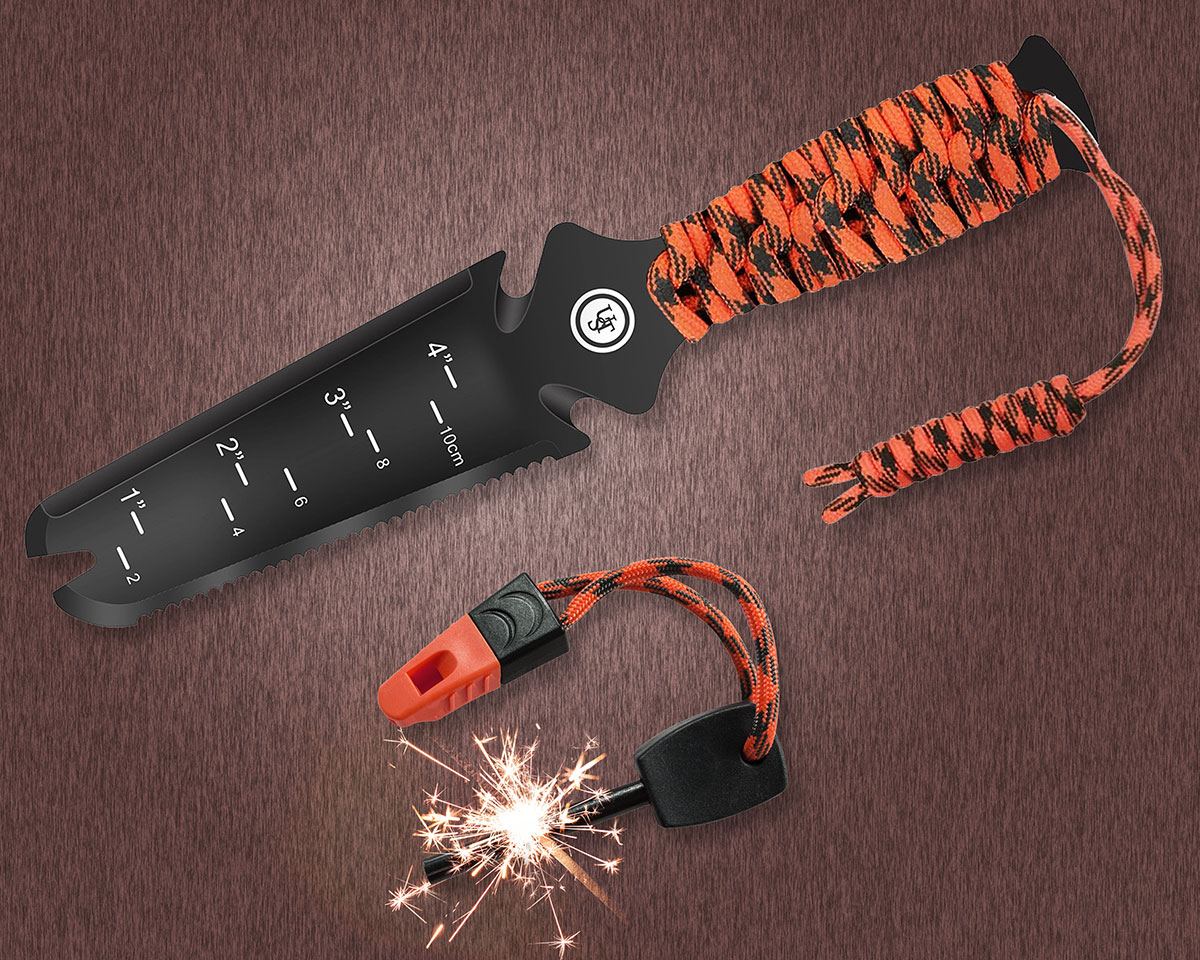 A must-have for any campsite or hiking trip. This multifunctional backpacking trowel features a 4" cutting blade, a tent peg pry-tool, and a line cutter. The handle's paracord, actually ParaTinder, wrap provides eight feet of cord with an added single tinder thread, which you can ignite with the included flint fire starter. For added backwoods safety, the wrist lanyard features an integrated whistle.
Item Number: 20-12424
UPC: 815608024248
Dimensions: 10.00″ x 1.90″ (74.93 x 20.95 mm)
Weight: 5.00 oz. (141 g)
4″ trowel blade with serrated and fine edges
Line cutter
Tent peg pry-tool
Black-oxide finish
Nylon sheath for safe storage included
ParaTinder cordage wrap
Includes firesteel and emergency whistle
Manufacturer's Limited Lifetime Warranty
Made in China