Time for our last look at some of the best outdoor, hunting, bushcraft, and survival knives in 2019! We've got some cool stuff to show you this week, including a new Micarta slipjoint from Real Steel, a bold new expansion in the Old Hickory lineup, the perfect Leatherman for the outdoorsman, and more.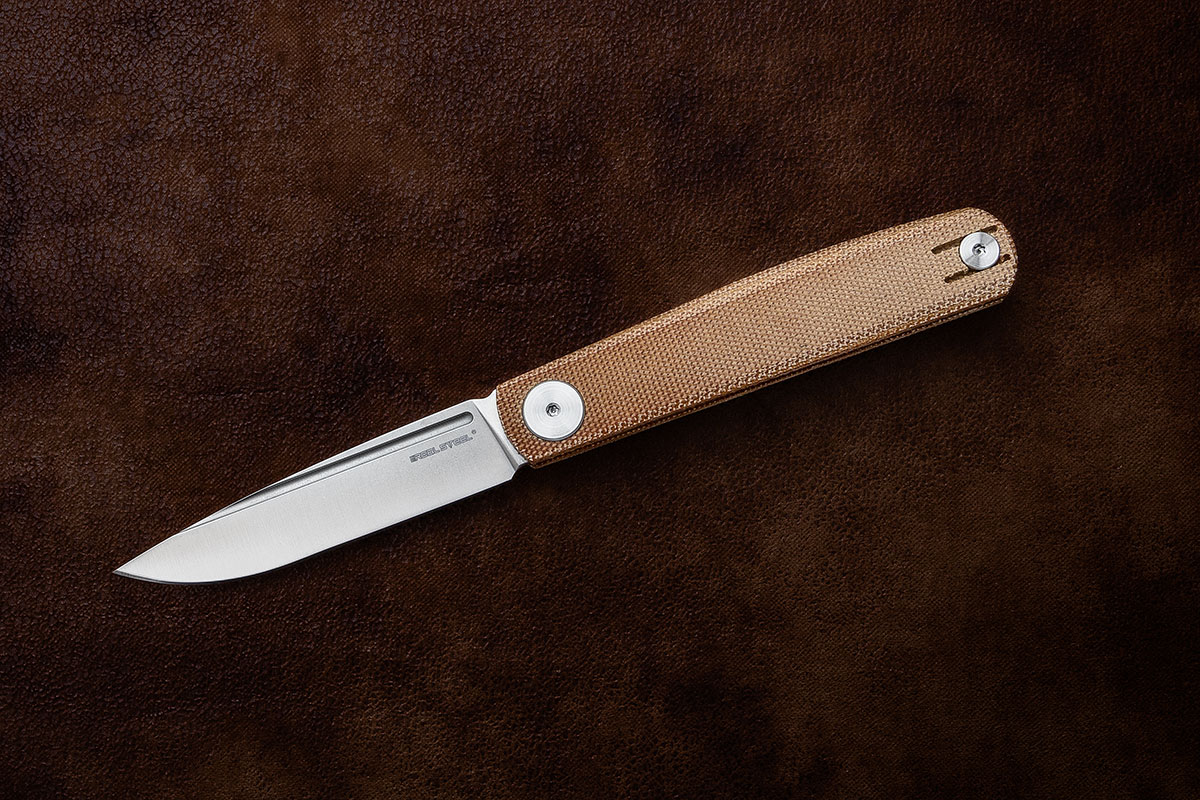 If you appreciate classic construction but like modern materials, then this KnifeCenter Exclusive Real Steel Gslip is for you. VG-10 steel is just the start, offering great stainless qualities and capable edge retention, but the Micarta handles really steal the show by offering a warm feel and just enough grip. There is even a reversible wire pocket clip so you don't have to fish around in your pockets like with a traditional slipjoint.
Blade Length: 3.46″
Cutting Edge: 3.39″
Closed Length: 4.37″
Overall Length: 7.87″
Blade Material: VG-10
Blade Thickness: 0.10″
Blade Style: Drop Point
Blade Finish: Satin
Handle Material: Natural Micarta
Handle Thickness: 0.43″
Locking Mechanism: Slipjoint
Pocket Clip: Reversible Tip-Up Deep Carry
Weight: 2.4 oz.
Designer: Ostap Hel
Made in China
---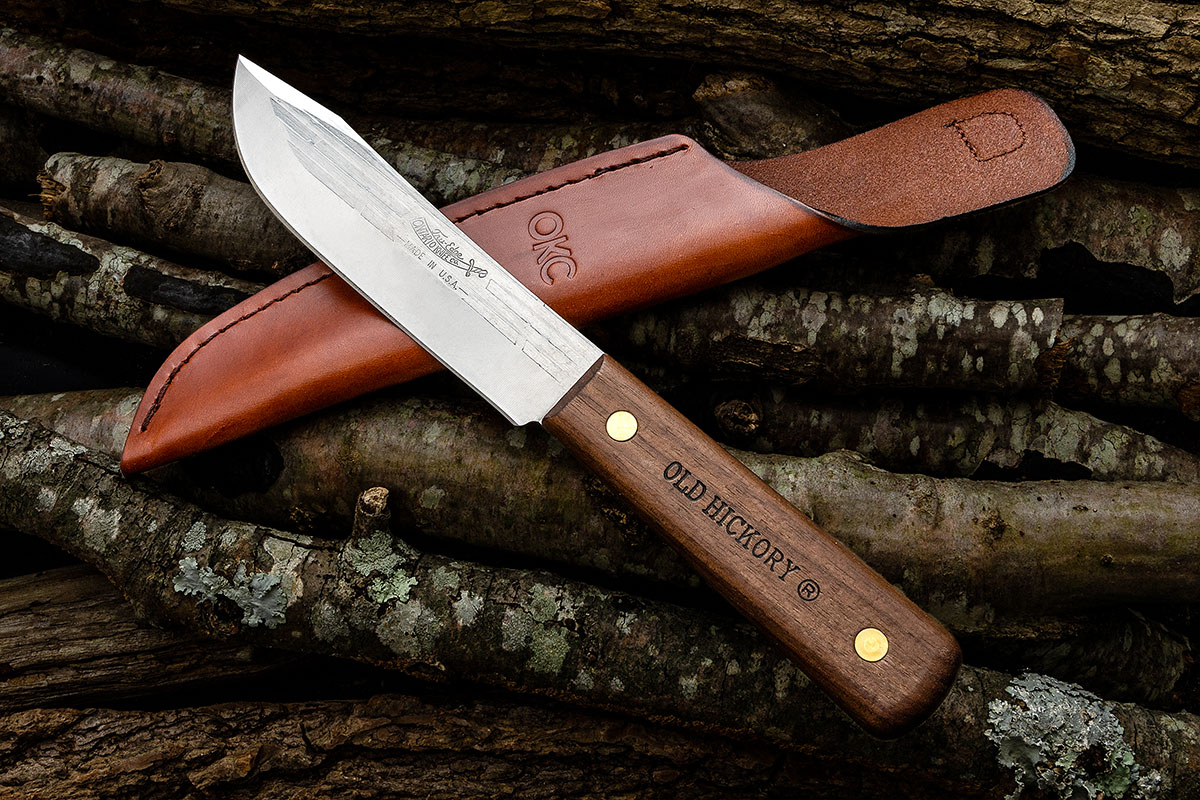 It is a brave new world for Old Hickory. Inspired by a popular user modification, their Hunting Knife offers a shortened version of their popular butcher knives. And by including a leather sheath right from the factory, you don't need to do anything to get these knives ready to head outdoors straight from the box. They are still a great platform for further modification if you wish, but for an American-made outdoor knife at this price point, it will be hard to find a better option for the camper, hiker, or hunter on a budget.
Blade Length: 5.5″
Handle Length: 4.62″
Overall Length: 10.13″
Blade Material: 1095 Carbon Steel
Blade Hardness: 55-57 HRC
Blade Style: Clip Point
Blade Grind: Flat
Blade Finish: Satin
Handle Material: Hardwood
Sheath: Leather
Made in USA
---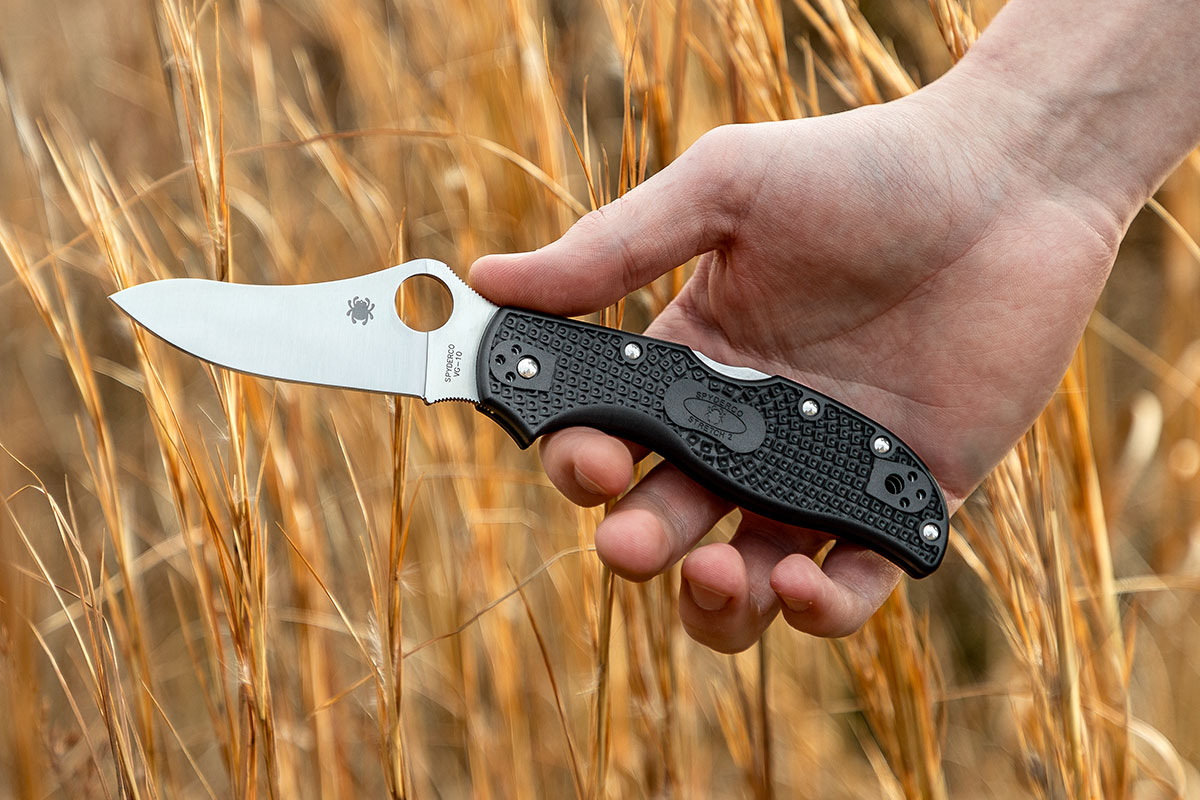 Spyderco's answer to the folding hunter, the Stretch 2 offers their lightweight FRN construction, strong mid-back lock, and their useful finger choil for extra control. Rather than a typical Spyderco leaf-shaped blade, we get a swoopy profile with the tip very much like a drop point. With fully ambidextrous hardware, this is an easy recommendation for not just hunters, but anyone who likes a hardworking blade.
Blade Length: 3.45″
Closed Length: 4.71″
Overall Length: 8.16″
Cutting Edge: 2.97″
Blade Thickness: 0.118″
Blade Material: VG10 Stainless Steel
Blade Style: Drop Point
Blade Grind: Full Flat
Blade Finish: Satin
Blade Edge: Plain
Handle Material: Fiberglass Reinforced Nylon (FRN)
Handle Color: Black
Locking Mechanism: Lockback
Pocket Clip: Tip-Up, Tip-Down, Left/Right Carry
Model Number: C90PBK2
Model Name: Stretch 2
Weight: 3.7 oz.
Made in Japan
---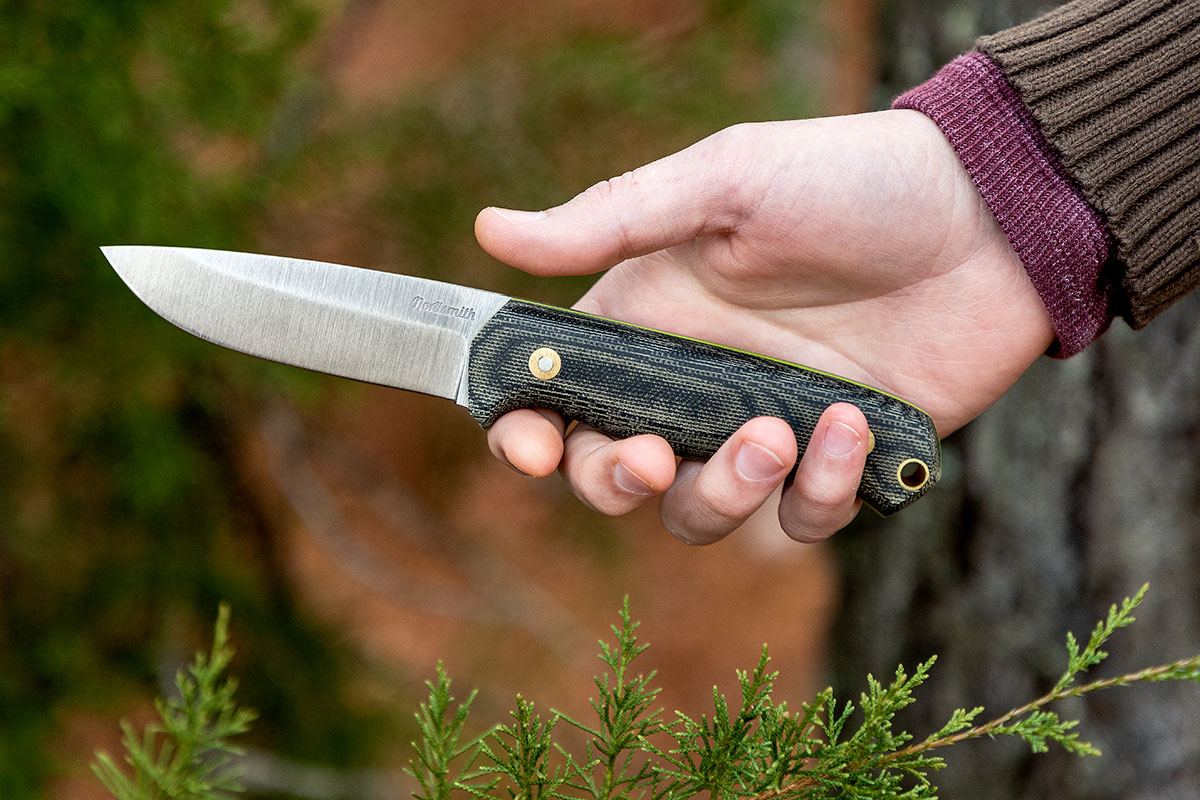 Designed by KnifeCenter's very own David C. Andersen and built by the fine folks at L.T. Wright Knives, the Nordsmith Pilgrim LT is the "right-sized survival knife" ready to take on any outdoor task. The AEB-L drop point blade comes in just under four inches for easy control without sacrificing the ability to do hard work. With durable Micarta scales and an included JRE Industries leather sheath, the Pilgrim LT will become a trusted companion in no time.
Blade Length: 3.75″
Cutting Edge: 3.72″
Handle Length: 4.75″
Overall Length: 8.5″
Blade Material: AEB-L Stainless
Blade Thickness: 0.12″
Blade Hardness: 57-59 HRC
Blade Style: Drop Point
Blade Grind: Flat
Blade Finish: Satin
Handle Material: Black Canvas Micarta
Handle Thickness: 0.82″
Liner Material: Toxic Green G10
Sheath: Black Leather
Weight: 6 oz.
Designer: David C. Andersen
Made in USA
---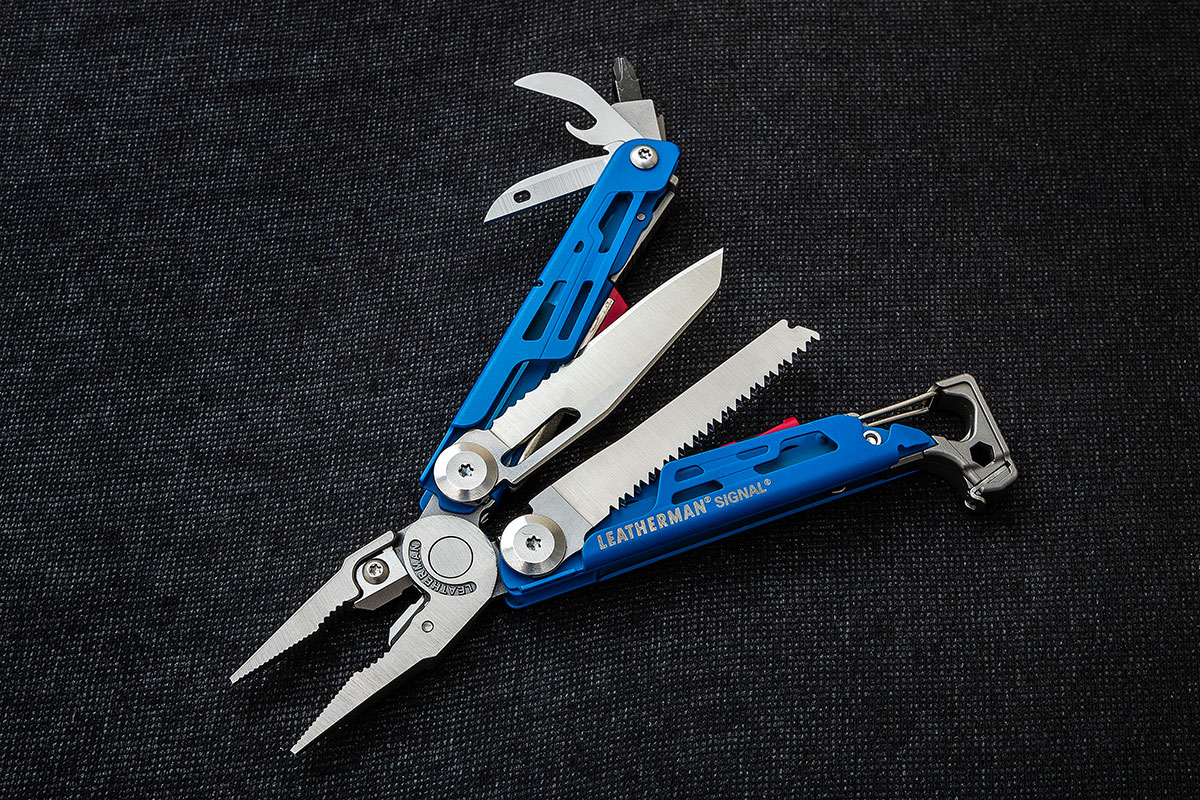 If you don't have a Leatherman multi-tool in both your survival and go-bags, you're doing yourself a disservice. Nothing gives you as much functionality in such a compact package, and we think the Signal is one of their best models for the bushcrafter or outdoorsman. It's outfitted with an array of tools and additional goodies – like safety whistle, ferro rod, and diamond sharpener – that allow it to shine out in the bush.
Needlenose Pliers
Regular Pliers
154CM Replaceable Wire Cutters
154CM Replaceable Hard-wire Cutters
Wire Stripper
420HC Combo Knife
Saw
Hammer
Awl w/ Thread Loop
Can Opener
Bottle Opener
1/4" Hex Bit Driver
Bit Driver
1/4″ Box Wrench
Carabiner
3/16″ Box Wrench
Safety Whistle
Ferrocerium Rod
Diamond-coated Sharpener
Cerakote Color Finish
All Locking Features
Replaceable Pocket Clip
Outside-accessible Features
One-hand Operable Features
25 Year Warranty
Measurements
Blade Length: 2.73″ (6.93 cm)
Closed Length: 4.5″ (11.43 cm)
Sheath: Black Nylon, Large
Weight: 7.5 oz. (213 g)
Made in the USA
---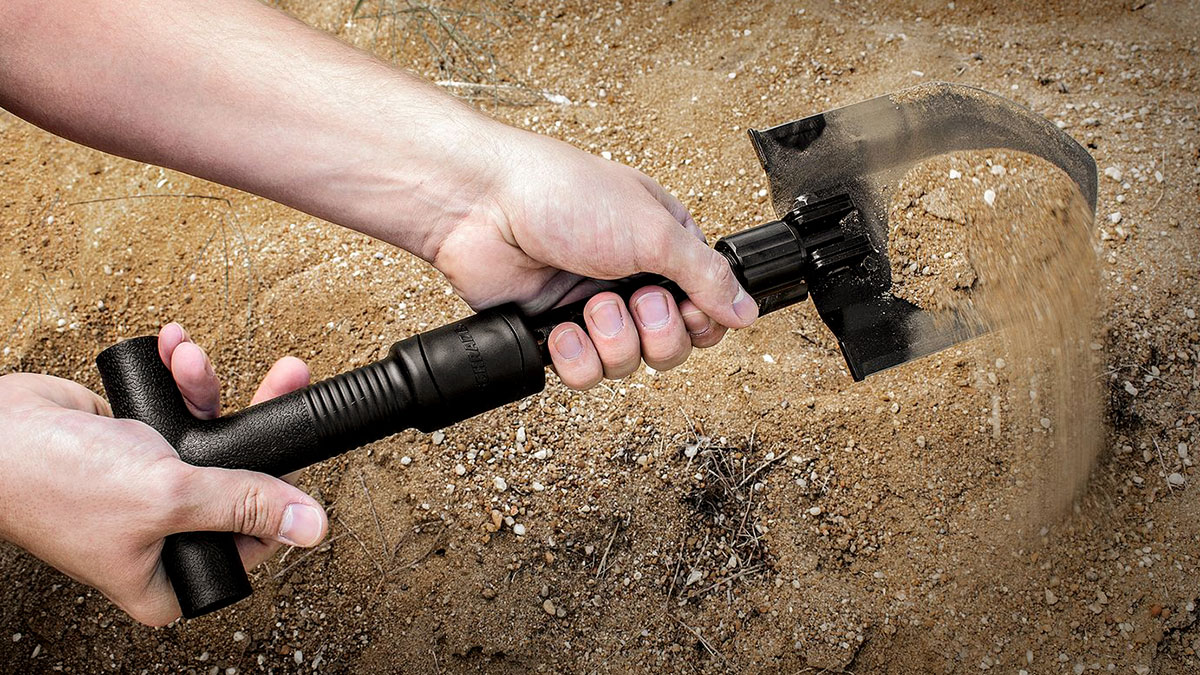 Collapsible and foldable for compact stowage, the Schrade Telescoping Folding Shovel extends out to a full 19" in length. The sharpened spade adds extra utility for brush clearing and light chopping. With the included nylon belt sheath, adding one of these to your survival kit is a no-brainer.
Head Length: 7.42″ (18.85 cm)
Handle Length: 10.80″ (27.43 cm), Extends to 19.0″ (48.26 cm)
Overall Length: 16.58″ (42.11 cm)
Shovel Material: 1055 Carbon Steel
Weight: 2.0 lbs. (907 g)
---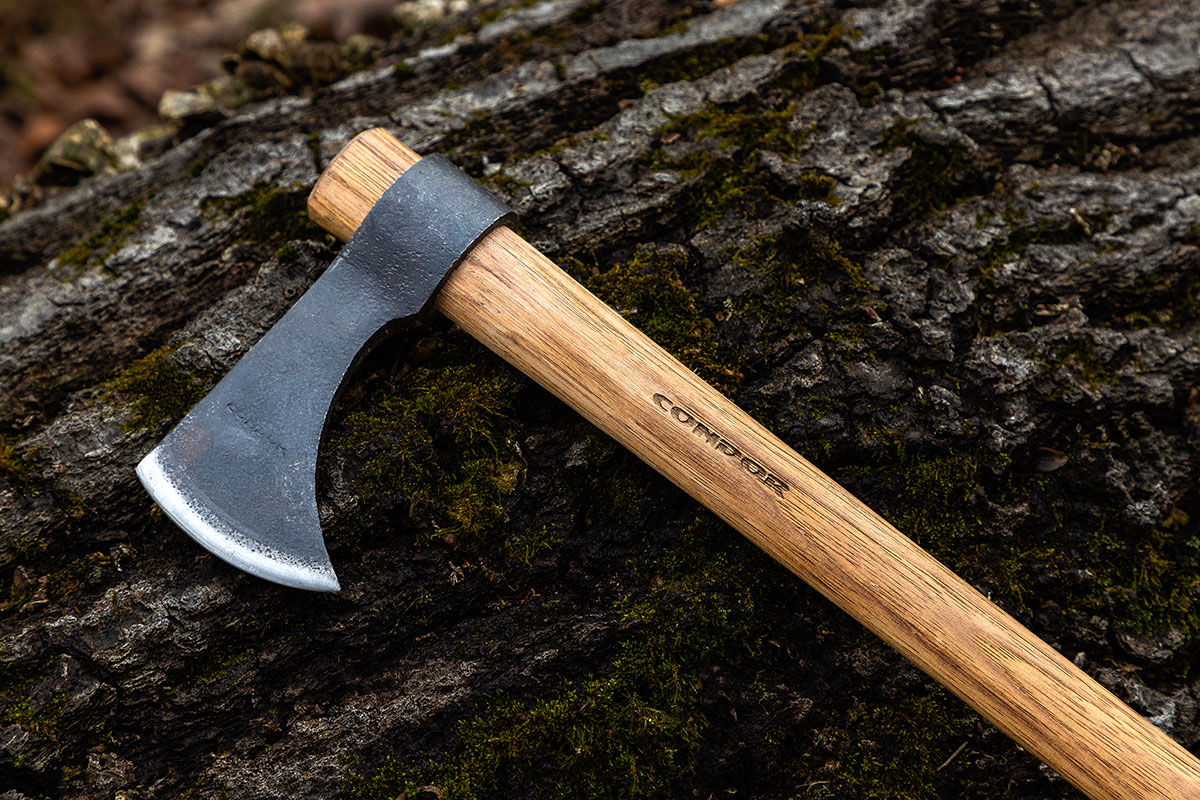 These traditionally patterned hawks have proven themselves to be a valuable and versatile addition to any woods-walking kit. There are three heads to choose from. Pick the hammer poll version (great for driving in tent stakes), the spike version (extra utility for digging), or the throwing version with no poll for better balance in flight. Burnt American Hickory handles grant these tools an ancient look with the strength you need for life on the move.
Head Dimensions: 5.75″ x 3″
Overall Length: 19″
Head Material: 1060 High Carbon Steel
Head Finish: Condor Classic
Handle Material: Burnt American Hickory
Sheath: Handcrafted Welted Leather, Brown
Designer: Condor Tool & Knife
Head Weight: 0.8 lbs.
Weight: 1.4 lbs.
Made in El Salvador
---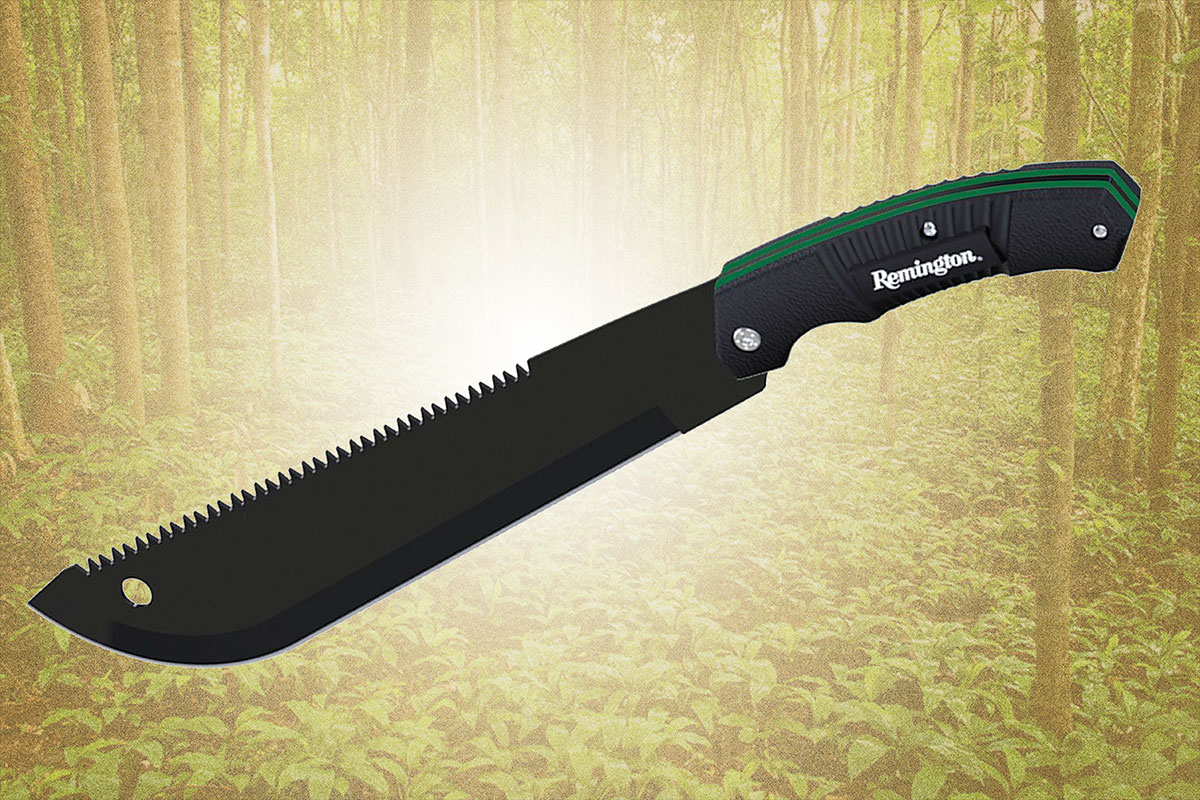 At just under 20 bucks (while supplies last), the Remington FAST machete makes one heck of a survival tool. 18-inches overall, the 1095 carbon steel blade comes in a bit over 10-inches, offering just enough usability and toughness without weighing you down. The sawback adds extra utility, letting you maximize your pack space and durable molded handles grant a measure of shock absorption and plenty of grip even when wet.
Blade Length: 10.25″
Overall Length: 18″
Blade Material: 1095 Carbon Steel
Blade Style: Sawback Machete
Blade Finish: Black Oxide
Handle Material: Durable Molded
Sheath Material: Ballistic Nylon
Made in China