2018 may be coming to an end, but there are some industry-leading knife makers out there who are still putting out incredible custom and mid-tech knives before the New Year. Not only did we pick up some new automatics from Pro-Tech Knives, but we also have a custom tactical beard comb from none other than Tony Marfione that is a fidgeter's dream. Let's kick off the list with one of the coolest knife collaborations we've seen in a while…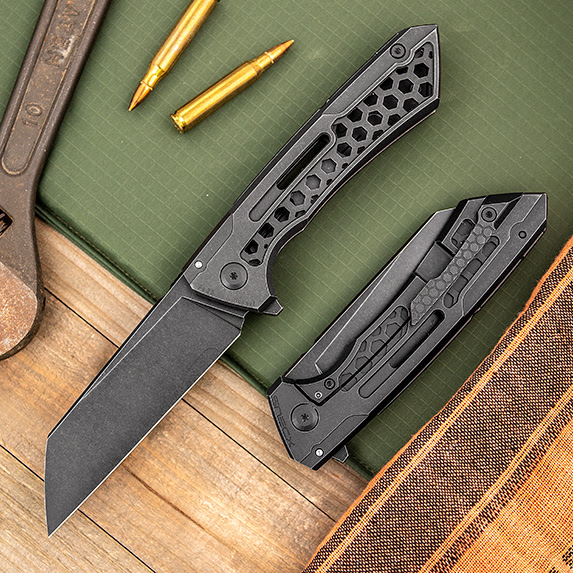 Jake Hoback/Snecx Collaboration Buster
The design genius Tan from Snecx Design Lab is one of the most interesting makers in our industry as he has no formal background in knives. He was just a guy in search of the perfect knife three years ago who set out to make his own, never knowing that he would be collaborating with some of the best in the business so quickly. The Buster is amazing and a must-have in your collection – we'll just leave it at that.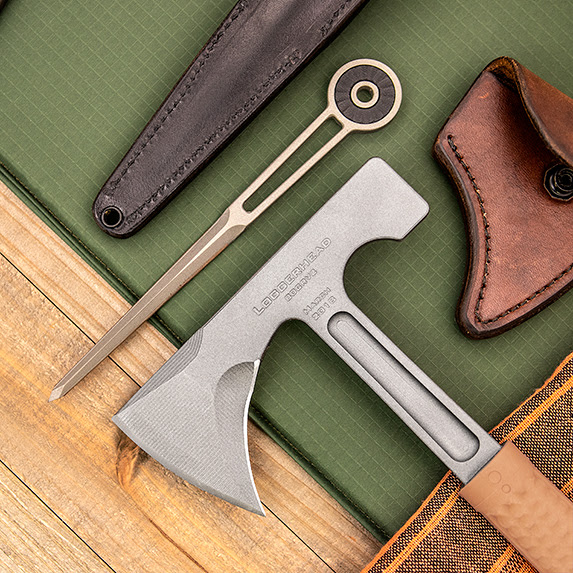 RMJ Quill, Hammer Head Tomahawks, ZP-CUT, and Leather Sheaths
RMJ products are overbuilt tools for combat and search and rescue, which also means that they're great wilderness survival tools. With that in mind, and in addition to the new Quill pocket awl and ZP-CUT zip pull cutter, RMJ has just released a number of leather sheath alternatives to turn your tactical tools into survival ones with just the snap of a button.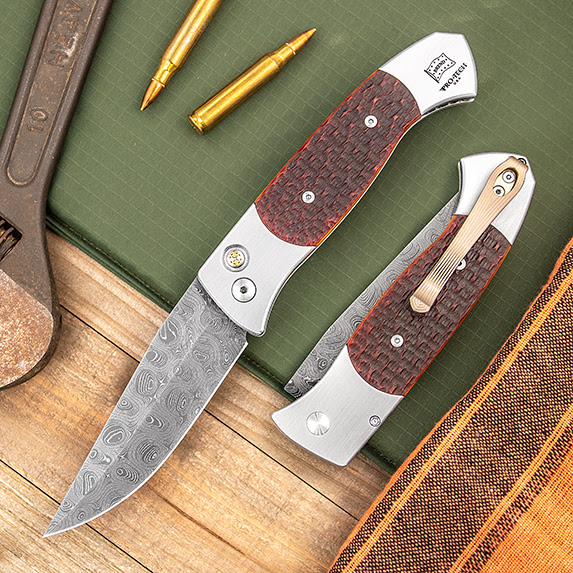 From the sub two-inch everyday carry Runt J4 to the full-size TR-4 Tactical Response Auto, we have a Pro-Tech knife that will fit your needs. For the serious collectors out there, we have a couple of custom Brend models with Chad Nichols Virus Damascus blades that are sure to catch your eye.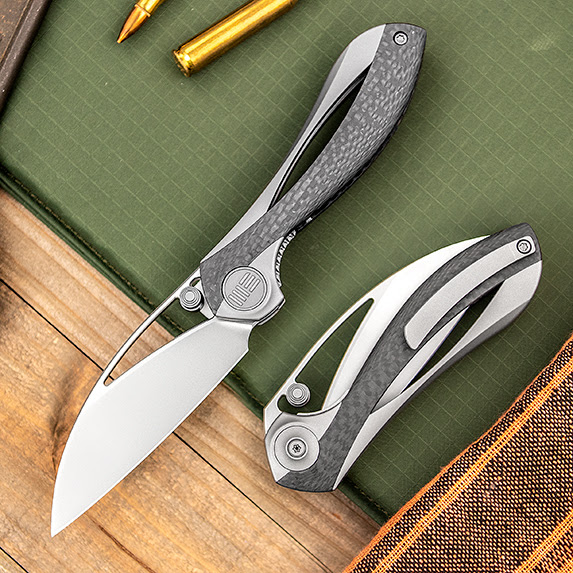 WE Knives Elijah Isham Integral Pleroma
All right, we're going to come out and say it – we don't know how we'll ever be more impressed by Elijah Isham after today. Everything this man touches is so unique and different from the norm, it just makes sense to snatch up everything he makes. You won't be disappointed in a single aspect of the design or ever have to worry about carrying another run-of-the-mill folder in your pocket each and every day.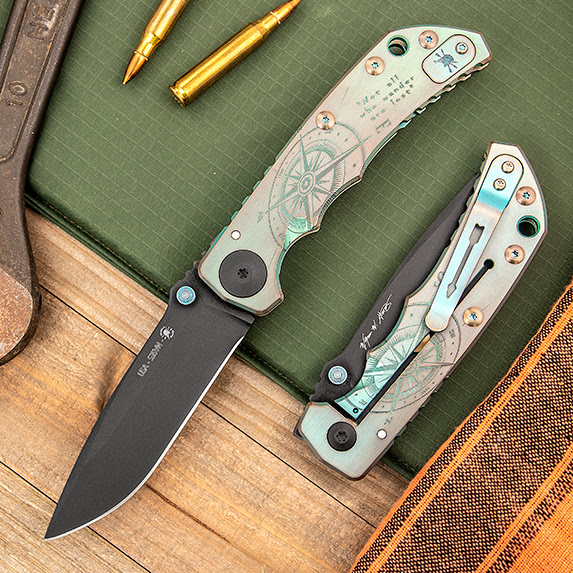 Spartan Blades Green Compass Harsey Folders
The rustic bronze/green anodized finish is perfectly at home on the compass-engraved Spartan Harsey Folder. There's even a hint of teal blue around the thumb studs to complete the aged shipwreck theme and you have your choice of CPM-S35VN or beautiful Chad Nichols Damascus.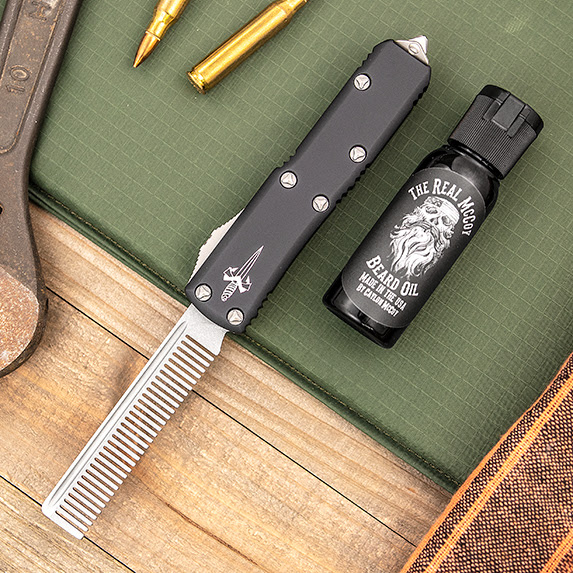 Marfione Custom Knives UTX-85 Tactical Beard Comb
Tony Marfione has teamed up with The Real McCoy (a highly regarded beard oil maker) to bring you an OTF you can carry with you and use anytime you need a quick brush. It's the same UTX-85 model, but with a beard comb instead of a sharpened blade. If you're a fan of the second-to-none action on a Marfione/Microtech OTF and like firing a blade back and forth endlessly, consider a custom beard comb for you or a friend.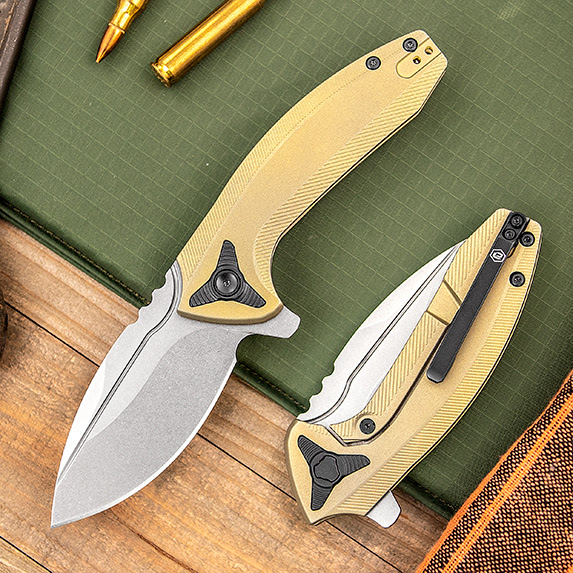 The goal with the E-Volve Apache was to create a unique look with optimal functionality, and we think BRS definitely achieved this. The knife is somewhat stocky in appearance, but it perfectly fills the hand and really outperforms its 2.75" blade length. It's the little engine that could…and will.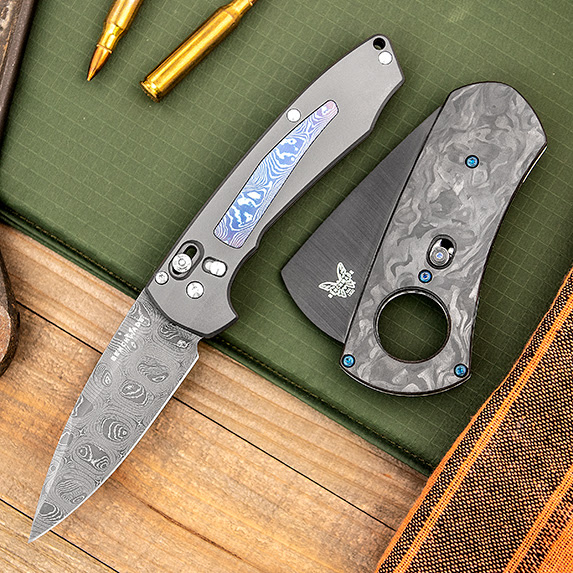 Benchmade Gold Class Knives and Cigar Cutter
It's rare that we have three Gold Class models in stock at any given time, so we just had to highlight them here. We have Damascus-inlaid premium versions of the Foray and Arcane models in addition to this stunning guillotine-style cigar cutter with the new patent-pending AXIS lock.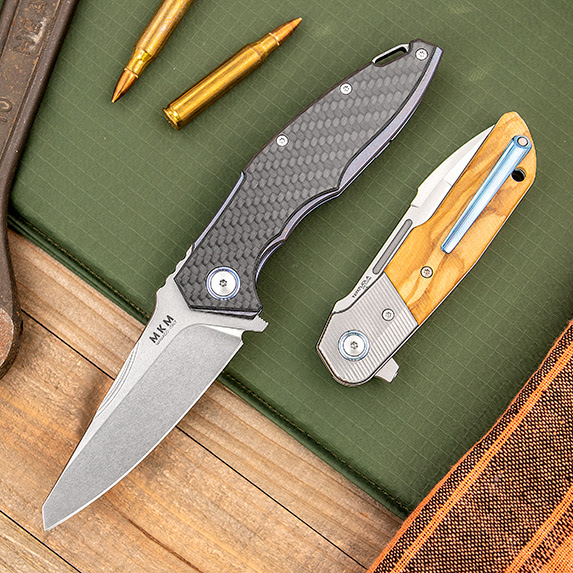 KnifeCenter is proud to add a new brand to our ever-growing collection of incredible knife manufacturers – Maniago Knife Makers. MKM represents some of Italy's greatest knife producers: LionSteel, Fox Knives, Viper Knives, and Mercury. Their work with Bob Terzuola and Lucas Burnley took home Knife Collaboration of the Year at this year's BLADE Show, making them an award-winning knife supergroup that will surely be taking 2019 by storm. These are easily some of the most beautiful and innovative Italian-made knives you'll ever own.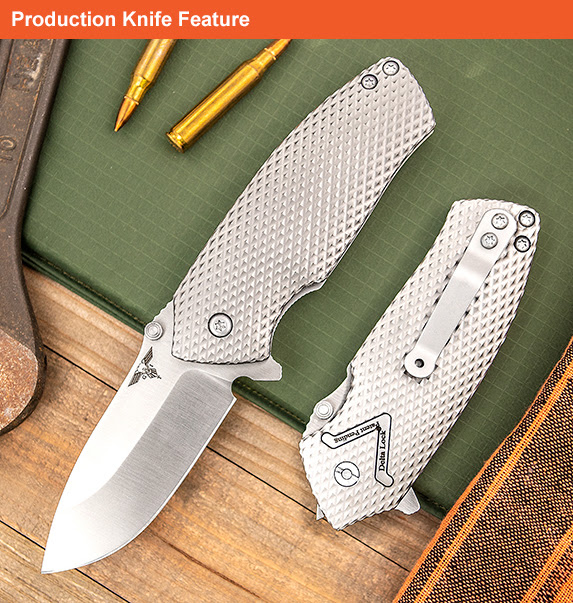 The Delta Lock consists of a V-shaped block that interfaces with four different surfaces on the tang, using opposing force to help prevent movement forward or backward. This system creates one of the strongest setups we have ever seen. It's as easy to use as any normal liner lock, and we love the feeling of the diamond texturing on the titanium frames.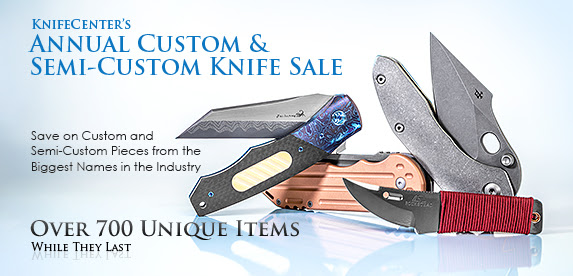 This is THE opportunity to get your hands on an amazing custom knife at a bargain price. The Annual Custom Knife Sale features pieces from some of the biggest names in the industry: Custom Knife Factory, Borka Blades, DireWare, Ken Onion, and MANY, MANY more!
Coming soon we'll have several varieties of Ramon Chavez's production Redencion Streets, more humongous folders from Richmade Knives, Mokume pens from Sergey Rogovets, and a one-off beauty from one of Russia's top custom knifemakers – Cultrotech. We get new customs and mid-techs in every day, so please email us at support@knifecenter.com with any inquiries.