Try this: whip out your phone and text the biggest outdoor and survival knife enthusiast you know and ask them this – "who makes the best survival knives in the business?" Chances are, they're going to tell you that ESEE ranks pretty high (if not the highest). Since 1997, Jeff Randall and Mike Perrin have been changing the game when it comes to the wilderness industry. Their goal is to offer realistic tools that are designed for people that are going to use and abuse them, which is why their brand has been so successful. Their 'no questions asked' warranty doesn't hurt, either – you're essentially covered for everything but rust. If you break it, they will replace it.  
Even in the company's philosophy, it clearly states that one of the most important aspects of the business is that ESEE won't provide a piece of gear that hasn't been tested in the real world. How seriously do they take that mission? Considering that ESEE's founders also run an adventure and training company that regularly does jungle survival courses in the Peruvian Amazon, we'd say – very. Anyone who regularly handles outdoor knives knows the power of 1095 carbon, and ESEE is able to get more out of that steel than any other production knife company thanks to their famous heat treatment.    
You know the drill by now – as the leading cutlery retailer, we're overqualified to cherry-pick the best ESEE knives for you. Let's begin with the knife that started it all…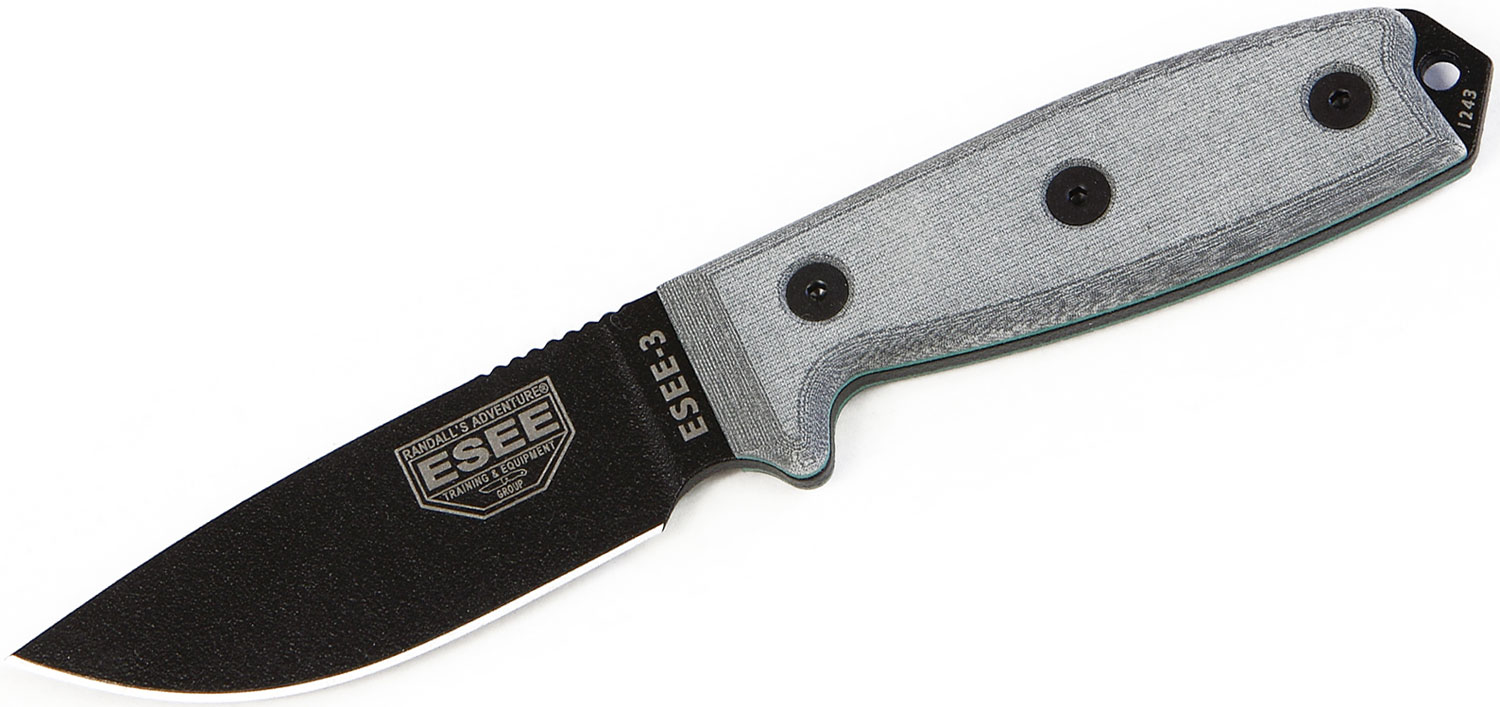 Best Application
General purpose field and utility knife that's perfect for bug-out bags or survival kits
Why We Love It
What the ESEE 3 lacks in size, it more than makes up for in strength. It's the very first knife that Jeff and Mike debuted at ESEE, essentially making it their flagship knife. The National Tactical Officers Association gave it a 4.77 out of 5, cementing its reputation as a favorite with law enforcement and military teams.
Why You'll Love It
Like we said before, you're going to get more out of that 1095 carbon steel than you will from any other knife company. This knife is comfortable and easy to carry thanks to its size and versatile sheath. Because this is such a popular knife model, we have over 40 iterations of the ESEE 3. From combo blades to Venom Green finishes to highly visible orange scales, we can pretty much guarantee there's a model out there for even the most eccentric knife user.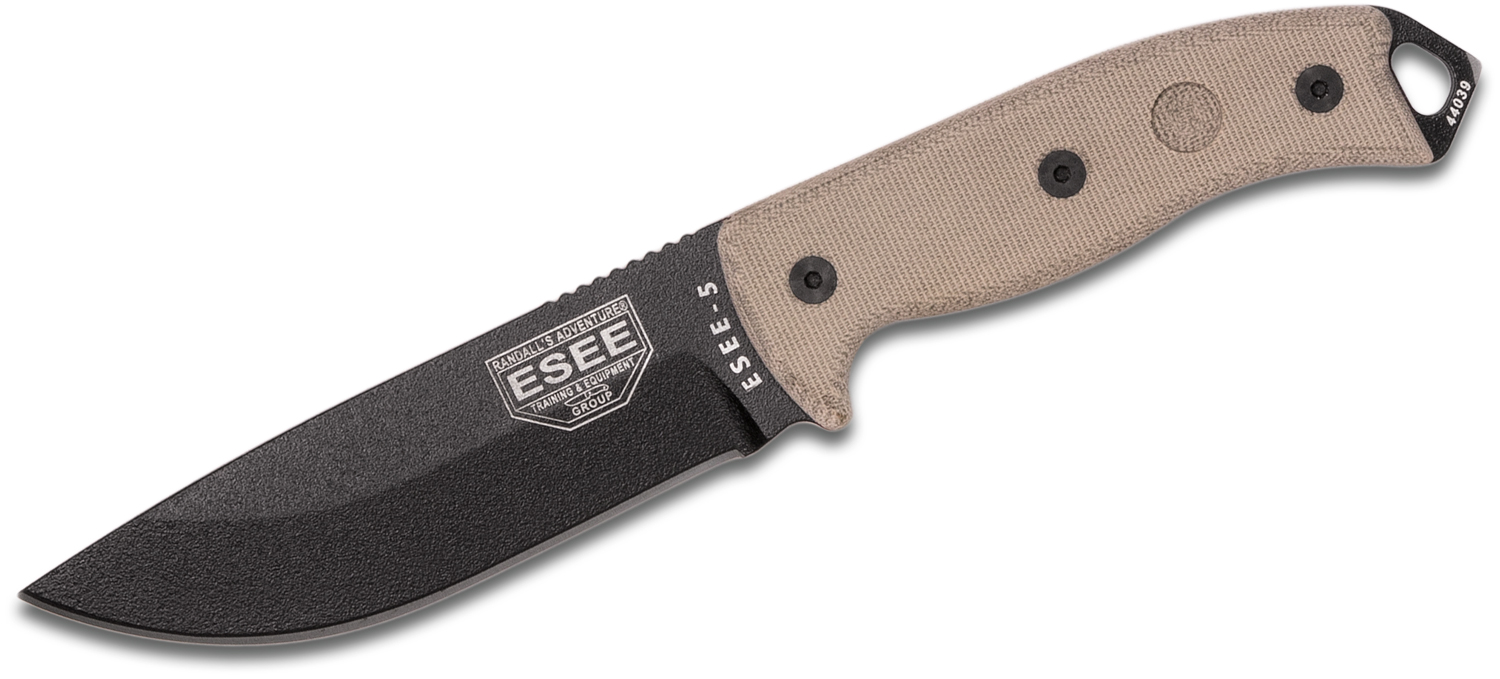 Best Application
This is a straight up beast of a survival knife
Why We Love It
We call this knife the bruiser of ESEE's belt knife lineup, and it's perhaps the epitome of their "survival knife" philosophy. This knife also features an ESEE fixed blade staple: removable Micarta handle scales.
Why You'll Love It
The 5" 1095 carbon steel blade is powder-coated and a full quarter-inch thick, making it darn near indestructible. The ESEE 5 is more than up to prying tasks and splitting wood, and the exposed pommel comes to a point so you can strike without sacrificing the integrity of your tang. Not only are the Micarta scales removable, but they're also durable and water resistant.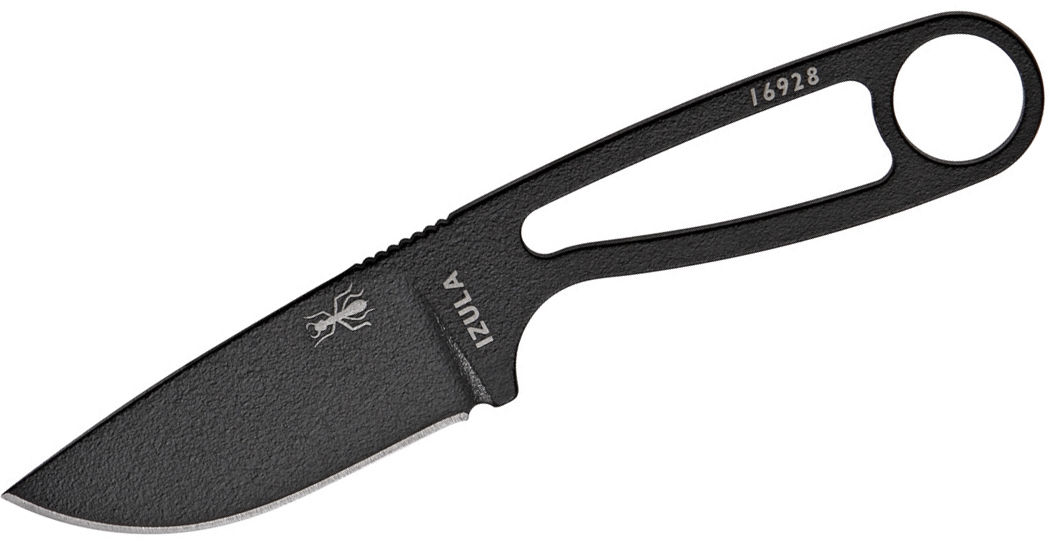 Best Application
The Izula is easily one of the best knives for concealed carry out there, and it doubles as an aggressive (but super lightweight) companion blade.
Why We Love It
Fun fact: in Peru, the nastiest, meanest insect in the jungle is called the Isula – otherwise known as the Bullet Ant. We'd say based on the Izula's effortless slicing performance that it's well named. This is a survival knife that can either be your backup blade or your go-to EDC.
Why You'll Love It
Designed to be the perfect lightweight survival tool, the Izula is a skeletonized knife that allows for slim and easy carry. You'll also have some customization options – wrap the handle in paracord, or maybe add Micarta handle scales if you want a little more girth. The versatile drop point blade has plenty of belly for skinning, but the point is still low enough along the center axis that fine detail work is no problem. For the survivalists out there, the 1095 carbon steel models will easily be a favorite. There are, however, great EDC options made with Damascus or 440C stainless steel.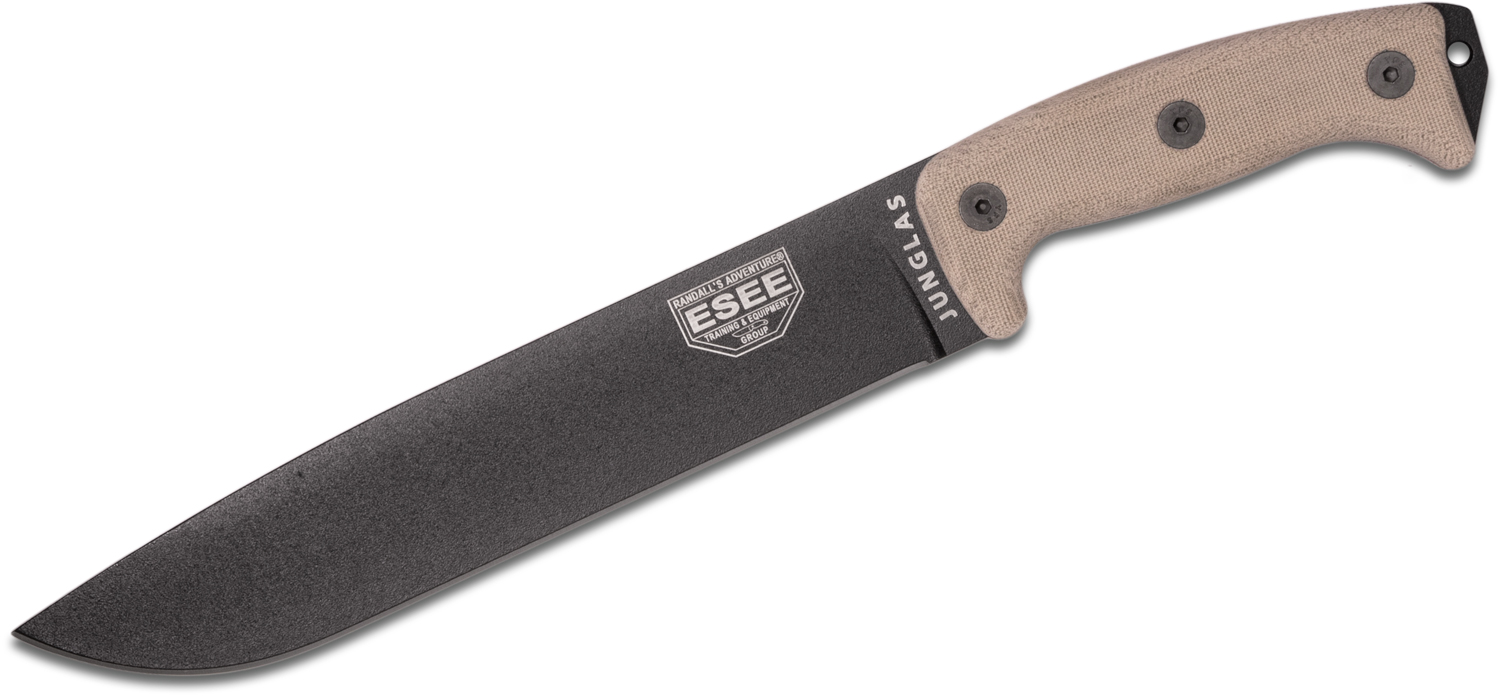 Best Application
This is easily one of the greatest camping knives in ESEE's lineup, especially if you find yourself in a heavily wooded environment.
Why We Love It
While we're obviously fans of ESEE's smaller survival knives, sometimes they just don't cut it – literally. The Junglas may be called a machete, but it can do so much more. This is a knife that truly defines the term 'hard use'.  We also appreciate the fantastic MOLLE-compatible Kydex sheath with Cordura backing.
Why You'll Love It
The 10"+ slab of 1095 is 3/16" thick and super tough for heavy hacking and chopping. This monster cutting tool features removable Micarta handles, a hammer pommel, and a lanyard hole. The Junglas was originally designed as a cross between a fixed blade and machete for the Latin American jungle and counter-narcotics operations, so when we say that this is a tough knife – we mean it.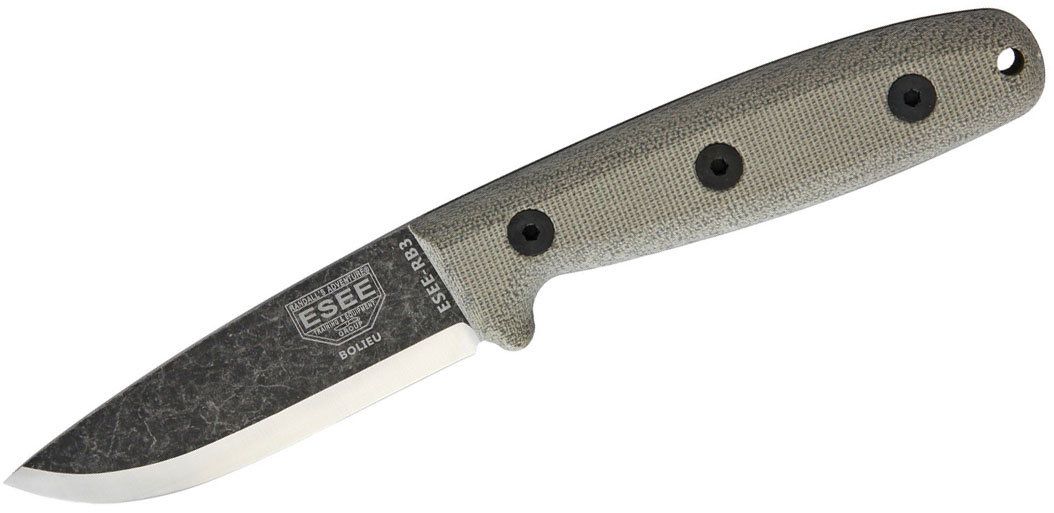 Best Application
You're looking at ESEE's first true bushcraft knife and one heck of a woodcarving tool
Why We Love It
This is the first ESEE knife to come with a scandi grind, opening up an entirely new market for the brand. The RB3 led the charge for their Camp-Lore line, which has seen several models that focus on traditional and historically-inspired patterns constructed with ESEE's typical attention to detail. Not only was this the knife that really took ESEE from a brand known for their tactical survival knives and transitioned them into the bushcrafting sphere, it was also the first ESEE to come with a leather sheath.
Why You'll Love It
The RB3 features a sub-4" blade, and that scandi grind makes it an excellent knife for woodcarving and fine detail work. From making trap triggers to prepping kindling and tinder for a fire, this knife is field-proven. Reuben Bolieu designed this particular model, which is why it has a thicker handle paired with a classic ESEE shape. The ergonomic Micarta scales are contoured for maximum comfort – you won't find any hotspots here.
TL;DR: these American-made knives are some of the best bushcraft and survival knives out there, and ESEE's lifetime warranty makes them a sure bet in the event you go overboard on the abuse. Which knife from this list is your favorite?