KnifeCenter's got a great batch of new custom knives from Bill Koenig, Tim Britton, Justin Gingrich, and more. If you've been looking to add to your EDC rotation or knife collection, we have a feeling you'll be filling up your cart with at least one of these beauties.
New Bill Koenig Arius Flippers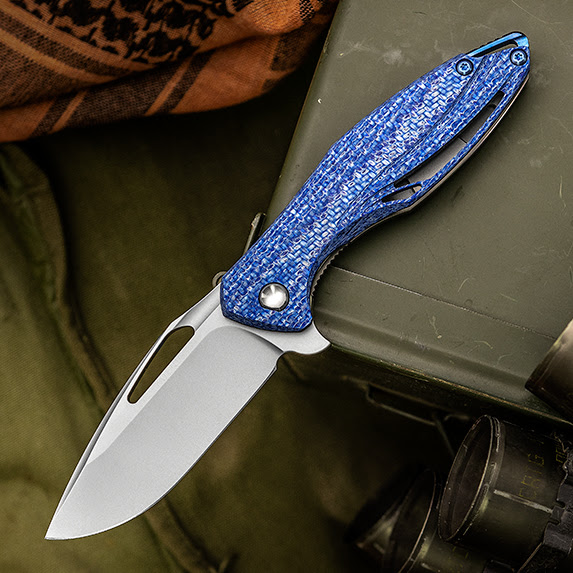 Do yourself a favor and add a Koenig Arius to your collection right now while we have them in stock. This is one of our favorite custom knives. It's precision machined with amazing action and stellar ergonomics, making it a do-it-all knife that will become a go-to in your EDC rotation straight away.
Tim Britton Traditional Doctor's Knives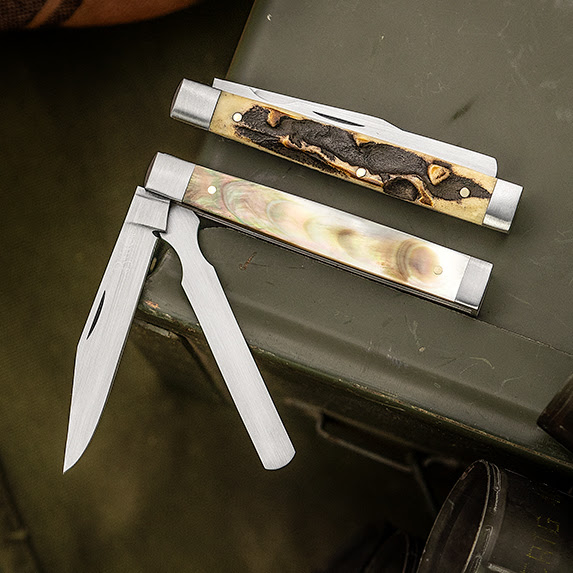 If 2018 has taught us anything, it's that traditional folders are not a thing of the past and definitely still have their place in the industry. If you're looking for something with class that you can carry anywhere without burdening yourself, a handmade gentleman's knife from Tim Britton is where we'd spend our money.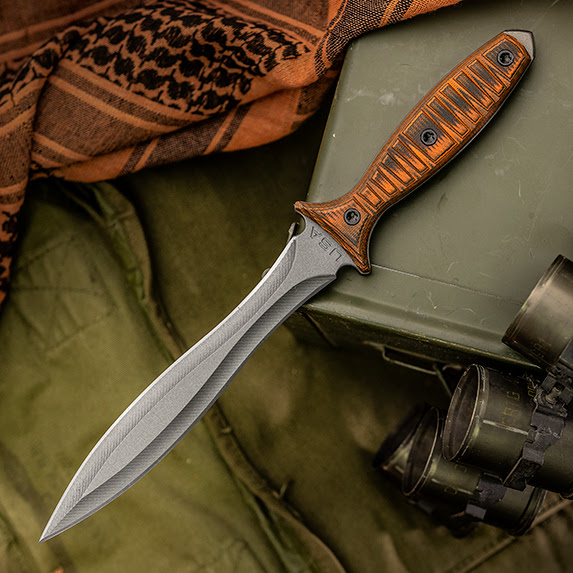 This is part of RMJ's pre-production run of the Jungle Dagger, so you can be one of the first to own this awesome tactical knife. RMJ always produces an initial run of 50 for new designs to ensure proper fit and finish, and we must say that these are some of the finest daggers we've ever come across.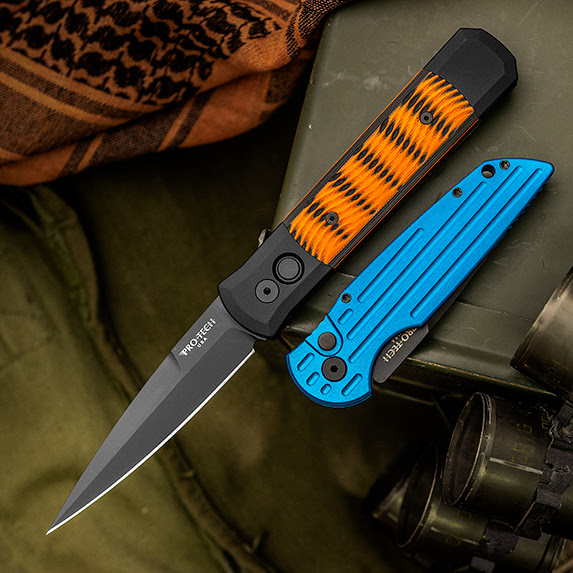 If you can't find a new Pro-Tech Auto here that fits your bill, then we honestly don't know what to tell you. Pro-Tech has stepped up their manufacturing game lately and we may have more models in stock for you to choose from than we've ever had.
New Olamic Tactical 247 and Busker Folders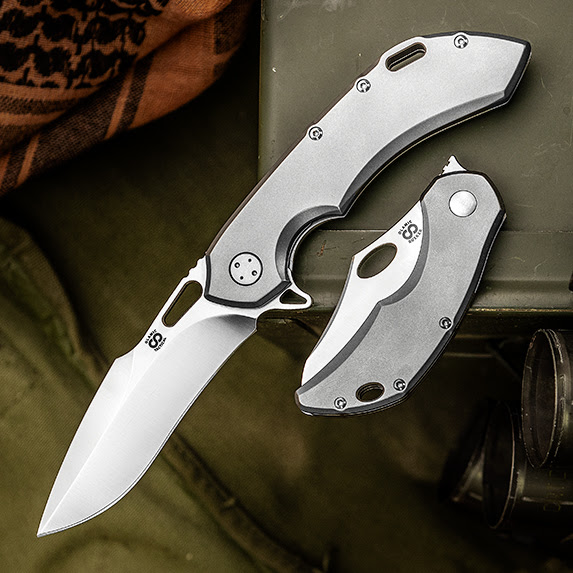 Buskers and 247s are two of Olamic's most popular and customized knives. They were rarely available as plain Jane models…until now. We have all the models you're looking for, including two scalloped 247s that are absolutely awesome.
Justin Gingrich Custom Fixed Blades and Kitchen Knives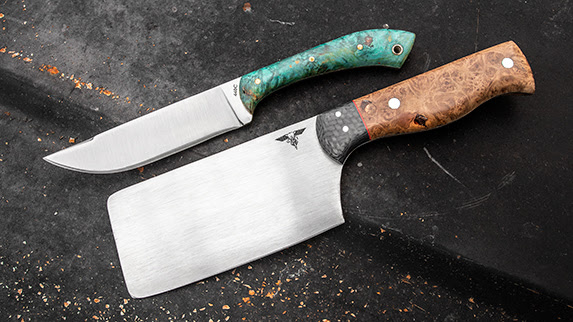 Justin Gingrich has been designing knives for brands like Kizer, 5.11 and White River for years now, and we've always appreciated the former Army Ranger's unique balance of tactical and survivalist functionality. His custom fixed blades and kitchen knives fill the same niche with just a little more flair, while the craftsmanship and quality of materials keep them in the realm of hard use tools.
Darrel Ralph Custom V4 Dominators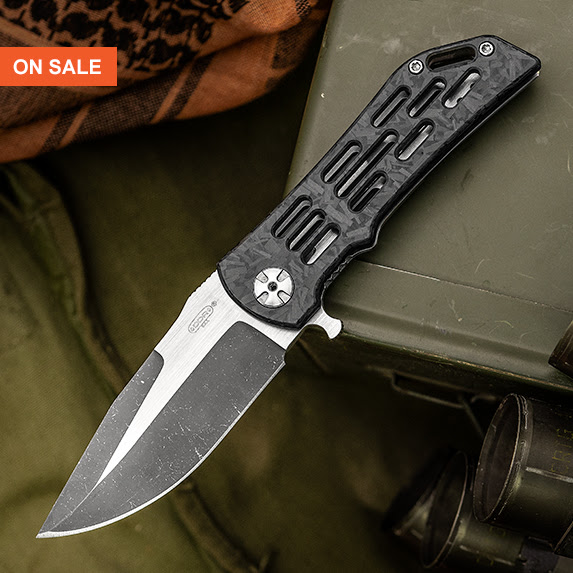 The V4 Dominator, which introduced the replaceable lockbar insert, is the most refined version of the design thus far and a spectacular tactical and everyday carry flipper. We're putting our entire stock on sale while supplies last, so you can try out one of these premier handmade custom pieces and save a few bucks in the process.
Spyderco 52100 Limited Edition Para 3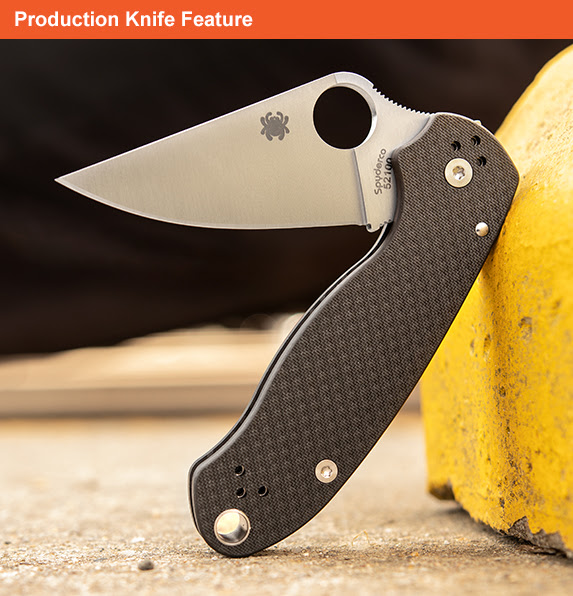 Say hello to your new EDC. Just like they did last year for the Paramilitary 2, Spyderco has dropped a limited edition of the Para 3 with peel-ply carbon fiber handle scales and a 52100 carbon steel blade. If you coveted those materials but were holding out for a knife with a smaller profile, this is it. Just remember to oil the blade as 52100 is prone to rusting quickly.
Coming soon we'll have new Microtech Socom Autos, Tactical Trouts from Spartan Blades, Beans from Serge Panchenko, and something new from Chuck Gedraitis. We get new custom knives and mid-tech knives in every day, so please email us at support@knifecenter.com.