It's mid-August, and we here in Fredericksburg, Virginia still have plenty of time to get some solid camping sessions in before winter makes it extra fun. If you're looking to upgrade your pack or pocket with some new outdoor essentials, you'll find some great options in this list of eight must-have survivalist tools.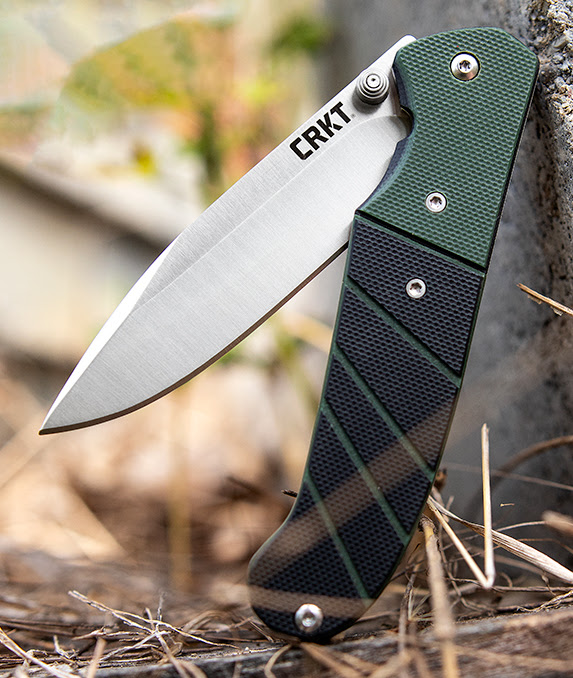 The Ignitor sets the standard for value-priced, high-tech folding knives with its patented features and layered G10 handle scales. Not only do you get the surefire action of its OutBurst assisted deployment, but you also get the security of CRKT's patent-pending Fire Safe mechanism. This design offers the best integration of folder safety and fast access that we've ever seen in a sport or work folder. We have plain blade options and models with Veff serrations, which are great for cutting cord, netting, and vegetation quickly.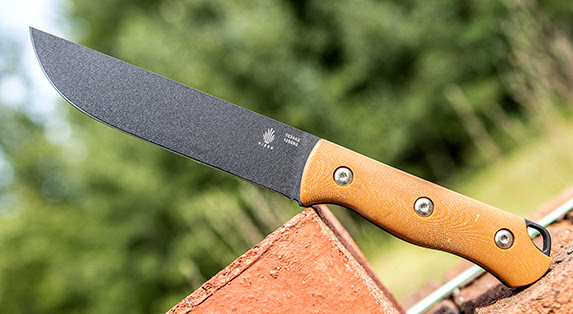 At first glance, the GTI Bush almost looks too elegant to be a heavy-duty outdoor knife. Despite its pretty boy looks, this fixed blade is ready to cut – and cut hard. The full flat ground blade is perfect for chopping and game preparation and features a squared-off spine that can throw sparks for fire starting. Contoured G10 handles attached to the full tang provide comfort and a solid grip. Each component of this knife is precision machined and engineered to the finest tolerances.
Outdoor Edge Razor Replaceable Blade Folders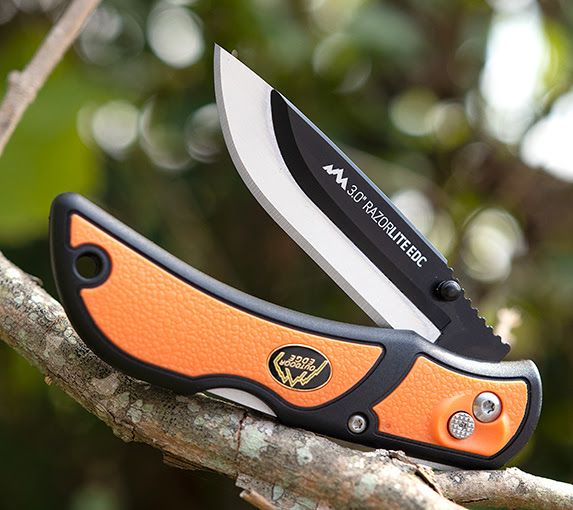 All of the knives in Outdoor Edge's Razor Series use an innovative replacement blade system that allows you to simply remove dull blades and insert razor sharp new ones. Each knife comes with four to six replacement blades, so you're ready to rock with a fresh edge at a moment's notice. This collection features folding hunters and a wood/bone saw combo knife set, and each one is equipped with a non-slip, rubberized TPR handle.
Browning Knives 803 Fixed Blade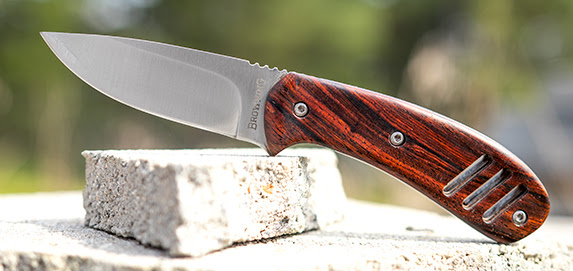 Looking for a value-priced, simple fixed blade? Browning's 803 may be on the smaller side, but don't let its size fool you – it's ready to take on some serious challenges for you. With an overall length of 6.75" and a weight of only 3.2 ounces, this little workhorse won't weigh down your pack or pocket. The slotted Cocobolo wood handles contribute to the lighter weight and also reveal a sneak peek of the full tang construction. To complete the package, Browning pairs this knife with a durable nylon sheath.
Condor Tool & Knife Travelhawk Axe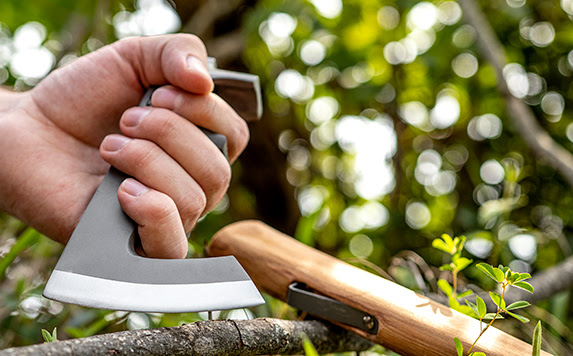 The Travelhawk combines the effortless cutting power of an ulu knife with the hardcore chopping ability of a heavy duty axe. The 1060 high carbon steel blade can be used without the handle as a great skinning knife, and you can easily and discreetly stow and transport the individual pieces. Tony Lennartz is an outdoor and survival icon whose versatile designs offer uncompromising functionality in the field, so you know you're getting a tried and true bushcrafting tool.
Victorinox Swiss Army Skipper Multi-Tools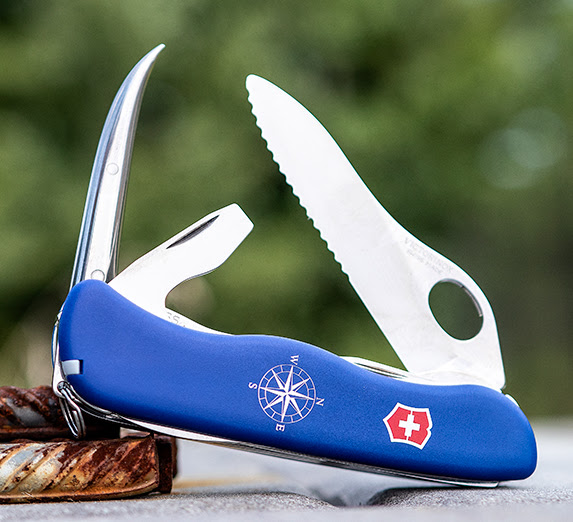 The new Skipper Pro allows you to have an entire naval crew in the palm of your hand. This sailing-specific multi-tool has ten integrated functions that include a large blade with a wavy edge, a bottle opener, a lockable screwdriver, a wire stripper, a reamer, a marlin spike, tweezers, and more. If you prefer the older, lighter Skipper model, we're currently offering free shipping and taking 24% off!
Kershaw Camp Parang Fixed Blade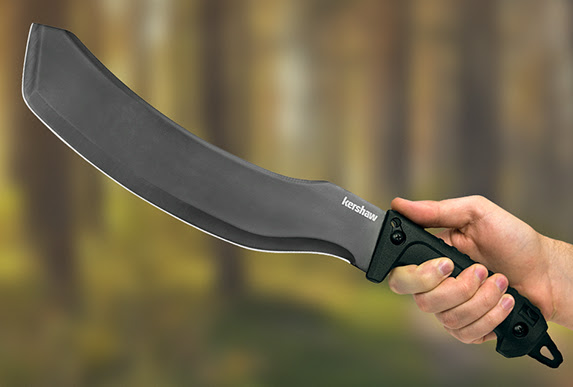 For the bushcrafter who wants to (literally) carve their own path, the Camp 12 Parang is bush-clearing ready. The full tang, 12" blade is built of tough MN65 steel which makes it perfect for hard use in the outdoors, and the GFN handle is contoured and textured for a secure grip. There are even two lanyard holes so you can decide how you want to carry it, and it comes with a lightweight blade guide so you can carry all this steel without weighing yourself or your gear down.
Outdoor Edge X-Pro Portable Sharpener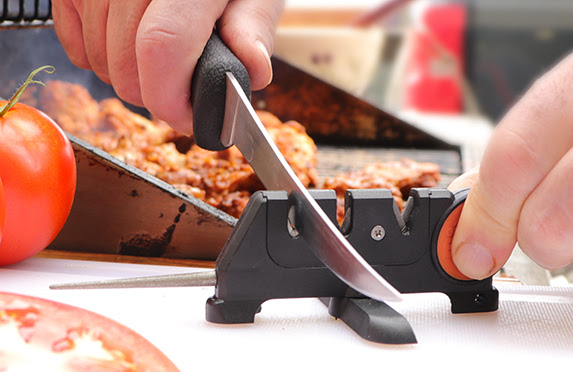 This isn't your everyday sharpener – this ceramic/carbide sharpener is built tough so you can use it anywhere, from the safety of your garage or the side of a mountain. The innovative base pivots 90° so you can keep it stable during sharpening sessions. The movable base and diamond rod keep the sharpener's profile compact when it's not being used, meaning you can easily pack it away and forget about it until you wear out your edge again.