KA-BAR has just upgraded a classic folder in a big way. We've also got a high-end Swiss Army competitor from MKM and more below!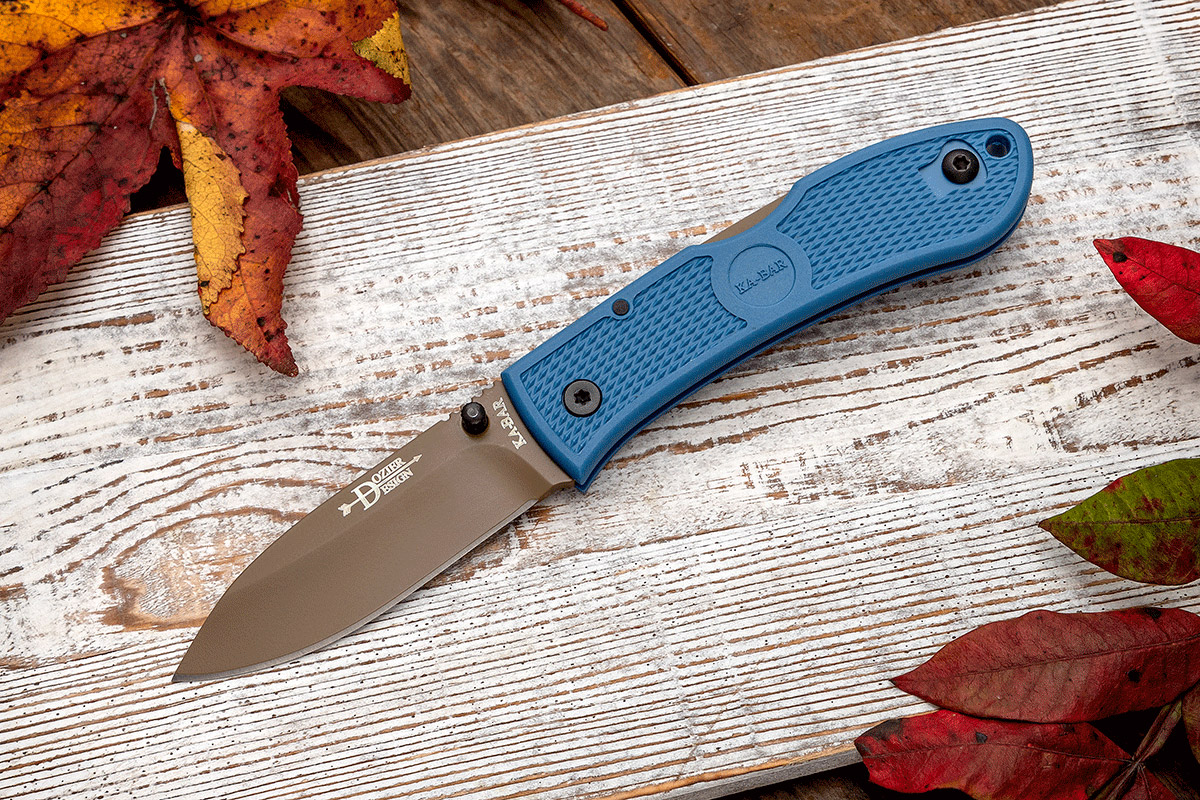 D2 steel and Bob Dozier go together like peanut butter & jelly, so it was about time that KA-BAR upgraded their classic Dozier Folding Hunter with that durable steel! It is just as perfect for the urban jungle as it is the great outdoors, thanks to lightweight construction and a do-everything blade shape, and, like the AUS-8 versions, it remains one of the best performance bargains for your dollar that you can get your hands on!
Blade Length: 3.00″
Cutting Edge: 2.83″
Closed Length: 4.21″
Overall Length: 7.25″
Blade Material: D2 Tool Steel
Blade Thickness: 0.11″
Blade Hardness: 57-58 HRC
Blade Style: Drop Point
Blade Grind: Hollow
Blade Finish: Coyote Tan
Handle Material: Steel Blue Zytel
Handle Thickness: 0.39″
Locking Mechanism: Lockback
Pocket Clip: Stainless Steel Reversible
Weight: 2.2 oz.
Designer: Bob Dozier
Made in Taiwan
---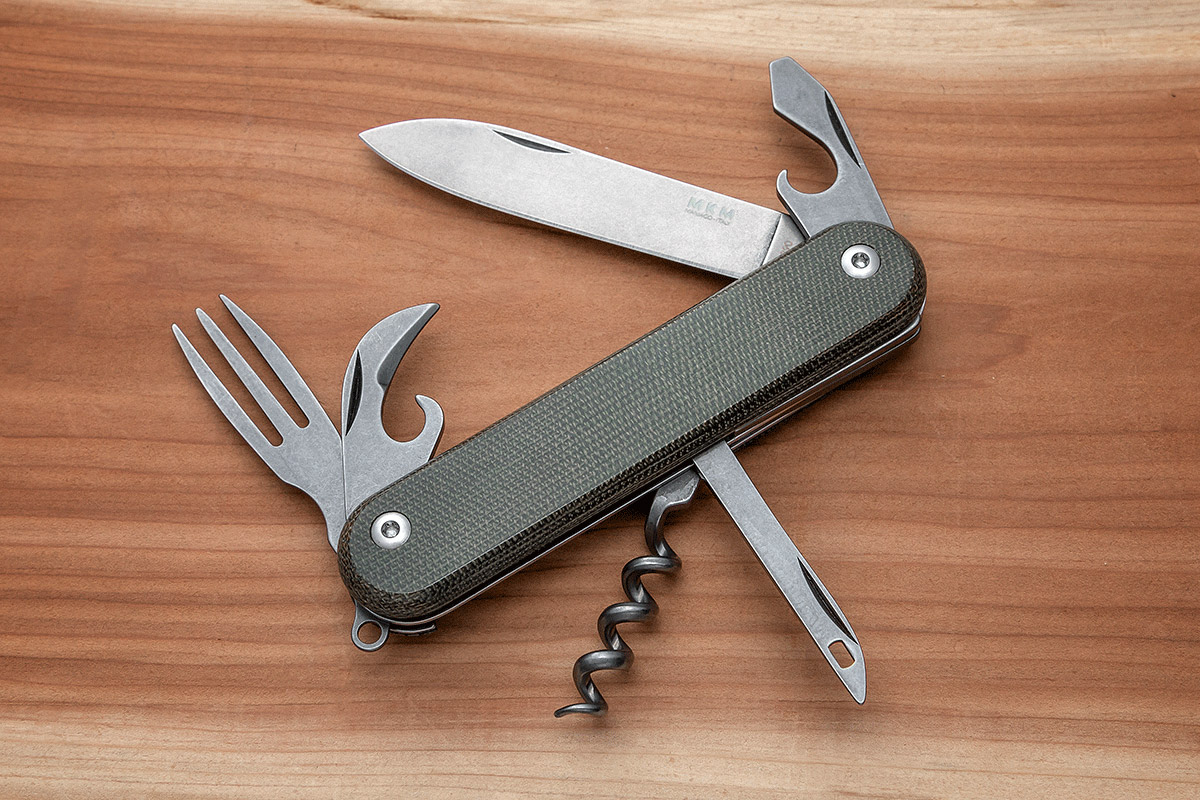 MKM has answered a lot of prayers with their Malga 6 – premium steel on a classic pocket multi-tool! The M390 blade can take an edge that just won't quit, and it is flanked by grippy Micarta handles which can even be removed for cleaning or modding! With an awl, small fork, cap lifter, can opener, and corkscrew, this is the perfect companion for the campsite or eating on the go.
Blade Length: 2.64″ (67 mm)
Closed Length: 3.94″ (100 mm)
Overall Length: 8.62″ (219 mm)
Blade Material: Bohler M390 Stainless Steel
Blade Thickness: 0.100″ (2.5 mm)
Blade Hardness: 58-60HRC
Blade Style: Pen
Blade Finish: Stonewash
Handle Material: Canvas Micarta
Locking Mechanism: Slipjoint
Pivot Assembly: Washers
Pocket Clip: None
Weight: 2.79 oz. (79 g)
Designer: Lucas Burnley
Made in Maniago, Italy
---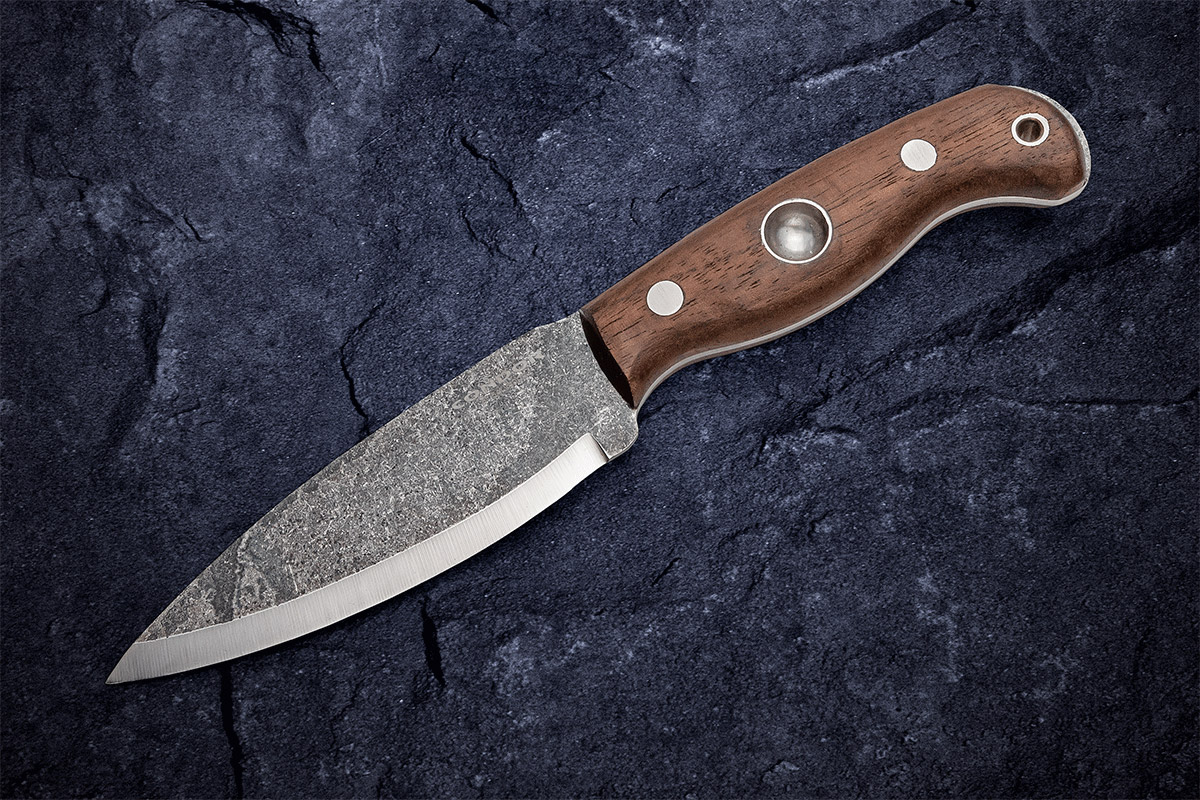 Some experts think a 5-inch carbon steel knife is the perfect thing for bushcraft and survival – big enough to do what is needed while small enough to be carried easily on your belt all day. If you are on a budget, the Wayfinder, one of Joe Flowers' excellent designs from Condor, is the way to go. Featuring 1095 carbon steel, a sharp Scandi grind, and a shape that provides a lot of versatility, it definitely brings the goods. It even features a bow-drill divot in the handles to help you get your friction fires going more easily.
Blade Length: 5.3″
Overall Length: 10.3″
Blade Material: 1095 High Carbon Steel
Blade Thickness: 0.1″
Blade Style: Drop Point
Blade Grind: Scandi
Blade Finish: Natural
Handle Material: Walnut
Sheath Material: Welted Leather
Weight: 9.9 oz.
Designer: Joe Flowers
Made in El Salvador
---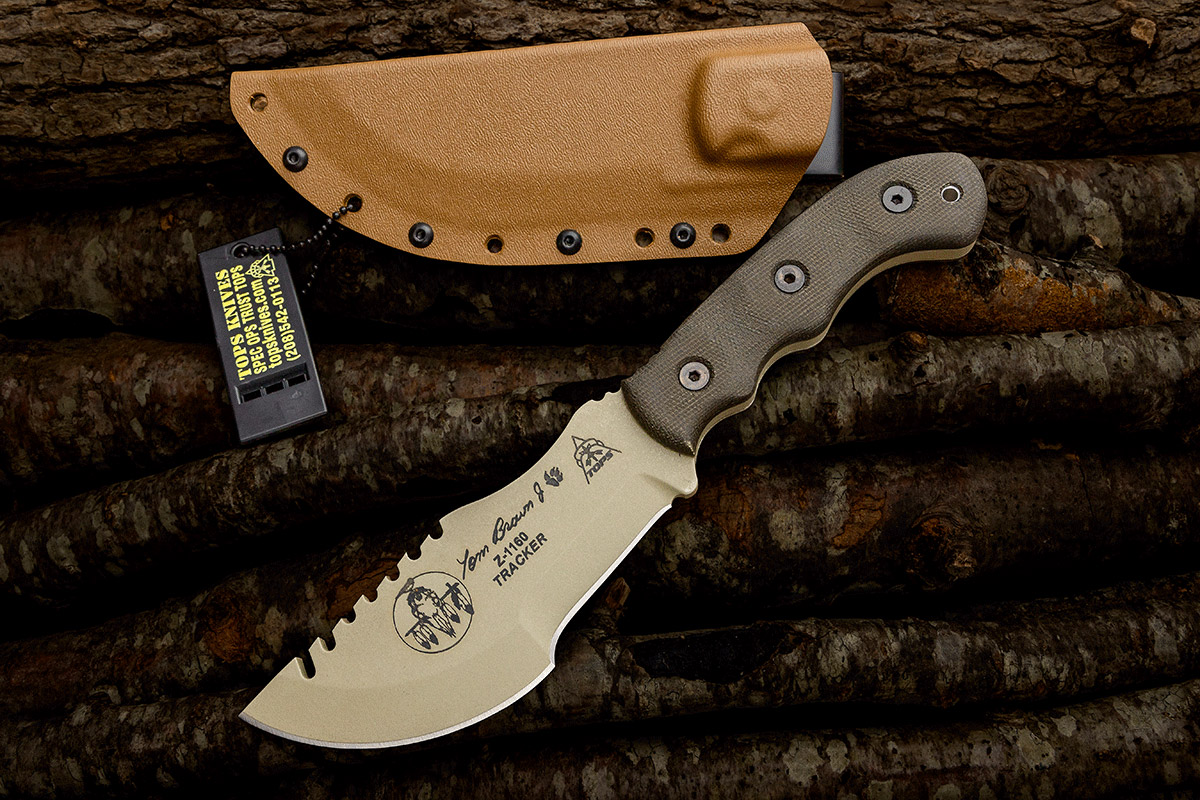 Multi-purpose never looked so awesome! The Tom Brown Tracker from TOPS is equal parts knife, small hatchet, and survival tool and it does all of it well. Extremely tough 1095 steel and Micarta scales ensure that this knife won't quit on you when the chips are down. Designed by noted survival expert Tom Brown Jr., founder of the renowned Tracker School, you can rest assured that this knife was made to do everything you need in the wilderness or even just tasks around the campsite. 
Blade Length: 5.00″
Cutting Edge: 4.88″
Secondary Edge: 2.00″
Handle Length: 4.50″
Overall Length: 9.50″
Blade Thickness: 0.100″
Blade Material: 1095 Carbon Steel
Blade Hardness: 56-58HRC
Blade Finish: Coyote Tan Coating
Handle Material: Green Canvas Micarta
Sheath: Coyote Tan Kydex
Sheath Clip: Multi-Position Spring Steel
Weight: 9.6 oz.
Weight with Sheath: 14.0 oz.
Made in the USA
---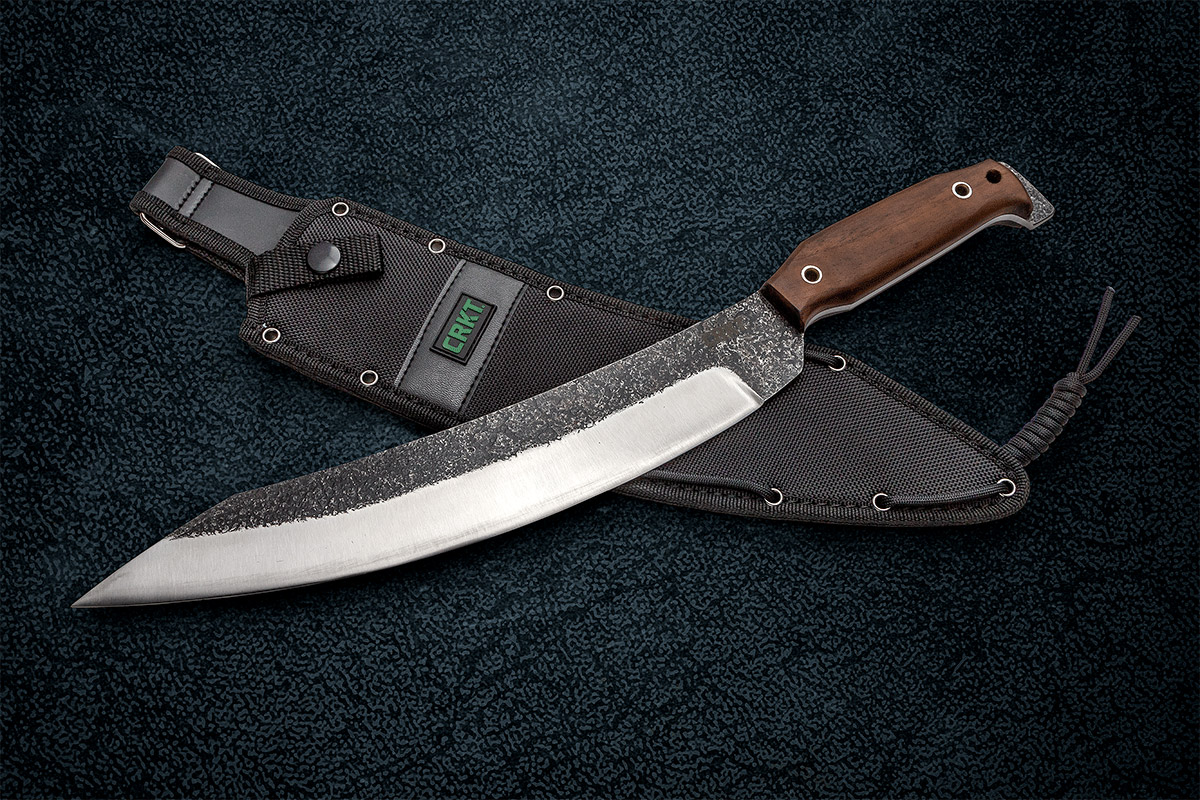 Liong Mah designed this cleverly named machete to take on any task imaginable and CRKT has executed the design very well. Multiple lanyard holes enable secure swinging and the hand-ground carbon steel blade with hammer-forged finish is crafted to stay sharp. The sheath is no slouch either with a drop-down option, multiple rivet holes, and attached extra paracord for survival emergencies.
Blade Length: 12″
Blade Steel: 1075 Carbon Steel, 50-55HRC
Thickness: 0.18″
Handle Length: 5.44″
Overall Length: 17.44″
Handle Material: Walnut
Sheath Material: Nylon
Weight: 1 lb. 3.2 oz. Knife Only, 1 lb. 8.2 oz. with Sheath
Made in El Salvador
---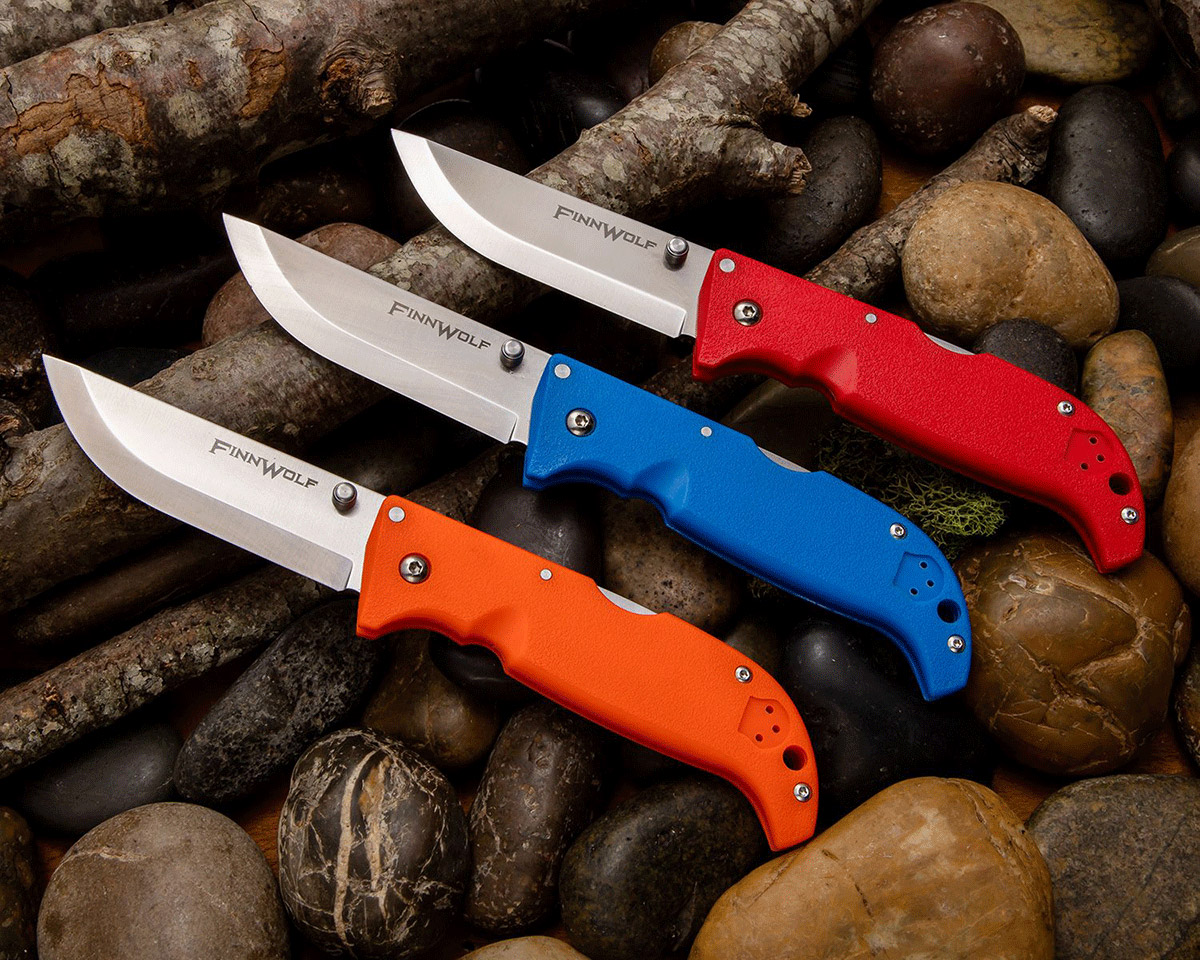 A bushcraft classic, the Finn Wolf (designed by Andrew Demko) is ready to make memories with you as you enjoy the outdoors. Equipped with Cold Steel's Tri-Ad lock for new levels of safety and security, this knife is utterly reliable in the toughest, most uncompromising conditions. Multiple color options ensure easy visibility and an AUS-8 blade with a wickedly sharp Scandi grind completes the package, making this perfect for campers and bushcrafters everywhere.
Blade Length: 3.5″
Blade Thickness: 3 mm
Overall Length: 7.875″
Steel: Japanese AUS-8 Stainless Steel
Blade Grind: Scandinavian
Weight: 3.4 oz.
Handle: Griv-Ex (Grivory)
Handle Length: 4.375″
Pocket Clip: Ambidextrous Pocket/Belt Clip
Made in Taiwan
---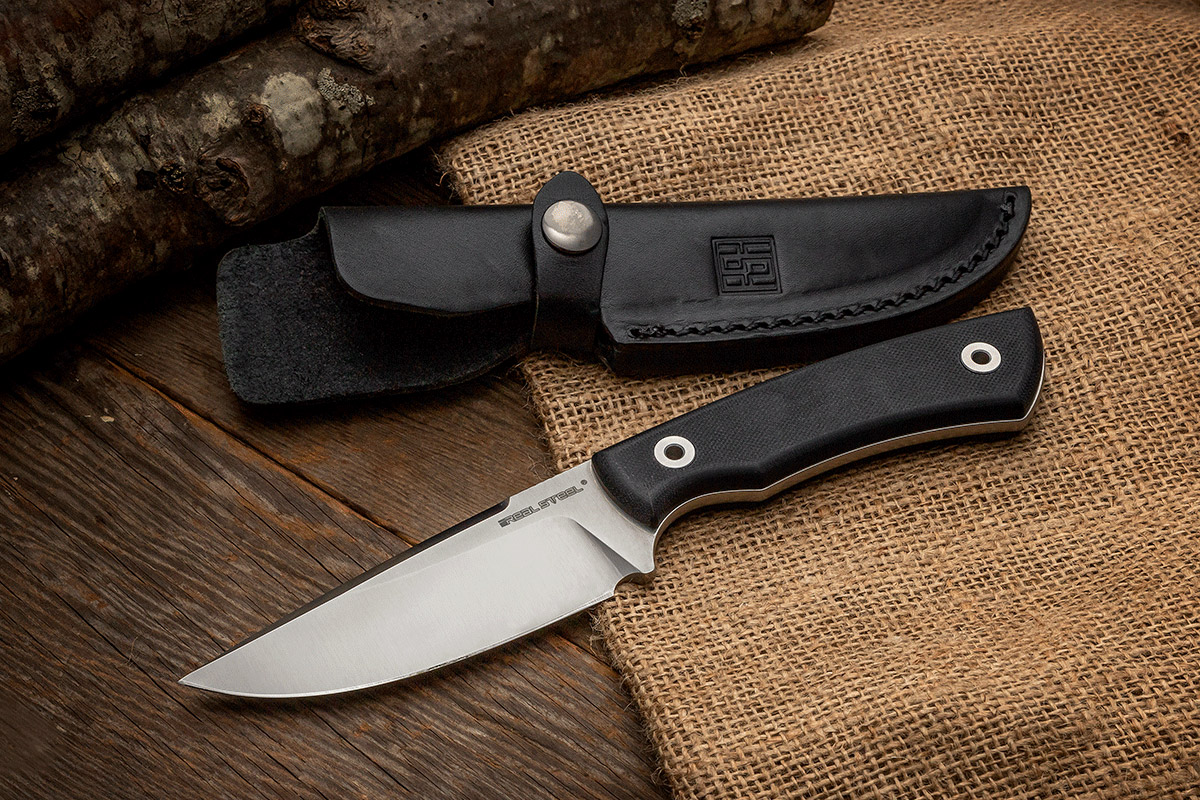 Like the trade knives carried on the American frontier, Forager from Real Steel is ready for a life on the move, taking only what is needed for survival. The roughly 4-inch blade is easy to control, and the 14C28N steel provides a rare combination of toughness and corrosion resistance in one package, not to mention a long-lasting, easily maintained edge. From hunting and gathering to campcraft and food prep, this knife will earn a place by your side.
Blade Length: 4.25″
Handle Length: 4.69″
Overall Length: 8.94″
Blade Material: 14C28N Stainless Steel
Blade Thickness: 0.18″
Blade Style: Drop Point
Blade Grind: Flat
Handle Material: G10
Sheath Material: Black Leather
Weight: 6.98 oz.
Made in China