Here it is, the long-awaited part two to our NYCKS haul that we posted last week! This time, we've got custom and mid-tech designs from Custom Knife Factory, Andrew Demko, and many more – check out the list and let us know in the comments which knife is number one on your Christmas wish list this year.
Ken Steigerwalt Custom Art Knives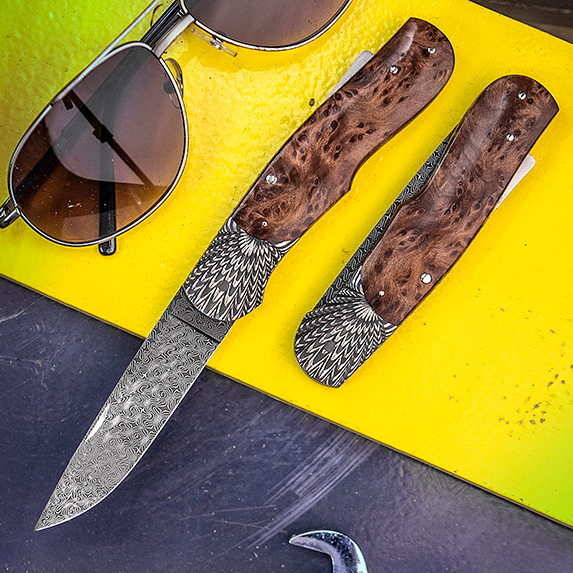 The intersection of beauty and precision is where Ken Steigerwalt does his best work, a true representation of where art and knives meet. From the material combinations to the fit and finish, there isn't a single seam out of place. The Art Deco features faceted mother of pearl handle scales paired with a Heimskringla Damasteel tanto blade. The real star, however, is the Doug Ponzio Turkish Mosaic Damascus steel on the Wing, with redwood burl scales and scalloped Robert Eggerling Damascus bolsters providing the foundation for the stunning pattern on the blade.
John Gray Custom Bloodshark and Custode Neck Knives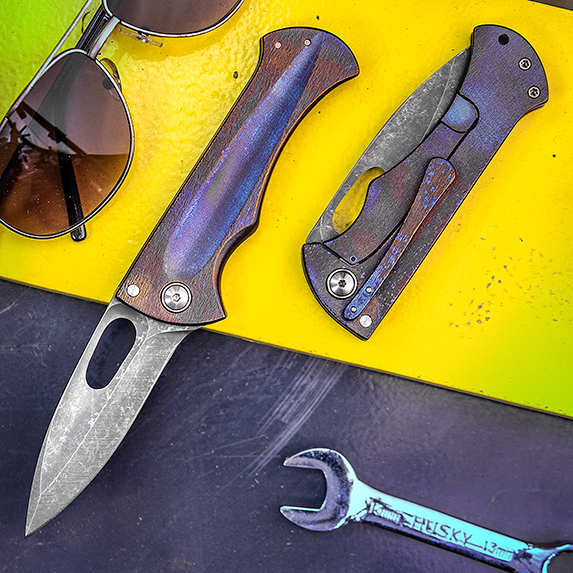 These John Gray knives are all business. The Tracker Dan-designed Bloodshark is a folding backup tactical knife with a svelte Nitro-V blade and flared butt end for a sure hold in both forward and reverse grips. If you prefer something similar in a fixed blade format, the Custode Boner and Tanto are evolutions of the Bloodshark design. The blades feature dark acid washed 80CrV2 steel with a handle wrapped in cord and dipped in resin for a slim yet secure grip. Equally at home in the combat theater as they are in a utility role, when push comes to shove, you'll want one of these knives by your side.
Custom Knife Factory Anton "Tohus" Malyshev Makosha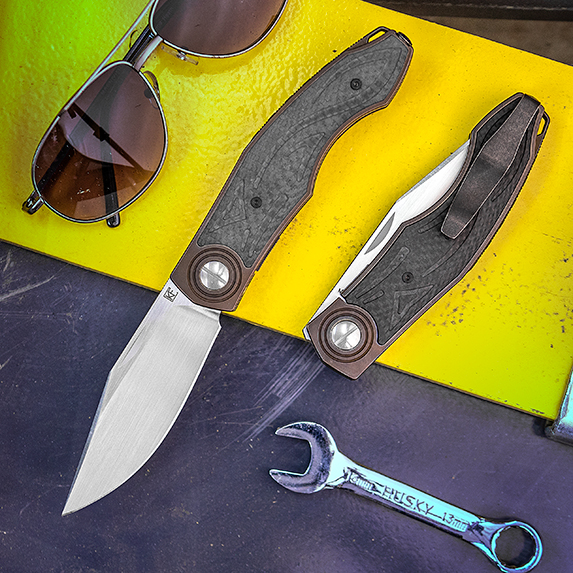 A modern take on the classic Russian Belka (squirrel) folding blade, this Tohus creation is a beautiful knife just as at home in the outdoors as it is in the boardroom. The M390 clip point blade makes it a versatile cutter and the bronze anodized titanium frame looks great underneath the contoured carbon fiber inlays. Adding another layer of visual interest, the squirrel is swapped out for an abstract fox pattern carved into the carbon fiber.
Andrew Demko Custom AD10 and AD15 Folders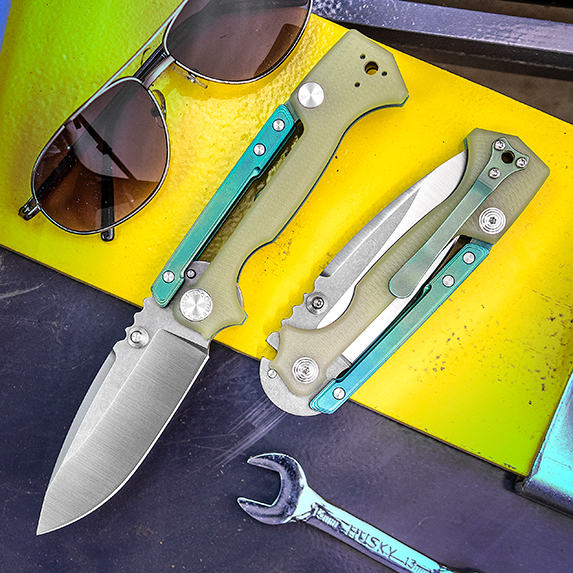 For one of the strongest locks on the market and designs by one of the most brutal creators out there, look no further than these custom pieces from Andrew Demko. The Scorpion Lock operates smoothly and looks great as the lockbar actually forms part of the handle, presenting another opportunity to create contrast through the use of Micarta, G10, marbled carbon fiber, or textured titanium on the frames. Add precision ground S35VN blades and you have stylish and robust folders that can handle every task you put before them.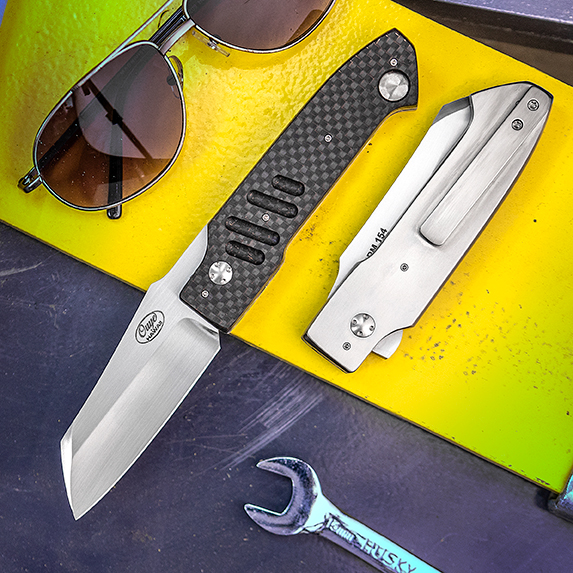 Hawaiian custom knifemaker Keith Ouye creates, without a doubt, some of the most beautiful and elegant tactical knives we've come across. The precision rivals anyone out there, which is even more impressive when you consider he works 100% out of his garage. These custom flippers have a unique action and a nice range of blade steels including Takefu and Devin Thomas Damascus, CPM-154, and S30V. Jeweled titanium liners and peel-ply carbon fiber round out the great options we have to offer you.
Matthew Martin Custom 375 Type-B Pens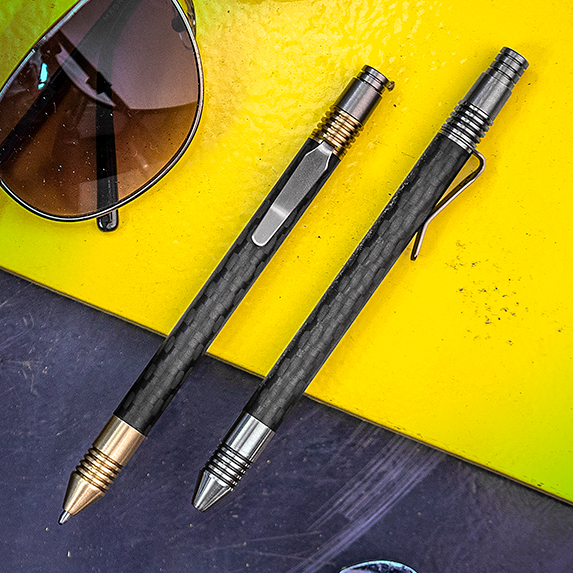 The custom 375 series of pens, handmade in Bridgewater, Massachusetts, is the perfect complement to any EDC collection. The elegant and lightweight carbon fiber body is accented with your choice of either titanium, brass, or copper hardware. Accepting either Parker or Fisher Space Pen refills, the consumables perform as well as the rest of the package. These pens feel and write great, and there is no denying their pedigree. Matthew is the son of famous custom knifemaker RJ Martin, after all.
Todd Begg Custom Combat Fixed Blades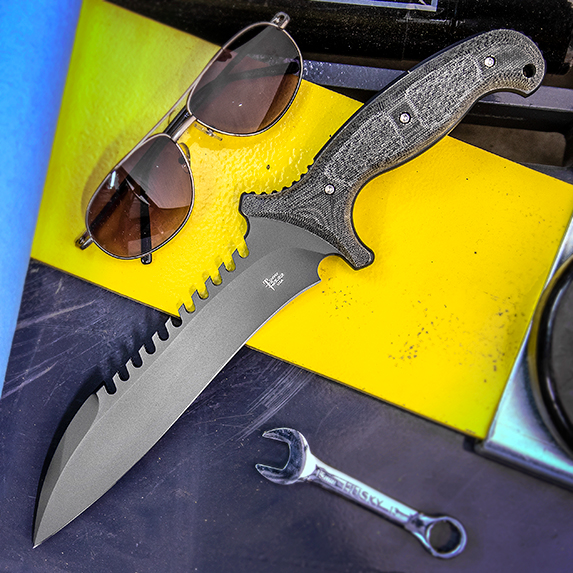 From one of the premier tactical knife artists in the industry, we have a great new collection of sawbacked cleavers and fighting knives. The Guerilla Combat and recurved Modified Pessimist work great for combat as well as wilderness survival thanks to N690Co blade steel and Micarta handles that are contoured to really lock in your grip. The Combat Cleaver is even more brutal – more hatchet than knife – with 6.45" of sharpened CTS-XHP that can chop through just about anything.
Koji Hara Custom Folding Knives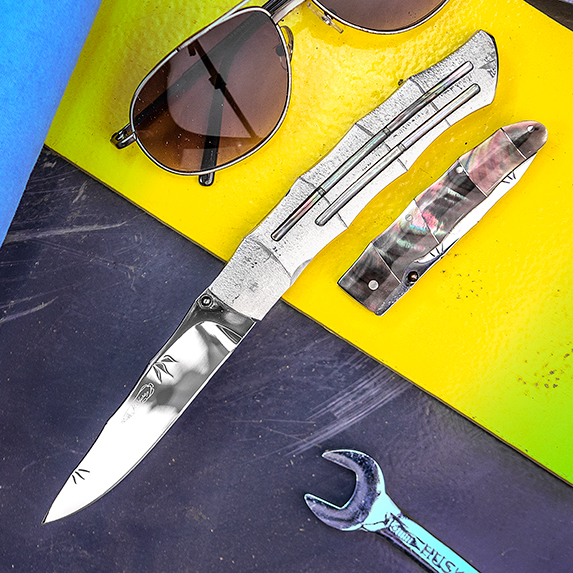 We see a lot of high end knives here, but every so often, we see some items that rise above and really make us say, "Wow!" These Koji Hara knives are the perfect example. Taking inspiration from the bamboo of his native Japan, Koji Hara has managed to create knives of utmost beauty and refinement. From using high-performing Cowry-Y steel to incorporating the most stunning gold and black lip mother of pearl, these are knives you will be proud to own and pass on for generations.
Coming soon we'll have a big shipment inbound from Bill Koenig, more from Rick Hinderer, and a couple pieces from Sergey Rogovets. If you missed anything from our trip to New Jersey City, everything from the New York Custom Knife Show can be found here.